Knoxville Nationals 2007
Previewing the Knoxville Nationals is now a tradition on HammerDownUSA.com. It is time again for the running of the biggest sprint car race of the year. The four-day (August 8-11) purse for the event is over $900,000. The 30-lap feature event scheduled for Saturday night carries, alone, a purse of $472,000! The winner takes home $150,000. (The Saturday night racing will be broadcast live on SPEED channel at 9 pm EST.)
The winged sprint car super-show will draw fans from all the regions of the United States. Canada, Australia, and New Zealand will also have a strong showing. Many Hall of Famers will be wandering the pits, and the list of drivers competing is a who's who of current sprint car racing. Last year 128 teams attempted to make the final 24 car A-Main field.
We have called the winner correctly in three of the last four years. But it's really not that tough is it? Not when you consider that since 1980 only nine men have driven to the Knoxville Nationals winner's circle.
It could be argued that the Nationals Feature is THE hardest major event to win in all motorsports, if not all professional sports. In the same 27 year period, - since 1980 - there have been 22 different Indy 500 winners, 19 different Daytona 500 champions, and 15 different cities claiming Super Bowl titles. Yet at Knoxville, only nine winners since 1980. Steve Kinser, Danny Lasoski, Mark Kinser, Dave Blaney, Bobby Allen, Doug Wolfgang, Kraig Kinser, Donny Schatz and Sammy Swindell are the drivers skilled enough to pull off Nationals victories.
The format is so tough - it weeds out surprise winners (unless it rains - and the track is narrow). Heat races are totally inverted and the point structure is such that sandbagging is totally out of the question. Qualifying has the same weight as a preliminary feature win. The heats weigh less but you have to finish in the top four to transfer to the preliminary feature. That makes the first lap of the heat races the most pivotal "big sack" moments of the entire season. Someone will "sack up" and hit the cushion just right and sail around five or six guys in turn one on lap one. Also, count on someone "sacking up" on lap one, turn one, and ending up in the fence.
So - who will win in 2007? Give us Donny Schatz. Although I could see a handful of others having a shot as well - Schatz has just been too good at big events this season to think he will falter here. Schatz already has wins in the Kings Royal and the Silver Cup. He leads the World of Outlaws point standings, and our own Racer's Racing Series standings to boot. "To go back as the defending champion of the series (WoO) and the Nationals is a good feeling", said Schatz. " We got all of that weight off of our shoulder. We won it and know what its like to win and now we want to see if we can do it again."
But nothing is a given in sprint car racing. Schatz' competitors know that as good as the #15 car has been this year - it 'only' wins roughly 25% of the races it enters. Schatz could have a mechanical issue, or he could get crashed into. Maybe his team is somehow distracted.
If it isn't Schatz - I would say that Terry McCarl, Steve Kinser, Danny Lasoski, and Joey Saldana are the other prime candidates to win. T-Mac has been running well with Tyler Swank spinning wrenches. Plus, McCarl - as a six-time track champion - knows the half-mile gumbo clay oval like the he knows how to shine for a TV camera.
Lasoski is the winningest driver in the history of Knoxville Raceway. Rob Hart and Davey Whitworth teamed with Lasoski could easily be a winning formula that produces Nationals victory number five for the Dude.
Kinser hasn't had much racing luck of late but he can never be overlooked given his 12 Knoxville Nationals wins. (When Steve won his second Nationals title in 1981 - the total purse was $82,000.) "It can make or break your season out there", said Kinser. "A win at Knoxville can turn a bad season into a better season. We'll go out there and throw out what we can at them and hope for the best."
Saldana was runner-up last year. Joey's dad 'Lil Joe' Saldana won the race in 1970 which has added stress to Joey's runs at the Nationals. "It used to add a lot to the event knowing that my dad won it, but now I'm 35 years old and I don't really let it bother me anymore." Joey is more than capable of winning it all driving for Kasey Kahne Racing.
Who will make the feature? If we had a gun to our head and had to list 24 drivers - we would go with. (Qualifying night)
Donny Schatz - FR
Terry McCarl - TH
Steve Kinser - TH
Danny Lasoski - FR
Joey Saldana - TH
Craig Dollansky - FR
Paul McMahan - TH
Jason Meyers - TH
Jason Solwold - FR
Kaley Gharst - TH
Kerry Madsen - TH
Randy Hannagan - FR
Daryn Pittman - FR
Jason Johnson - TH
Jeff Shepard - TH
Dusty Zomer - FR
Brooke Tatnell - TH
Jac Haudenschild - TH
Lucas Wolfe - FR
Kenny Jacobs - TH
Tim Kaeding - FR
Greg Hodnett - FR
Jason Sides - FR
Tim Shaffer - FR
Last place in the Saturday A-Main pays $7,000.
Past Winners:
2006 - Donny Schatz
2005 – Kraig Kinser
2004 – Danny Lasoski
2003 – Danny Lasoski
2002 – Steve Kinser
2001 – Danny Lasoski
2000 – Mark Kinser
1999 – Mark Kinser
1998 – Danny Lasoski
1997 – Dave Blaney
1996 – Mark Kinser
1995 – Steve Kinser
1994 – Steve Kinser
1993 – Steve Kinser
1992 – Steve Kinser
1991 – Steve Kinser
1990 – Bobby Allen
1989 – Doug Wolfgang
1988 – Steve Kinser
1987 – Steve Kinser
1986 – Steve Kinser
1985 – Doug Wolfgang
1984 – Doug Wolfgang
1983 – Sammy Swindell
1982 – Steve Kinser
1981 – Steve Kinser
1980 – Steve Kinser
1979 – Ron Shuman
1978 – Doug Wolfgang
1977 – Doug Wolfgang
1976 – Eddie Leavitt
1975 – Eddie Leavitt
1974 – Dick Gaines
1973 – Kenny Weld
1972 – Kenny Weld
1971 – Jan Opperman
1970 – Joe Saldana
1969 – Ken Gritz
1968 – Ray Lee Goodwin
1967 – Thad Dosher
1966 – Jay Woodside
1965 – Kenny Weld
1964 – Kenny Weld
1963 – Greg Weld
1962 – Jerry Richert Sr.
1961 – Roy Robbins
Who conceived this deal? It was Marion Robinson (according to Knoxville historian Bob Wilson) who cooked up the idea for the Knoxville Nationals in 1961. At that time is was called the Super-Modified National Championship. It was a two-day event with time trials only on Friday and racing on Saturday. The event became such a success that by 1966 it had grown to a three day affair.
Track Record: 14.407- by Brooke Tatnell on May 6, 2006.
Notes: Kasey Kahne is going to compete. He will qualify a team-car to Saldana with #19 on it. The NASCAR superstar is scheduled to qualify Wednesday night. ...Wednesday and Thursday Preliminary features pay $12,000 to win. Both prelims are points earning events in the Racer's Racing Series. Saturday night's A-Main is a "double points" RRS race. ...Tune in live each night to the Full Throttle Racing Show on location from Knoxville Raceway with host John Katich on DIRTVision.com at http://www.dirtvision.com, for up-to-the-minute news and driver interviews. ...Listen live to all the action from the Knoxville Nationals each night on the American Dirt Network, with host Rod Patison, along with Bill Wright and Steve Zwemke at http://www.americandirtnetwork.com.
Quotes: (Courtesy Tony Veneziano - World of Outlaws public relations).
Tony Bruce Jr.: "Last year we were the rookie of the year and made the A-Main in our first trip there. In a way it's good and in a way it's bad, because our expectations are really high going into it. Hopefully we can repeat what we did last year…Anytime you get paid real well is a good thing. Even if they didn't pay that much money, it's still a big event and everybody wants to win it. We have to try and treat it like any other day and any other race and go in there and do our job."
Sam Hafertepe Jr.: "History does have a lot to do with that race. I'm still pretty young and learning the history of it. All the best cars in the country will be there and we are excited. I don't think there is any more pressure going out there. With that many cars you have to have a little luck. We are racing with the best in the country every night, so that should not be a problem."
Randy Hannagan: "If we can rank in the Top-24 in the country then it will be a good week, and that is what we set out to do, to make the A-Main."
Justin Henderson: "Luck plays a huge role. If you qualify really well you have to start at the back of the heat race. If you start at the back of a really tough heat race, it's tough to transfer through. It's important to draw a good number for qualifying, then to qualify well and on top of that to have a strong heat race."
Terry McCarl: "For every sprint car driver, it is biggest race we have. We've come close to winning it before. Coming from Iowa it's a little bit different. I grew up there and that place means a lot to me. Believe it or not, no driver from Iowa has ever won the race. It would be a first and to win it would be the biggest race of our career… I don't want them to lower the purse, that's for sure, but you don't think about the money. Maybe on Monday morning when you get that check it would sink in. I want my name out there on the plaque out front and if you win that race, your name is written forever in the history books, and that's the biggest thing. The money wouldn't hurt anything though."
Joey Saldana: "I've been very fortunate to have finished second, third and fourth in the event. One thing that I would really like to accomplish is the first-place trophy. This team can do it, we just have to put everything together."
Links for your reading pleasure.
Kasey Kahne wishes he could spend week at Knoxville - Des Moines Register.
Shane Stewart won the 360 Nationals - Des Moines Register.
Sean Michael heads to Knoxville after $30,000 win - The Sentinel Online.
By Bobby Gerould - August 7, 2007.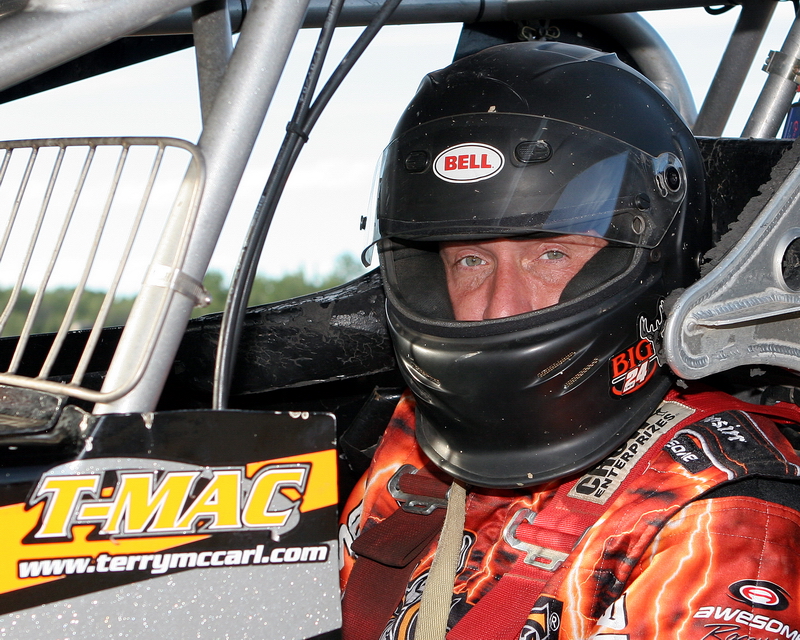 Is Terry McCarl ready to win the Nationals? (John's Racing Photos)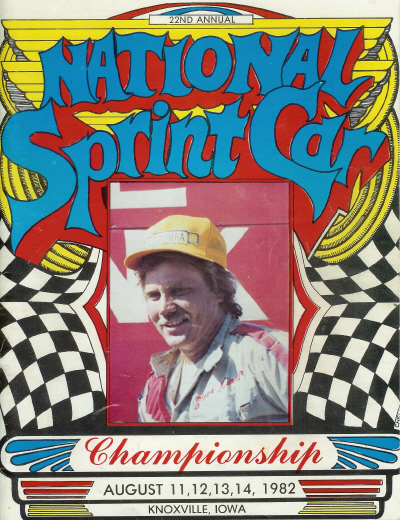 In 1982 - Steve Kinser was on the cover of the Nationals program.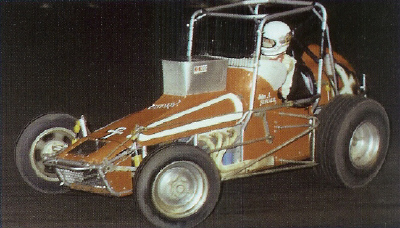 Eddie Leavitt won back-to-back Nationals titles in 1975-76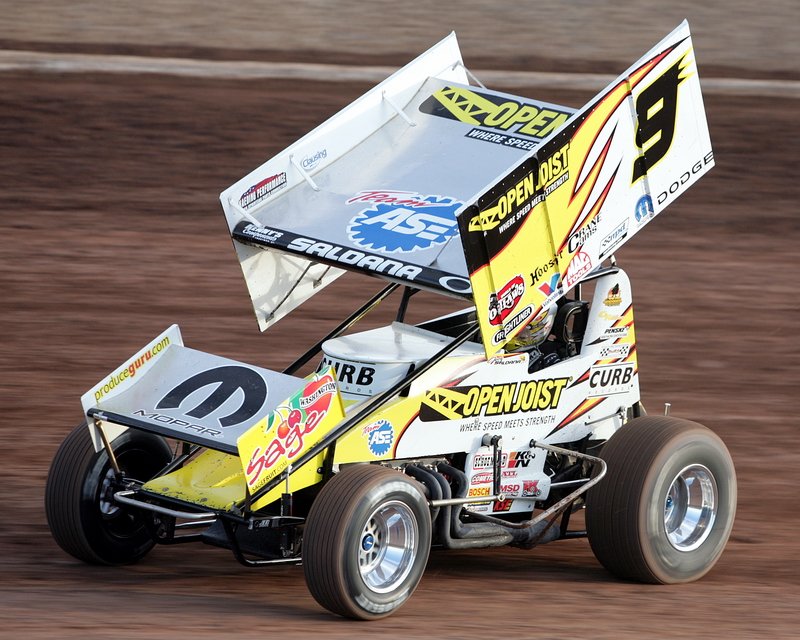 Joey Saldana was runner-up in 2006. (John's Racing Photos)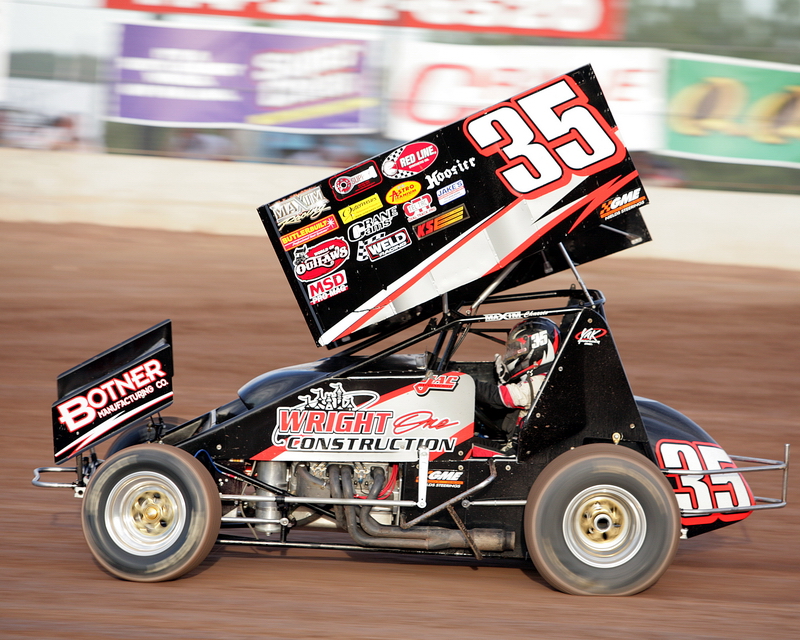 Jac Haudenschild has many big wins but the Nationals have eluded him(John's Racing Photos)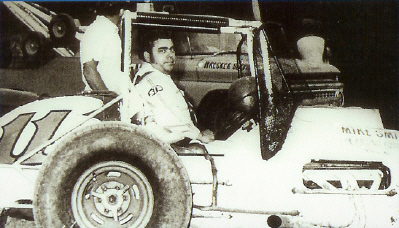 Dick Gaines won the Nationals in 1974 driving for Karl Kinser.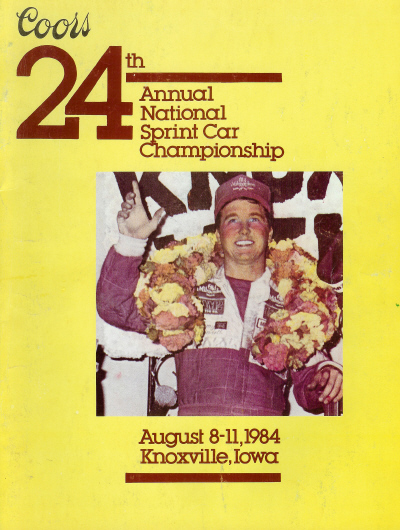 Sammy Swindell won the Nationals in 1983 and graced the cover of the `84 program. (Holtsman Family collection)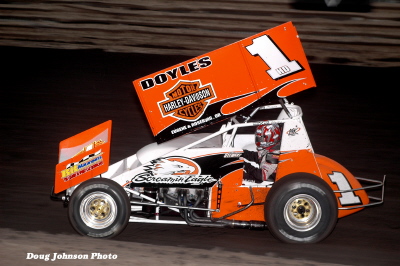 Shane Stewart won the 2007 Knoxville 360 Nationals.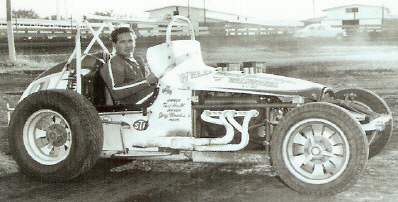 In 1966 Jay Woodside won the Knoxville Nationals.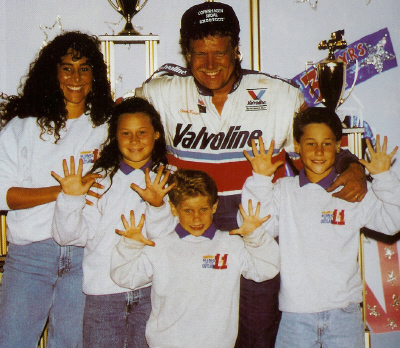 Steve Kinser is surrounded by his family after his tenth Nationals win in 1994. Left to right...wife - Dana, daughter Stevie, youngest son Kurt, and oldest boy Kraig.