I hear from folks who say to me, "You don't write about racing as much as you used too." It is true. I have strayed from the longer-form of web pages and blogs - redirecting my path toward more immediate media. I would suggest you sign up for Twitter.com. Roughly ninety-five percent of what I write these days comes in the form of "tweets". If you can tolerate my opinions, and obsession for basketball, music, and media - please "follow me" @BobbyGerould .... It is easy and free to have a Twitter account. I do "tweet" often about racing matters - mostly related to BIG sprint car, midget, or champ-dirt car races. I also try to offer LIVE updates from any track I may be announcing at (these days - that is Hanford, and Tulare, California). During basketball season and through the NBA Draft in June - I am writing predominantly about hoops. But for the couple of you that would like to read more racing stuff than you are getting in the old Positivity column - Twitter is the way to go. Please do not think that Twitter is just for the techie-generation. I helped to encourage my Dad to jump onto Twitter - and he LOVES it! Basically - Twitter is your own immediate digital newspaper with news only only about, and from, the people you care to "follow". Trust me on this one.
2011 All HammerDown! Team –December 12, 2011. Rocklin, CA. ….HammerDownUSA.com today named the 2011 All-HammerDown! Team. Led by Racer's Racing Series Champion, Donny Schatz – the 40 driver "team" includes those who performed best at the highest paying and most prestigious American, grass roots, open-wheel events. "I pay attention to it, and check the points," said Kyle Larson, the youngest member of the team at 19 years-old. "You have to race well at the big races. And I think it's cool that the (Racer's Racing Series) points are given in sprint cars with or without wings, 410's or 360's, midgets, Silver Crown – just all the important events." ... "The All-HammerDown! Team is a concept we came up with to honor the drivers in 'our world'," said Bobby Gerould – editor of HammerDownUSA.com. "The team, simply, is a way to recognize the best of the best nationally. Our points and annual slate of 60 races are the events racers need to be running to be recognized." ...Nine drivers continued their streak of making the All-HammerDown! Team in each of the nine years since the honor was created in 2003. The talented nine are: Dave Darland, Jac Haudenschild, Tim Kaeding, Steve Kinser, Danny Lasoski, Jason Meyers, Daryn Pittman, Joey Saldana, and Donny Schatz. Three drivers made the team in 2011 for the first time in their career. Veteran pilots Brian Brown, Johnny Herrera, and Jeff Swindell all expanded their recent travel schedules and in return are being recognized as drivers who had fantastic performances this season. (read it all please) ... The 2012 Racer's Racing Series schedule is being formed. Here are some of the races already confirmed. Eventually the schedule will have 60 races total. The RRS is designed to award points to the top 15 finishers at the 60 "BIGGEST" sprint car, midget or champ-dirt car events in the United States.
...This one month late edition of Positivity is dedicated to my friend Mike Zieske. Hahaha. Mike noticed that I didn't comment on the 2011 Gold Cup much and he called me out on it. The truth is - I was working on a feature for Sprint Car & Midget Magazine that had me "written out". That's the beauty of having a site like this and a column like this. I write when the mood strikes as opposed to having a deadline or a weekly quota of words. ...Okay - on to the racing - which always is the only thing that really matters. Saturday night's show was different than any Gold Cup final night since 1974. It was 1975 when the Gold Cup expanded to a three-day format. Terry Crousore of Clarkford, Idaho won the event that paid $5,000. Every year there-after the event was a three day show with prelim action setting the field of main events for the final night. So the 2011 version of the World of Outlaws sanctioned Gold Cup was the first time since 1974 where there were time-trials held on the same date as the final A-Main. Also - the recent trend of paying $50,000 to the winner was reduced to $12,000. The feature on Saturday entertained me as Kyle Larson withheld repeated challenges from Jason Sides to score a popular California victory. Sides wound up second, and California's Andy Gregg was excellent in his podium drive (a career best with the World of Outlaws for Gregg). Larson - obviously was impressive and there were tears flowing from some tough guys' faces on the BK Racing crew as Larson earned them their first Gold Cup win. ...The B-Main was exciting as Tim Kaeding blasted around cars on the top to earn a late transfer into the feature. When Tim gets going at Chico - it reminds you why you love sprint car racing. ...Shane Golobic had a good weekend with a third place finish in the A-Main Friday and an impressive heat race run Saturday that led me to "tweet" that "Shane Golobic is among the most underrated sprint car / midget drivers out there. He is young, smart, skilled and smooth." ...According to the notes I kept on Twitter.com it was 106 degrees when we pulled into Chico Friday evening. The Friday night show was a stand alone, $8,000 to-win deal. After two nights of racing (USAC/CRA, Civil War) on Wednesday and Thursday (combined with the extreme heat) - the track took rubber and the resulting racing was less than stellar. In fact our buddy B.F. said he thought it was among the three worst main-events he'd ever seen. Paul McMahan won it without ever lapping a car. It was cool to see Paul win in front of his old home folks but I felt bad for him that the track just wasn't hospitable to a good race. It was, 'one-groove, on the bottom'. McMahan apologized to the fans in the winner's circle because it was basically like 25 laps of pavement hot-laps. Thankfully - there was a good party in the Pavilion immediately following the checkered flag - so the trials of a ho-hum night at the track were quickly forgotten. Friday night post-race at the Gold Cup is an annual "grab a tear-off" type deal. Good times with many friends is a tradition that dates back to the days of Brian Sperry being so hammered he apologized to a bush for bumping into "her" (circa 1987). ...Some elbow grease and old fashioned hustle by guys like Troy Hennig, Brad Bumgarner, and promoter Dennis Gage led to a bikini contest that featured more contestants than in recent years. ...Random thoughts on the 2011 Gold Cup: How did Sean Becker not have a ride? Also would have loved to have seen Willie Croft, Stephen Allard, and Steven Tiner in the show rather that just watching (or car-owning in Croft's case). I enjoyed seeing racers Bill DesChamps, Jimmy Sills, Shane Carson, Richard Forsberg (wearing a HammerDown! shirt) and Ron Horton in attendance. I saw the recently married Destiney Hays in the pits Saturday. She is trying to sell her pavement sprint car. ...Larson's Saturday win - by the way - was predicted by Tommy Hall at 11:28 pm Thursday night - almost 48 hours before it happened.
There are one dozen events left on the Racer's Racing Series schedule of BIG RACES for 2011. Berths to the All-HammerDown! Team are at stake - as drivers are named in order of the final point standing position after the automatic bids are given to the champions of the All-Stars, ASCS National Series, USAC National Midgets, USAC National Sprint Cars, Williams Grove Speedway, and World of Outlaws. Tim Shaffer leads the All-Star points and is solidly in 24th in the Racer's Racing Series standings. Shaffer recently earned the $20,000 that goes with winning the All Star Circuit of Champion's Ohio Region. He had previously won ten-grand as the Great Plains Region high-points guy. ...Dale Blaney recently won his 84th All-Star feature event which is second only to Kenny Jacobs' 98 in series history. Blaney will have a chance to earn Racer's Racing Series points toward his fourth consecutive All-HammerDown! Team honor with strong showings at the World of Outlaws event at Fremont Speedway October 15th, as well as at the All-Stars make up race in Sylvania GA - November 2nd. Hopefully Blaney will also run the World Finals - November 5th. ...Shane Stewart sits in 5th in the RRS points as the leader of the ASCS National Standings. Runner-up to Stewart right now is Johnny Herrera - who looks like a safe bet for the All-HammerDown! Team - riding in 25th overall in the RRS points. Herrera is looking to make the team for the first time. Had we been doing the All-HammerDown! Team in the mid 90's - certainly Herrera would have made the cut several times before. (We started the All-HammerDown! Team in 2003) Likewise - Jeff Swindell has had a fantastic 2011 season - with a return to the national stage. Jeff appears to be an All-HammerDown! Team lock - with a 26th place standing - and four ASCS National events still on the schedule of RRS points earning races (Devils Bowl, Short Track Nationals, Las Cruces NM, & Tucson). ...Levi Jones heads the USAC National Sprint Car points and Bryan Clauson is their Midget series leader. Levi is 12th ranked in the RRS while Clauson is 15th. Should Darren Hagen win the USAC Midget championship instead of Clauson (or Kyle Larson) - it is possible that Hagen would prevent one of the top-40 in RRS points from making the team. Hagen is presently 49th in the RRS standings with three events left on his likely RRS schedule (Gold Crown Midgets at Pontoon Beach, IL, Perris Oval Nationals, and Turkey Night.) He could easily finish inside the top-40 but winning the USAC National Midget Championship would make that point moot and ensure his sixth All HammerDown! Team nod. ...Lance Dewease leads the Williams Grove Speedway track points and would likely make the All-HammerDown! Team for the fifth time in his career even without the Grove track title. Dewease is 31st in RRS points with the National Open and the World Finals (if he runs it) left on his 2011 BIG RACE calendar. ...Jason Meyers sits second only to Sammy Swindell in the RRS standings. Meyers seems like a shoe-in for a second consecutive World of Outlaws championship. He was outstanding in his win at Williams Grove Speedway this past Friday night. ...We always list the top-40 in the RRS points at the right side of this web-page. But who are the 15 drivers just on the outside looking in? Who are the pilots that potentially could drive themselves to All-HammerDown! glory in the next seven weeks of racing? The following rank 41st through 55th: Seth Bergman (Washington masher has four big chances at least left on his schedule), Jac Haudenschild (he's never not made the team), Tim Crawley (seems likely to get in with four ASCS races left of 12 remaining RRS events), Casey Riggs (his results have improved but he would have to win the Perris Oval Nationals to even have an outside shot - since that is likely his one remaining RRS race), Mark Dobmeier (he is certainly talented enough - but it depends on how many races he runs to close out the season), Tony Bruce Jr. (should make it for the fourth straight year with solid finishes at the four ASCS races on the RRS schedule), Dale Blaney (see above), Tanner Swanson (outside shot if he can deliver big performances at Gold Crown midgets and Turkey Night), Darren Hagen (see above), Greg Hodnett (would need to come up huge at the National Open, and race well at the All-Star event in Georgia and at the World Finals to make it for the sixth time in his career), Brian Tyler (seems unlikely with no more Silver Crown races on the RRS remaining schedule), Jon Allard (Allard will have the Trophy Cup and possibly the two ASCS events in New Mexico in Arizona to try to race his way onto his fifth All-HammerDown! Team), Terry McCarl (his web site shows that he will run four of the 12 remaining races - which makes it seem likely - McCarl will make his his eighth All HD berth), Jack Dover (has the four ASCS races which will give him an excellent chance), and Wayne Johnson (should run all the ASCS shows). ...One driver who is not yet a contender for the All-HammerDown! Team - but may be in the near future is Bryan Sebetto of Ohio. He recently won the Fremont-Attica Sprint Series championship worth $10,000 and then proclaimed - "I'm ready for the World of Outlaw race (on Oct. 15)…bring them on," after scoring a $10,000 win in the Jim Ford Classic at Fremont, OH (quote from Brian Liskai). ...There is no shame in not being in the top-40 (or top-55) in RRS points. There are some very good drivers that sit beyond position 55. Some have had limited chances, some were injured or ill, some are still ascending into the National scene, and some are in the twilight of their careers but still kicking butt. Check out some of the names outside the top 55 that we all know are HammerDown! drivers: Kevin Swindell, Shane Golobic, Robert Ballou, Brooke Tatnell, Danny Lasoski, Fred Rahmer, Sean Becker, Randy Hannagan, Roger Crockett, Tommy Tarlton, David Gravel, Evan Suggs, Cap Henry, Brad Loyet, Billy Balog, Ronnie Day, Brian Montieth, Brent Kaeding, Kyle Hirst, Danny Dietrich, Andy Forsberg, Mike Spencer, Dustin Daggett, Jason Statler, Casey Shuman, Danny Holtgraver, Greg Wilson, Peter Murphy, Tyler Wolf, Matt Mitchell, Danny Smith, Brian Leppo, Andy Gregg, Dusty Zomer, Johnathon Henry, Pat Cannon, Jayme Barnes, Coleman Gulick, Ryan Bernal, Logan Schuchart, Willie Croft, Justin Grant, Austin McCarl, Rico Abreu, Bobby Santos III, Shane Cottle, Tyler Walker, Kody Swanson, Ian Madsen, Bobby McMahan, Reece Goetz, Trey Starks, ...I could go on and on. The point is - this RRS points deal is tough and it should be. The All-HammerDown! Team honors those that made the sacrifices to run a national schedule and finish in the top-15 at the biggest races of the year in the USA. If you are a driver - I urge you to keep these points in your conscious and run as many of these races as you can. I dream of one day having the All-HammerDown! Team be a goal for every prospective racer.
. Okay - away we go... Calistoga hosted the fourth annual revival of the Louie Vermeil Classic over Labor Day weekend. The "event" is truly that. It is two days and nights full of racing and "bench racing". So many heroes from the what I like to call the 'golden era" of Calistoga where on hand - it was hard to count them all. Most prominently from a 'good news' perspective was Hank Butcher - who reported that he was feeling much better after fighting cancer for two years and going through intensive chemotherapy. It was impossible to not notice the change in Hank's spirit. He was smiling wide as he told me that he is now "living life". Hank and wife Sharon are out of the day-to-day grind of being business owners. ...Hank is among the few that raced a midget, and a sprint car at `Stoga (both with a wing and without). Hank had quick-time at a NARC show with wings in 1986. He won the last of his five Calistoga features in 1982 without the airfoil in DuWayne Starr's famous #18. ...Speaking of which - Johnny Anderson (also a Starr pilot) was at Calistoga hot-lapping one of the vintage cars. It was great to see Johnny's son J.J. - who looks the same to me as he did when he was a kid. Johnny's brother Billy Anderson and his wife Diane were in attendance - along with Hall of Fame racers Jimmy Boyd, Shane Carson, Chuck Gurney, Jimmy Sills, and LeRoy VanConett. Also gracing the Napa County Fairgrounds was Lem Tolliver. ... Darrell Hanestad was spotted too I'm told although I never saw "The Hammer". Ron Lingron - who announces at Petaluma - remembered that Hanestad rode over the wheel of Roger Kolb on Darrell's huge crash into the trees at the end of the back-chute in 1988. ...Super Bowl winning coach Dick Vermeil was also at the "world's most beautiful dirt track." ...As for the racing - the Saturday night feature was wildly entertaining as lappers became an issue. There was a wide range of speed and experience on the track as the USAC-CRA guys mashed with the USAC Western Classic series. Robert Ballou did a fantastic job in winning the non-stop 30 lap sprint car feature in one of Josh Ford's cars. ...Jeff Griffin endured a wild ride that kept him from coming back for night two. ...Shane Golobic escaped disaster in the midget feature when Alex Shutte's car clipped the back of Golobic's at the end of the front-chute. Luckily the Bock #26 midget didn't dig into the dirt or we might have been fishing Shane out the trees. ...Ryan Bernal ran Calistoga for the first time and excelled. What else is new? I believe in this kid's skill. He was "four-in-the-fluff", as Tommy Hall would say, in the B-Main. (That means he drove with his whole car higher than the cushion). He toned it down a smidge on Sunday (I think wisely) and went even faster. As I heard Rodney Tiner preaching at Knoxville - "Sometimes you have to slow down to go faster." ...Anyway - the point is - Bernal is a stud. In his second night ever at the half-mile - Bernal was second quick, and fourth in the A-Main. ...Scott Perovich won the Saturday midget feature. Johnathon Henry won the Sunday midget feature. ...I hated it for my buddy Scott Hall who crashed hard in time trials on Sunday . It junked his beautiful new #56. The most important thing was that Scott walked away. ...It was great to see Hall, and Tony Hunt fulfill lifetime dreams of competing at Calistoga Speedway. ...Ronnie Gardner impressed me with a third place finish in the midget feature Sunday. ...Geoff Ensign and Colby Copeland also looked good in sprint cars. ...Andy Forsberg won the Placerville Speedway track championship on Saturday night and then towed to Calistoga to go topless on Sunday. That dude LOVES racing! ...Shauna Hogg ran her first laps at Calistoga as well and finished 12th in the Sunday A-Main. ...Jason York was right at home without the wing. The two-time Silver Dollar Speedway champion looked good Sunday night - posting a sixth place finish. He was introduced for time-trials by his seven year -old son Drake, an aspiring sprint car announcer. ...Mike Spencer won the Sunday sprint car feature and with it the Calistoga Speedway Sprint Car points championship. (Only five races there this year for Sprint Cars.) ... Calistoga has stepped up their game on concessions. They have a mobile brick-oven pizza stand, specialty sausages, and other goodies that enhance the experience of the customer. ...Apologies for being late to discuss anything that happened after the Knoxville Nationals (for those of you that don't follow me on Twitter), I didn't know you cared. Hahaha ...Regarding Twitter. I must forewarn anyone who dares to follow my Tweets - that racing is just ONE part of my life. I discuss basketball obsessively. I have thoughts on media. I post photos of food I eat or cook. There are cats and R&B music discussed. Really. ...So if you can put up with my diverse life, by all means, follow me on Twitter @BobbyGerould. ...I'll try to get to some thoughts on the Gold Cup next... Now do yourself a favor and peep this video montage of the Calistoga weekend via LoudPedal Productions.
I enjoyed the 2011 Knoxville Nationals. The racing was good, the weather was perfect, and I saw friends I haven't seen in too long. I LOVE the Knoxville Nationals! I've been fascinated by the event since I was a kid who scoured race programs brought home to me from Nationals in the mid-70's. I saw my first Knoxville Nationals in 1981 at age 13. I rode in the back of a truck with a half-camper shell from California to Iowa - trusted by my parents to hitch with a friend and his family. In recent years - I've not been back to the Sprint Car Capitol of the World for the Nationals. But I am so glad that World Racing Group Productions allowed me the opportunity to return this year! Where else could I see 28 of the top 40 in HammerDownUSA.com's Racer's Racing Series all competing for the same prize? And that prize just happens to be the most lucrative across Sprint Car, Midget, and Champ Dirt Car events. The Nationals pay $150,000 to the winning team, and filth place in the B-Main pays $8,000. The result from a competition standpoint is that nearly all involved bring their A-game. The equipment is fresh and the desire to succeed is pegged.
...Outgoing Race Director and General Manager Ralph Capitani said the track welcomes constructive criticism – so I have some. (Surprise!). …Basically – I wouldn't touch the general theme of the present format. I love the inverted heat races, and the traditional split of the field into two preliminary nights. My three suggestions are simple. ...It is time to take the science of mathematics a little more seriously. This is the biggest race in our world – and yet our heat races do not weigh equally. Each preliminary night there are five heats. The fastest time trialer is seeded into heat one, with second quick in heat two, third quick in heat three, and so on through five heat races. The trouble comes when you seed the sixth fastest qualifier into the same heat as the quick-timer. …Think of groups of five. If you put the first (or quickest) of each group of five into the same first heat – that first heat is tougher than the rest of the heat races. Likewise the fifth heat is the weakest. … We can show this mathematically in the tables below that show you how each heat race lineup is seeded. The numbers represent the final time-trial position (...so the number 1 - is the quick-timer who starts outside row four).
| | |
| --- | --- |
| Present Format | Heat One |
| 36 | 31 |
| 26 | 21 |
| 16 | 11 |
| 6 | 1 |
| 41 | 46 |
| Total = 235 | |
| | |
| --- | --- |
| Present Format | Heat Five |
| 40 | 35 |
| 30 | 25 |
| 20 | 15 |
| 10 | 5 |
| 45 | 50 |
| Total = 275 | |
Looking at the two tables above you can see that heat five has a higher total (275), as opposed to the first heat's total of 235 (that's a bad thing – just like timing-in 25th is worse than timing-in 21st). In our proposed "snake-style" seeding (below) – each heat will be of equal weight.
| | |
| --- | --- |
| | Heat One |
| 40 | 31 |
| 30 | 21 |
| 20 | 11 |
| 10 | 1 |
| 41 | 50 |
| Total = 255 | |
| | |
| --- | --- |
| Proposed Format | Heat Five |
| 36 | 35 |
| 26 | 25 |
| 16 | 15 |
| 6 | 5 |
| 45 | 46 |
| Total = 255 | |
Our proposal takes common sense one step further. In the present format – the quick qualifier is "rewarded" with the toughest heat race (on a track that is most likely more narrow than each successive heat). In the proposed new equal weight system – the quick qualifier would face the tenth fastest qualifier in the same heat rather than the sixth fastest.
The next tweak would be to somehow do a better job of dividing the teams that compete on Wednesday and Thursday. This year – 45 teams took time trial laps on Wednesday but that number swelled to 54 on Thursday. The result was predictable given the nine more cars on Thursday. The depth of Thursday's entrants led to heat races so tough to advance through that four of the five heats were won from the front row. The lone exception was Kraig Kinser winning his heat from the third starting spot. …The fix for an equal division of cars is better left for someone smarter than I. But I strongly believe it needs to be addressed.
Finally – I am not a fan of the 50-lap race with a "competition yellow" and then a break for changes to the car. With the present A-Main format there is no policing what the cars have for the first 25 laps. As one smart driver said to me, "put on your cheater shit for the first 25 laps, then take it off at the break so you are clean for post race tech." …I'm not saying anyone cheated – but the point was interesting to ponder. There simply are not enough officials in the work area during that five minute break to keep an eye on everyone. So please – reconsider the present 50 laps, with a break, deal. I want a "SPRINT" – and I like 40 laps as opposed to 30 simply because 30 is the standard number of laps at most races. The Nationals are special. I would like to see a 40 lap race with any red flag being an "open red" but with no tire changes allowed without a penalty (restart at the rear if you change any tire). Tires and how the driver abuses or preserves those tires has always been a part of racing. Let's let it be a factor. If we raced 40 laps with no guaranteed stop – teams would be gambling to run a soft compound. Teams that went with the harder tires might surge at the end of the race. (A quick aside: I had a veteran crew chief tell me he has "never run a 300" - Goodyear's hardest right rear tire compound. NEVER?! ). Most teams in Saturday's A-Main raced on the softest Goodyear right rear (100). One driver I spoke with wanted to have a 200 (a medium compound) on the right rear "just so I don't have to worry about abusing it". Furthermore - the present format guarantees we will never see a non-stop Nationals. That is sad. Some of the best races I've ever seen were non-stop, green to checkered, events that further entranced me with each green flag lap. A driver's physical condition becomes more important in longer green flag runs. ...You say we can't run 40 laps and make it on fuel? I say let's run a bigger fuel tank and fill those things up. Or don't fill it all the way and gamble that a red flag will occur naturally - giving your team a chance to add methanol.
Those are my tweaks to the format that I feel would enhance what is already the greatest sprint car race in the world. I LOVE the Knoxville Nationals!
The ASCS National tour made their first stop at Placerville Speedway this past Friday and Saturday. We took in the Saturday show which was won by Wayne Johnson. He also won the Friday night race - making it a sweep for traveling drivers. In fact - of the 15 races that hit the high-banked quarter-mile, red dirt oval, ten of them were won by tour regulars. The exceptions were heat wins by Colby Wiesz (2), Jon Allard, and Greg DeCaires, and a B-Main victory for Andy Forsberg. In other words - the ASCS National guys kicked some Nor-Cal butt. Seven of Saturday's top-ten finishers were National tour drivers, with the ASCS boys sweeping the top-six spots. The lone locals in the top-ten were DeCaires, Tim Kaeding, and Sean Becker. Mason Moore, C.J. Humprheys, Steven Tiner, and Marc Mackay were top-15 finishers. ...The show on Saturday was well run and finished shortly after 9 pm. It was a points earning event in the Racer's Racing Series. ...Jim Richardson - the veteran sprint car driver and car owner said the ASCS National Tour was fantastic to compete against. He praised their format which forgoes time-trials in favor of a random pill draw for heat starting positions. ...Both Seth Bergman and Tony Bruce Jr. will run the Knoxville Nationals - sanctioned by the World of Outlaws. Tim Kaeding also recently received the word that he will be there as well in the Roth Motorsports #83jr. ...In chatting with drivers and crew members - there seems to be a buzz about cars running engines built by Al Parker. Sammy Swindell, who leads the Racer's Racing Series points, is a Parker guy, and so is Bryan Sundby - who was the winning car owner at Placerville for Wayne Johnson.I
exchanged text messages with Joey Saldana this evening (Tuesday July 26th) and Joey said, "Everyday seems to get better." He added half-jokingly, of his recovery from injuries sustained at Eldora Speedway July 16th, "I'm going crazy. I wish I was in Canada (with the World of Outlaws). My lung and ribs are the worst for pain." Saldana's Kasey Kahne owned Red Bull #9 had a small "go pro" camera mounted in a position that captured the impact on video. Joey has seen the tape and said, "It was scary to watch. I'm lucky to be here so it could always be worse." ...Saldana's #9 is being wheeled by Brad Sweet in the interim. ...Kasey Kahne himself took a scary ride last weekend at Williams Grove. Check out this video: ...Kahne returned the following night to run Fred Rahmer's #51 as Rahmer continues to heal from a earlier crash. Kasey, in my opinion, is a real jewel in sprint car racing. He has more than given back to his his roots. He doesn't have to have traveling sprint car teams that support Saldana, Sweet, and Cody Darrah. He didn't have to make a deal with Dennis Roth to keep Paul McMahan's livelihood rolling. He doesn't have to run the Chili Bowl, or tell Brad Doty that Brad can freely use Kasey's name in pre-race ads for the Brad Doty Classic. But Kasey does it anyway. He deserves the respect of all for all that he has done for our sport. ...The Kings Royal will air Saturday on Speed. (Spoiler alert! Don't read the next sentences if you forgot or don't know how that race ended). I want to thank Sammy Swindell and his wife Amy for allowing us access post-race to do an interview that no driver ever wants to do. Sammy manned-up and talked to us candidly but calmly about losing a big race in one of the most gut wrenching ways possible. ...I was impressed with Sheldon Haudenschild again. He is the 17 year-old son of Jac Haudenschild. Sheldon is smooth behind the wheel and all he wants to do is race. ...If there is a cooler racer than Dale Blaney - I haven't come across them yet. ...Tim Shaffer was double impressive in Friday night's "Knight before the Kings Royal". When I see guys like Shaffer, Greg Hodnett, Blaney, and Pittman run (as I did at Eldora) - I wish there was a way that they all could get out to every WoO event. Ditto for West Coast cats Jon Allard and Tim Kaeding. (While I'm at it - I also wish Stevie Smith, Kevin Swindell, Rahmer, Danny Lasoski, Tyler Walker, Terry McCarl, Shane Stewart, Kyle Larson, Sam Hafertepe Jr, and Johnny Herrera could run every WoO race.) ...Thanks as well to Chris Dolack and Greg Oldham who worked as partners in the pits - lining up interviews and helping me do my job at Eldora. ...Pittman and McMahan also get thanks for helping me stay sane with Mountain Dew and snacks. ...The first ever Bullring Nationals will run this weekend at Placerville Speedway. The ASCS National event is a points earning race in the Racer's Racing Series. There seems to be considerable buzz about this race!
A weekend at Eldora Speedway brought the best and worst of our sport home to me. On one hand - the racing, at times, was phenomenal! On the other hand - a good friend wound up injured and is still hurting as this is written Monday afternoon. Joey Saldana's #9 was "t-boned" by the car driven by Ed Lynch Jr. (witnesses said Lynch was not at fault but was a victim of a slide job gone bad by another driver.) The result was Saldana with a shattered right arm, a collapsed lung, and broken ribs. He had surgery Sunday morning in Indianapolis and he will be out of action indefinitely. It is very difficult to see a friend in pain and also to see the anguish on the faces of his family members. It really is an aspect of the sport that we all try to sweep under the rug - but I'd be lying through my teeth if I said it hasn't affected my own life as an observer. Saturday night's Saldana accident was yet another reminder to me personally to find all the joy I can in being "healthy". Not more than 26 hours earlier I was chatting with Joey in the pits about how I really thought all the drivers in the field at Eldora were "crazy". It had been three years since my last live visit to Eldora Speedway and yet it took just one hot-lap session on Friday night for me to surmise to Joey, Paul McMahan, Donny Schatz and any other person who would listen to me that racing at Eldora is the very definition of "EXTREME SPORTS". The cars are just so freaking fast and the racing is so close at times that the margin for error is too small to think anything other than catastrophe is looming. And yet - that is precisely why I saw the best race of the year in heat two Friday night. And it is precisely why 20,000-plus fans flock to the high-banked half-mile for the Kings Royal weekend. The drivers of the World of Outlaws series flat get after it. My jaw dropped as Schatz bested Steve Kinser and Sammy Swindell in that wild second-heat Friday. Schatz kept his foot in it coming off of turn-four, one time in particular, on the outside of Kinser, where I thought for sure there was no way he could get by cleanly. As the late Jesse Hockett would have said, "It was a nut sack move". ...Which brings me to these tangents: Why on earth does some bullshit like X-Games rally cars at the L.A. Coliseum make ESPN's air and attract big sponsorship dollars, while our guys are busting their asses and struggling for exposure? I nearly vomited when I saw the temporary circuit that the rally cars "raced" on from L.A. It reminded me of horrible "races" on similarly "designed" temporary tracks that have wasted my time. ...A quick top-five list of the worst temporary tracks and events I've personally seen:
5. U.S. Grand Prix and the Meadowlands 1984. Mario Andretti won the CART Indycar event on a temporary course in the parking lot near the Arena in Newark, NJ.

4. A indoor USAC Midget race from Sacramento's ARCO Arena. All I remember was that the cars could not get up to speed at all and the late Rich Vogler won.

3. 1999 at Heartland Park, Topeka, Kansas. Using two lanes of a drag strip with turns so tight a sprint car couldn't be a sprint car, this WoO event was covered on TNN. Johnny Herrera won it.

2. Another indoor midget race sanctioned by USAC at ARCO Arena in February 1988. Sleepy Tripp was the winner.

1. Andy Hillenburg won the 2000 version of the same Heartland Park drag strip experiment. Again - we covered it for TNN. It was awful.
(Next tangent) ...Then just this morning I opened up my newspaper and read that Mike Skinner finished 42nd in the NASCAR Cup race from Loudon and was paid $69,400, or - $19,400 more than Kings Royal winner Tyler Walker earned Saturday night. Call ME crazy - but I think the whole deal is completely backwards. Sprint car racers risk themselves more and they should be rewarded as such. NASCAR, not always, but in general, does not excite me from a racing standpoint. I respect those guys. They are the best at what they do and it IS big business. I get all that. I'm just saying from a fan's perspective on exciting racing - I think sprint cars are the ultimate. And I think sprint cars at tracks like Eldora should be a much bigger deal worldwide than it is. Tony Stewart - who I consider the greatest racer of this era - finished tenth Saturday night at the Kings Royal and he had some very interesting and entertaining thoughts on the "butterflies" he was feeling before the A-Main Saturday. I won't spoil it (watch Speed's coverage on Saturday July 30th at 1 pm eastern). END TANGENT(s).
Daron Clayton has settled into the Hoffman #69 sprint car. Clayton won the King of Indiana feature (rain-shortened) at Lawrenceburg (Indiana) Saturday night. ...Rain has been a huge nuisance to the World of Outlaws especially. This season, according to Craig Dollansky's press releases, there have been seven events postponed. ...Bud Kaeding won both feature events at Hanford Saturday night. Bud doubled in the USAC West Coast 360's (non-wing), and the combo sanctioned ASCS/Ocean Sprints (winged) races. ...Ryan Bernal extended his series points lead with a second to Kaeding at Hanford. Bernal has been impressive each time we've seen him compete this season. He is a name to remember for sure! For what it's worth - the USAC West Coast 360 Series is among the healthiest traveling series going in the Golden State. They had 28 cars at Hanford Saturday. ...In the ASCS/Ocean feature - Steve Kent's son Steven finished eighth, one spot behind Tim Green's son Nick. ...Zach Daum won the Hut 100 which was held at Tri-State Speedway in Haubstadt, IN. In that event, Kody Swanson was injured and taken by helicopter to the hospital.
I saw one of the best single performances I've EVER witnessed this past Saturday at Giant Chevrolet Kings Speedway in Hanford, CA. The performer was Bud Kaeding, aboard the Buster & Ziggy non-wing #29. Versus USAC-CRA competition - Kaeding was forced to the rear of the field (20th) after a lap two tangle with Blake Miller. Bud responded by passing every car to win the 30-lap feature in front of a delighted crowd that was watching him all the way. Kaeding made some dangerous, hair-raising outside passes at the exit of turn four that left all in attendance knowing he EARNED the W. ...I really enjoyed my Saturday pit-walk as I had a chance to chat with Rip Williams, and many of the drivers and mechanics that checked in. "The Ripper" is really a cool guy. He is old-school to the bone. His pride in his two sons Austin and Cody was evident as we talked about their off-the-track lives. Both boys were high-school football players and both boys exhibit the toughness one would expect from Rip Williams' sons. Austin is a union iron worker in Southern California. Rip brags that Austin has never missed a day of work and because of that - he is in demand. Cody meanwhile is working hard himself to juggle racing while meeting the demands of studying at Cal State Fullerton. ...Bruce Bromme will be inducted into the National Sprint Car Hall of Fame on the first weekend in June. Bromme is spinning wrenches on the Ron Chaffin owned #50 wheeled by USAC-CRA points leader and three-time defending champion Mike Spencer. ...I was impressed with Nic Faas in the Alexander #4. Faas drove a smart race and wound up as runner-up to Kaeding. Faas is now 21 years old and he too is hitting the books while racing. He is currently at Orange Coast College but will join Cody Williams at Cal-State Fullerton in the Fall. ...Matt Mitchell finished third Saturday night. He was universally praised by his peers as THE guy that has improved the most as a driver. Rickie Gaunt said, "I'd hire him right now!" Mitchell is showing the patience that is only gained from experience. Aggression has never been an issue for the certified masher. ...Tom Sertich told me a good tidbit about his sponsor Phil King. He says Phil is a 75 year-old man that contributes by being the official team car-washer. Phil comes over on Sundays to make sure the Moose Racing #92 is fresh and clean. ...Gaunt was great to catch-up with. The 42 year-old veteran driver tells me he is a demanding father of two boys, ages 14 and 16 - and that is his first priority. Gaunt has successfully battled back from a broken neck suffered at Perris in 2009. ...Marty Hawkins did an excellent job to win his heat race Saturday night. ...
Dean Mills posted video of the opener for the King of the West series at Antioch. The video is an excellent representation of California bullring madness. You will see flips, and dudes up in the 'ish', making passes. My 'brother' Troy Hennig is on the call. Okay... see the video HERE. And don't forget that the King of the West show moves to Thunderbowl Raceway in Tulare this Saturday - April 16th for the Chris & Brian Faria Memorial. ...Check out this excellent feature story on Kody Swanson from the Long Beach Press Telegram. ...Congrats to weekend winners: Shane Golobic (Placerville Friday), Jon Allard (Antioch - King of the West season opener - Saturday) and Andy Forsberg (Petaluma Civil War - Saturday).
I received this email this week from Art Blackwell. "My father and I were a fair part of the Calistoga NARC thing. I started in the pits as a ( wink, wink ) underaged pit crew member for my father, Cliff Blackwell.

Saying this, the history you have posted for the 70s and early eighties is mostly conjecture about what happened during that time.

For instance, Mel Fernandez WAS WAVING A GREEN FLAG IN THE MIDDLE OF THE TRACK when a rookie got sideway during the start of that main event! The resultant melee had me diving into one of the sidelined cars to prevent injury. Cars were crashing all over the pit area and the safest place to be was in one of them...

My dad also drove the Donny Melvin OFFY sprint car and took a turn in the Hank Hanestad RANGER aircraft engine powered Sprint car.

Our 67 car never got a mention...although we flipped it OVER THE FENCE in turn one....

I do NOT like revisionist history. I've corrected errors on Wiki concerning the CRAY COMPUTERS designed by our Development Team. Yes, I was a member. Maybe the same should be applied to your history too. Please do a better job of researching your " facts " before publishing them.

Arthur Blackwell

Pit crew member, NARC member ( they knew I was underaged )

Engineer, Cray Research ( I'm on the Ex-cray site, MEMBERS ONLY )

I have a better claim to " inventing the Internet " than Al Gore has. I do not appriciate it being abused......


" Those who do not learn from the past are doomed to repeat it " - Santayana

I hold to the FATALIST PORCINE philosophy of life:

" I PINK, therefore I HAM "
...My response: I try my best to get it right. And the Calistoga Speedway history from the 70's and early 80's I have posted is mostly taken from accounts in NARC yearbooks. I never have intended to revise history. I would love to have more first hand accurate accounts of what may or may not have really happened.
...Last week we made the trip to the Central Valley of California to see the season opening events for the ASCS National Tour. Thunderbowl Raceway in Tulare was the host on Wednesday night and Kings Speedway was the spot on Saturday. Each track drew 32 winged 360 sprint cars and each show had its' share of good racing action. Bud Kaeding sported a retro-look on his Buster & Ziggy Enterprises car. You might think - how can Bud Kaeding (being so young) have a retro car? Well - Bud's been doing this for a minute. By my figures he is starting his 16th season of sprint car racing in 2011. So a flash back to the red #29 that led him to success out-of-the-box at San Jose Speedway is right on time. Brandon (his real name) was earning car-owner points at Tulare for Brian Brown. Kaeding actually had a #21 on his wing. Also playing the fishy, owners points angles were Jason Johnson - who had his #41 atop the wing of the Finley Farms #77 that was wheeled by Hanford winner Kyle Larson. Johnson was actually in Australia but made a deal with the Finley's to have their car appear as a Jason Johnson Racing car. Likewise - Harold and Janet Main's #35a was sporting a #45x with Johnny Herrera driving. ...I'm not mad at any of the folks who took advantage of this loophole in the rules - but I sure do think that ASCS needs to address this grey area and fix it. It is not at all fair to the teams that actually did tow all the way from Oklahoma, Texas, Arkansas, Tennessee, Oregon and Washington to have another team basically not show up yet still get full credit for being in attendance. Owners points have value due to points fund monies, championships, and provisional starting spots. ...Herrera was visiting Hanford for the first time since 2000 when he was driving for Craig Cormack. ...Shane Stewart had a nice run at Tulare driving from 16th starting spot to a third place finish. Larson was equally brilliant with a 21st to fourth drive. But make no mistake about it, Tim Kaeding still owns Thunderbowl Raceway in a winged 360. Roger Crockett was fast all night as well at Tulare. He had an impressive runner-up finish. ...Larson had the Hanford A-Main under control in all but one corner of all 30-laps. He drifted high in turn two early in the race and lost some traction - but smartly never made that mistake again - and won the $6,000 top prize. ...I thought Trey Starks was impressive again. The soon-to-be 15 year old gasser won the B-Main at Thunderbowl Raceway, turning lap times as quick as any we witnessed all night. ...Hall of Fame mechanic Kenny Woodruff was in the house for both events. K-Dub is maintaining cars for Dustin Morgan of Tulsa. ...Gary Wright - also a Hall of Famer - was driving for Brian Sperry & Donnie Cooper. Wright is a fun guy to chat with. He led the early stages at Tulare before settling on a sixth place finish. ...Andy Gregg made the tow from Placerville for Brett Ervin racing. Be sure to check out Andy's "7 Industries" web content. Lots of cool and fun stuff! ...Andy Forsberg informed that Forsberg Racing is starting the season with their 26th different red sprint car. ...Tangent: Young drivers - this is directed at YOU. If you crash - even if you think it is not your fault - you need to talk to the infield announcer(s) (radio guys) with respect. Don't kill the messenger. The infield announcer didn't wheel you into a flip. The single dumbest thing you can do outside of your race car is piss off the media members who will write and talk about you. Stomping away from your crash in a huff without speaking is a move that does no good for your career. If you are pissed - direct the pisstivity in as professional a manner as you can over the mic - back at the driver who you think wronged you. If it might have been your fault, say so. The audience wants to hear from you. Admitting you made a mistake humanizes you and might actually GAIN you some fans. END TANGENT - ...Jeff Swindell made the super long tow from Bartlett, TN to compete in both events. Jeff was surprised to see my face "trying to break into his room" late Tuesday night at the local motel. The brain-surgeon lady at the check-in counter gave me a key with a room number to a room that was actually being occupied by a sleeping Swindell. As I'm trying to figure why the key isn't working - a startled Swindell popped his head up at the window as if to say to say, "WtF?" At this point - I realized I obviously had a key that didn't belong to this room. ...I actually wound up ditching that Days Inn. My room was not clean to my satisfaction, and I did not feel comfy so I bailed next door to the Hampton Inn where I was lucky to stumble upon a cancellation after midnight. The World Agriculture Show was going on in Tulare and rooms were very hard to come by. ...In the meantime and in between time - we stayed in Visalia at the Holiday Inn. The accommodations there are always just fine. Hit downtown Visalia on Friday night with Tony Bruce Jr., and Jesse Douglas. Be sure to check out their TravelWizer.com web site for all your travel needs. ...I announced at both tracks with Outback Andy Foster. It has been almost five years since I last visited Kings Speedway. Improvements have been made - most notably with a new bathroom structure. Hopefully - the Hanford track will find a way to improve the public address system there. I understand it is tough. California fairground racetracks have no extra money for such expenditures. We sure could use an angel to miraculously donate the equipment needed. ...Special thanks to Steve Faria, Don Sharp and Scott Woodhouse and the staffs of both tracks for taking care of me. Additionally - thank you to "AML" for the sweets! ......Finally - I want to shout out to RacinBoys.com and their traveling team of Scott Traylor, Scotty Cook, and Bryan Hulbert. These guys do a fantastic job of covering every ASCS National race (plus a bunch more). Please bookmark or favorite RacinBoys.com. ...I want to make sure you sprint car fans know about what Steve Post and Kendra Jacobs are doing. Winged Nation is a cool audio-web show that is affiliated with MRN. They do a great job of talking about the agenda of the sprint car world. I highly recommend it! ...The future of pouring beer at race tracks is sure to change after this invention. Promoters - look at this!
...Tim Shaffer won the All-Stars first race of the season at Ocala Florida Friday night. Daryn Pittman finished second follewed by Tyler Walker, Aaron Ott, and Dale Blaney. ...At Tulare next week - Kyle Larson will drive for Finley Farms Racing in their #77 winged sprint car. Meanwhile Johnny Herrera is returning to California to steer the Harold & Janet Main #35a. ...Race fans can keep up with World of Outlaws champion Jason Meyers on his new Facebook fan page. ...And so begins the 2011 sprint car season in the United States in earnest. Tonight - the All-Stars ride for the first time this year with a Racer's Racing Series points earning event in Georgia. Next week ASCS sprint cars invade Central California for two nights of action at Thunderbowl Raceway (Tulare) as well as Kings Speedway in Hanford. Meanwhile, the World of Outlaws are set to begin next Friday in Florida. ...Dennis Gage has taken over promotional duties at Silver Dollar Speedway in Chico. Sprint cars of the non-winged variety will be the focal point of the track's John Padjen Classic March 11th. The USAC and BCRA banners will fly as sprint cars and midgets hit the quarter-mile clay oval for a night of action. ...Recent losses in the sprint car community included one of our favorite people: Paul Enea. Mr. Enea was among the kindest men I've met. Our condolences to his famaily. Likewise - we send our good wishes to the Stansberry family. Chad Hawkins writes: Hey Bobby: I just read about the passing of Ken Stansberry on the SCRA message board. http://www.hoseheadforums.com/forum.cfm?ThreadID=51166 His son, Ray Stansberry - helped us out a bunch this year at the track and even let Marty and I stay at his home in Tehachapi on the way to Perris during the season. I took some photo's of his Dad's NARC trophies from the 60's. In `64 he won the NARC Car Owners Championship and was 2nd in 65. He also has a Trophy Dash Win at Calistoga on 7-4-65. I'm not sure who the driver was, but you can probably ask Ray or his son, Kenny Stansberry who runs this website http://sprintcarfan.com/ or talk to him on facebook.
The 2010 Trophy Cup was again the best racing event I've seen in the calendar year. Winged sprint cars at Thunderbowl Raceway seem to consistently put on a great show but as much as the track deserves credit - the drivers who rip the top of cushion on the 3/8's mile high banked clay oval deserve at least an equal amount. Tim Kaeding is entertaining. Watching him "rim-ride" at Tulare sets the table for others to try and keep up with him. The result is a bunch of cars flying around the upper reaches of the track where the cushion eventually gets so thin that that cars actually hit the wall in turn four for a "bump and run" effect. It is wild to watch. This year's edition saw both A-Main's decided on the last lap. While Jon Allard had a firm grip on the overall points title that carries with it a $20,000 prize, the battle for the A-Main win on Saturday was simply stellar. Kaeding and Kyle Larson battled in traffic with Larson throwing all caution to the wind with a "hail mary" slide job on the last set of corners that brought all in attendance to attention. Kaeding waited for Larson to go by and then turned under him to win the race that had folks buzzing even hours after the checkered flag had fallen. On top of the good racing is the positive vibration that the event emits. All the money raised goes to the Make A Wish Foundation. ...Roger Crockett won the opening night A-Main at the Trophy Cup. Jayme Barnes established a new track record for winged 360's at the track Friday night. Driving the Roger Henderson Jr #7n, Barnes dialed in a single lap of 13.381 seconds. ...Trey Starks, the 14 year-old son of Washington state midget racer John Starks, was impressive on Friday when he finished seventh in his first run at the Tulare track.
Who will win the 2010 Trophy Cup at Tulare? Tim Kaeding is a good place to start. Last year. TK ran up through the field from 24th to 1st to put an exclamation point on his overall points triumph. But Kaeding will certainly be tested. Shane Stewart and Kyle Larson are running very well right now. Among the pre-entered who also figure to challenge: Bud Kaeding, Randy Hannagan, Jason Johnson, Lucas Wolfe, Daryn Pittman, Brady Bacon, Jon Allard,Tommy Tarlton, Brent Kaeding, Roger Crockett, Johnny Herrera, Mark Dobmeier, Jayme Barnes, Kyle Hirst, Cory Eliason, Jason Statler, Andy Forsberg, Shane Golobic, Peter Murphy, Stephen Allard, Zach Zimmerly, Ronnie Day, Bobby McMahan, Mike Henry, Brad Furr, Geoff Ensign, and Chad Hillier. Now that's a stacked field! (More Positivity).
...The 57th Gold Cup Race of Champions is in the books and the lasting memories for me will be of a scary crash and a California winner for the first time since 1989. The crash happened in one of the two twin "Last Chance" races when leader Lucas Wolfe in his family #5w rode over the wheel of Danielle Simpson's #6up as Wolfe was attempting to lap her. Wolfe's car launched at top speed and seemed to gain momentum in a violent series of tight flips along the fence line beyond turn one. It was the kind of crash that sent anyone who had even remotely connected with Wolfe running for the scene just to see if there was ANYTHING we could do to help. It was ugly. To our collective surprise - Wolfe got out of his mangled car and walked away. It became evident that his car had hit one of the trees that line the perimeter of the fairgrounds (...actually sheared off a piece of the tree). The back of his roll cage was bent but still standing. His tail tank was laying 20 feet away. There were pieces and parts everywhere. I talked with Lucas after the A-Main and he said he could not remember how he got from the crash scene to his trailer - and he complained that his left forearm was very stiff. But other than that - he seemed fine. I am still amazed. His ride was easily among the five worst crashes I've ever witnessed live where a driver lived to tell about it. (If you are scoring at home - others that come to mind are: Darrell Hanestad at Calistoga into the trees in turn three, Brian Geiszler at Altamont in turn three (2006), Cory Kruseman flipping down the front-chute at the Cal-Expo (Sacramento) mile in a midget, and Paul McMahan at the 2004 Knoxville Nationals in the first heat, turn three.) ...Jason Meyers scored the Gold Cup win which was the first for a California driver since Hanestad won in 1989. Meyers would have left with the World of Outlaws points lead but the Outlaws made Saturday night a deal where everyone got 75 points regardless of their finishing position. I still do not understand that thinking. WoO says it is because the format is different than their regular shows. Certainly there is some logic in that. But it seems more illogical to have the biggest paying night of racing on their schedule not have any bearing on the outcome of their championship. The KIngs Royal at Eldora is also a "show up points" (75 for everyone) race. Of course the Knoxville Nationals are not sanctioned by WoO - so the reality is that three of the four biggest races on the sprint car calendar have little to nothing to do with the WoO championship. ...Lets put to rest some of the rumors we've heard. First, Donny Schatz is not leaving Tony Stewart Racing. According to sources within the team - all is on course for Schatz to return next year with Steve Kinser as his teammate. Next - the Gold Cup is returning again in 2011 as a WoO event. ...We also heard, from someone who would know, that the Casey's General Store sponsorship will move to Kraig Kinser's #11k for 2011. ...Tim Kaeding did NOT get fired from Dennis Roth's #83. The team did not race Saturday night at Chico after hurting a motor Friday night. Roth opted for the car to return to Fresno to re-group. ...With Kasey Kahne moving out of a Budweiser sponsored car in the NASCAR Cup ranks next year - it seems likely that Joey Saldana's car will have a new look for 2011. We hear there are at least three prospects (think light beer, tractors, or energy drinks) that have serious interest in being a part of the Kasey Kahne Racing stable. ...We hear that Sheldon Haudenschild, Jac's sprint car racing son, will soon get his first shot at Eldora Speedway. ...Stephen Allard also scared us at the Gold Cup Friday night. Allard flipped hard, end-for-end, in the Smitty Boys #14s. Showing his trademark toughness, Stephen returned to compete Saturday night when most drivers would have called it a weekend. ...Kyle Larson and Bud Kaeding both had terrific runs on Saturday night at Chico. Larson posted his best ever WoO finish with a sixth place run while Bud drove from a B-Main transfer to finish seventh. ...Steve Kinser showed that he is ultra tough on re-starts. He took advantage of the double-file deal virtually every time he lined up next to another car. The King was superb in his 18th to second drive in Saturday's A-Main.
The 2010 Calistoga track championship will likely come down to three men this Saturday and Sunday. With the title being a "sprint car only" championship this year - it appears that either Mike Benson, Marty Hawkins, or Kyle Larsonwill win the Scarborough Trophy. The points are listed here. ...Robert Ballou is among those entered for the Vermeil Classic at Calistoga. Ballou has enjoyed another fine season of non-wing sprint car racing. He won the TNT Sprint Bandits championship for the second year in a row. The former California Civil War Rookie of the Year has three career wins of $10,000 - scoring the Ron Shuman Classic at Lakeside Speedway in Kansas in 2008 and twice winning Lawrenceburg's (IN.) special "ten-to-win" event. I'm looking forward to seeing the "Madman" at Nor-Cal's biggest dirt track.
"Reality is frisking me." - Common. ...It is human nature to want the best of both worlds. The reality is that usually you cannot have that. As racers - we love that a BIG race at "our" local track pays BIG money but we may not be enthused about the compliance it takes to participate in the event. The tires are different. Costs are higher for the BIG show than they are at the weekly experience. ...Such is the case with the 2010 Gold Cup Race of Champions at Chico's Silver Dollar Speedway. ...I love the Gold Cup. I have not missed the race since I was two years old. What I hope to accomplish here is to simply lay out some educational facts from different perspectives in hopes that we all will be more sensitive to the race teams, promoters, and sanctioning body. The Gold Cup is THE sprint car race in the Western United States and it attracts the best teams in our sport year after year. This year the field will not be split on preliminary nights. All cars will run all three nights in the World of Outlaws sanctioned event. As such - Thursday and Friday will be WoO points races that pay $8,000 to-win and $600 to start. ...If a promoter wants "the best, four abreast", it will cost them. As well it should. Saturday night A-Main makers are guaranteed $1,000 if they take the green flag. The total purse for the event exceeds $210,000. The skill of the drivers in the World of Outlaws, in their 410 winged sprint cars, is second to none (a fact if you go by lap times - an opinion otherwise) on Chico's quarter-mile. These cats are on the edge of the edge. It is a special site to behold. But having the best comes with pre-conditions. In 2010, the rear tires at all World of Outlaws races have to be Goodyears. In Northern California - every sprint car series runs on Hoosiers. So local teams face a decision to either "Eagle up" or sit out. Whereas in years past there were multiple weekends of WoO racing in the Golden State, the Gold Cup is now the only California WoO event in September. Some local teams will not participate because they don't want to buy new tires "just for the Gold Cup". Some will stay away because they don't want to have to pay to join the World of Outlaws. (Joining the Outlaws makes you eligible for their insurance coverage, and gives you a discount at the pit gate* plus other benefits.) Some don't want to pay an entry fee. Some cite a combination of tires, and fees as their reason to stay away. Whatever the case is - if you choose not to race, I respect that. If it is economically not feasible, I understand. I wish it wasn't that way. But there is that darn reality frisking us. ...Owning a sprint car is a money losing deal. It has been for as long as I've been around it. For 95% of those who own a car, losses will outweigh gains. The engine cost is outrageous. Depending on new or used - we are talking $30,000 to $50,000. Frames, components and spares are needed. Truck and trailer costs are not a picnic for the wallet either. ...What is realistic for three nights of racing at the Gold Cup - assuming you have all the equipment to race? A trusted source on a good regional team says they will buy eight to ten Goodyear tires for the Gold Cup at an estimated cost of $1,600 to $2,000 ($200 per tire). For a lower budget team, used or "scrubbed" tires purchased from an established WoO team would be a way to save some money. ...My buddy's team will buy five pit passes per night at $37* (15 x $37 = $555). His team joined the WoO in the spring so they only have to pay the entry fee ($50 if entered before August 27th). He says the team really should stay four nights in Chico but they will get by on two rooms for three nights at a cost near $750 after taxes. They still have to pay for gas for the truck (estimated at $450 round trip), fuel for the racer, food, and most importantly to some on the crew - they have to buy enough water, soda, gatorade, and BEER for the cooler. Bottom line; my friend says he figures his team can do the weekend for about $3,500-$4,000 if they don't break something or crash. He figures some teams will find a way to do it more cheaply, while "two or three California teams" will spend more. Adding a real bit of racer savvy that "Joe Fan" probably does not consider, - my friend's team figures "nights of racing on the motor" into the equation. (Sprint car engines are only raced so many nights before they are sent back to the builder for a re-tune). Since this year's Gold Cup requires three nights of racing rather than two as in the past - this team is one night closer to a re-tune at the conclusion of the event. All of the above illustrates why sponsorship in racing is so important. If someone is giving you money to help offset the tremendous operating costs - you might have a chance to break even or make money. Certainly sponsors should want their cars racing at the Gold Cup. The chance for exposure is multiplied exponentially due to the increased media coverage the race commands. ...Make the A-Main and finish last each night and you've got $2,200 in purse winnings. If you can run in the top 15 each night - the money increases. If you sweep the deal you could score $66,000! Only each specific race team can determine whether or not they can rationalize entering any particular event. I know of one quality driver who I respect a ton that runs his own family team and sadly - he will not compete at the Gold Cup. This guy is a racer. He would be at the Gold Cup if he could. But...he is spending an estimated five grand for a repair on his 360 engine which he needs for the Johnny Key Classic at Watsonville, a race he has a better shot of winning than the Gold Cup. With 'seeds to feed' and family considerations - he simply does not have the money to spend to run with the WoO teams in Chico. His situation is real. Also very real is that Handy Promotions - the promoter of the event is spending more than ever too. By having each preliminary night be a WoO points race - their expenses increase in purse payout. Educated sources tell us the bill to promote the Gold Cup is the neighborhood of $400,000. That is a hell of a lot of risk. The purse, as mentioned, eats up more than half of that nut. Next comes the sanctioning fee - clocking nearly 20% of the total. The rest is spent in insurance, advertising, staff, security, utilities, etc (all coming with that inflated California price tag)... Money is spent to ensure fans have fun with Bikini Contests, and post-race activities. It adds up quickly. Paying $50,000 to-win is costly. The Gold Cup doesn't have to pay $50,000 to win - but because it does - it maintains it's status as a top-shelf, signature event on the WoO schedule. As locals in California - we take great pride in "our" track's premier show having such swagger. Race fans in Australia and New Zealand know of Chico, California as a glamour spot in the sport. People from Central Pennsylvania travel to see the Gold Cup out of curiosity to see if the race could possibly live up to its reputation (and maybe to see those California girls in their bikinis). Only three races on the WoO schedule pay $50,000. The Kings Royal is a single day race tied to another "stand alone" night of racing 24 hours prior. The Williams Grove National Open is contested over two nights. The Gold Cup - now requiring running all three nights - becomes the only WoO race to do that AND offer the $50,000 top prize. The racers return to this event in large part because of the money but also due to the great heritage of the race that actually pre-dates sprint cars. The Gold Cup at Chico featuring the World of Outlaws is still a relative entertainment bargain when you consider prices for NASCAR, the NBA, NFL, or heck - even the movies. It gets old hearing folks complaining about anything from Gold Cup pit pass prices to entry fees. Is it cheaper at a BIG event in the midwest? Yes it is. But so is the cost of living. Why would a pit pass price be exempt to this rule? Your gasoline is cheaper in the midwest. Your barbeque is less expensive in the midwest. That is reality. Another reality is that the sanctioning fee for three days of WoO racing is costly. But that sanctioning fee is part of the reason that the WoO can continue to get up and down the road and bring their traveling circus to town. The WoO souvenir trailer, the officials, the announcers, the writers who keep us informed, - all have to be paid. If you enjoy a WoO race on TV on Speed - that costs money to produce too. Sanctioning fees help beat up the cost it takes to keep the WoO functioning as the "Greatest Show on Dirt". ...The point is... special events cost more than regular events for all involved. And special events also pay more than regular events do. I WANT Handy Promotions to make money on the Gold Cup so that they continue to be enthused about bringing the best in the world within an hour and thirty minutes drive of my front porch. The Gold Cup IS and always has been a SPECIAL race. Once a year teams get a chance to race for the right to have their name on the list of Gold Cup winners or even as one of those that have qualified for the final 24 on Saturday night. This September 9-11, I expect the racing to be more intense than ever - with all the stars running each night, fighting for precious points. As a fan I am going to be understanding of teams that can't make it but I am also going to celebrate those that find a way to make participation a reality. ...For more information on the Gold Cup visit Handy Promotions or the World of Outlaws. ...Placerville video from 08/21/10 on YouTube. We've spent two of the last three Saturday's at Golden State Challenge events in Watsonville and Placerville respectively. Both races were entertaining with the P-Ville 30-lapper being one of the better races witnessed this season. Kyle Larson emerged as the champion of the series with his fourth place finish last night on the red-dirt quarter-mile at Placerville. At age 18 - Larson became the youngest champion in the history of the series - which dates back to 1986 when Steve Kent won the first "King of California" title. Larson was praised universally in the pits as a kid that is mature beyond his years. Richard Brown, who is a veteran mechanic, and currently works as crew chief on Evan Suggs' #33 said that Larson reminds him of a young Kasey Kahne. Others see a comparison in driving ability at the same age to Donny Schatz. Either way - Larson is being viewed on scale with two great racers. Larson joins the list of Golden State Challenge champions that includes Kent, Brent Kaeding, Tim Green, Randy Hannagan, Ronnie Day, Tim Kaeding, Jason Statler, Sean Becker, Jon Allard & Tyler Walker. If you are scoring at home - that is a pretty short list for 25 years of racing. ...Tim Kaeding returned to Placerville and scored a crowd-pleasing victory with his signature rim-riding style. TK stalked Suggs and finally passed him with a big wa-hoo move in turn four. ...Alyssa Geving fulfilled her goal of finishing in the top-five of the GSC point standings (she finished fourth) and she will most certainly be rewarded with the series' Rookie of the Year title.
Rod Tiner will have Damion Gardner in his car at the Louie Vermeil Classic at Calistoga September 4th-5th, 2010. The non-winged sprint car event this year pays $3,500 to win (plus lap money) on Saturday, and $5,000 to win on Sunday. The Sunday night sprint car A-Main pays $500 to start ($300 to start on Saturday). Companion midget races will support the sprinters on the fast half-mile dirt track. Their deal pays very well too with $3,000 to the winner on Sunday. Any midget that makes the A-Main Sunday will get $300. Also confirmed to compete in the sprint car division are: Kyle Larson, Shane Golobic, Keith Bloom, Rip Williams, Garrett Hansen, David Cardey, Blake Miller, Mike Spencer, Chris Windom, Bobby McMahan and Robert Ballou. The sprint car field may top 30 entries this year. ...By the way - the Calistoga track championship this year is a sprint car only championship. The midgets will not count toward the Scarborough Trophy. This came at the request of the newly founded committee for sprint car racing in Calistoga via Bill Sessa. ...In case you missed it - Joey Saldana was on Wind Tunnel the other night. The video is here. ...The annual "predict the 24 starters in the Knoxville Nationals A-Main" is one of the hardest things to do accurately. I've never nailed all 24 since I started doing this (maybe ten-15 years ago). But that won't stop me from trying again. Here goes: I feel strongly that these 12 will be there: Donny Schatz, Jason Sides, Joey Saldana, Paul McMahan, Steve Kinser, Sammy Swindell, Kraig Kinser, Brad Sweet, Danny Lasoski, Lucas Wolfe, Craig Dollansky, and Jason Meyers. The next three on my list to get us up to 15 are: Tyler Walker, Kerry Madsen, and Tim Shaffer. Now it gets ultra tough. Nine more spots to fill. Give me Lance Dewease, Chad Kemenah, Brooke Tatnell, Brian Brown, Stevie Smith, Tim Kaeding, Shane Stewart, Daryn Pittman and Dale Blaney. ...One of the legendary announcers of sprint car racing nationally passed away Friday. Jack Miller, a Hall of Famer, passed away after a long battle with pancreatic cancer. He worked for over 40 years as a pro emcee and writer. I had the good fortune of working with Jack on a couple of the Knoxville Nationals I worked as a P.A. announcer. He was always such a gentleman and so gracious. You could sense the big heart in Jack within just minutes of being around him. He truly cared about the well being of the racers, and race fans. Jack is survived by his wife of 23 years, Thelma Louise Miller his children Angela, and Tommy; his step-children Kathy, Mike, and Cindy. A Celebration of Life - will be held at the United Methodist Church, 16301 Racetrack Road, Odessa, FL 33556 on Saturday, August 21st at 11:00 am. (Bob Baker contributed to this info).
Just back from Charlotte where we worked on the voice-over of the Kings Royal which will air on Speed August 7th. What a race!!!! The 2010 Kings Royal was amazing. I hope you all will watch it. Steve Kinser drove the wheels off of the Tony Stewart Bass Pro Shops #11. The King showed what - will, determination, and skill can do when they come together in harmony. I'm not sure I've seen a better drive since Tim Kaeding's run from 24th to first at Tulare last year. Steve tracked down Kerry Madsen and stalked him but Madsen was up to the challenge until the final restart when Kinser man-handled his car past Madsen's Australian mount. Meanwhile - Danny Lasoski was flying back to the front after a sluggish start and The Dude threatened to make it a three-car battle for the lead. Paul McMahan was also charging through the field after an early incident sent him to the tail of the pack. On top of all that - you had Kasey Kahne, Stewart, and Dave Blaney all participating in the $50,000 to win show. The crowd was beyond huge - which always adds an element of energy. ...Shifting gears - we want to shout out to Brad Sweet for his excellent work in the NASCAR Truck series. Sweet recently posted his career best finish of sixth at Raceway Park in Indy. ...Nothing is "official" but I sure would hope that Kasey Kahne Racing continues to roll with Paul McMahan when Cody Darrah returns from his leg injury. Darrah will need some time to get back up to speed and KKR has the inventory to run three cars. It's not my money or equipment but McMahan has simply been too good to not continue with the current setup he has. ...Jac Haudenschild is a tough buckaroo, Haud - who is sitting out right now wit a broken hand - actually raced a handful of events with his hand messed up before finally getting it checked out. Doctors confirmed the hand needed to heal - which prompted the Carnahan Motorsports team to put Doug Esh in the seat. Esh promptly won in his first race ever at Lebanon Valley Speedway.
Catch up time. The biggest news out here in Northern and Central california is that the Trophy Cup at Tulare will pay $20,000 to win this year. That is a raise of $5,000 to the top points earner of the two-day winged 360 sprint car show. ...The Golden State Challenge is in full swing with the scorecard looking like this: (Golden State Challenge winners) Jon Allard - Five wins - Petaluma twice, plus Antioch, Placerville, and Calistoga. ...Tim Kaeding - Five wins - Hanford twice, Tulare, Placerville, and Cottage Grove, OR. ...Kyle Larson - Two wins - Southern Oregon and Tulare. ...Bud Kaeding - Two wins - Watsonville and Calistoga. ...One win each for Tommy Tarlton (Santa Maria), Zach Zimmerly (Chico), and Shane Stewart (Chico). ...Allard leads the GSC points over Brent Kaeding and Larson. Although winless in GSC action this season - Brent Kaeding has yet to finish outside the top-ten in any of the series' 17 races in 2010. ...The All-Stars annual sprint speedweek had a surprise champion. David Gravel's fifth place finish at Fremont gave him the 2010 championship over nine straight nights of racing. "I wasn't even dreaming about this. This is awesome. We just ran consistent nine nights in a row and even got a win (at Lima on Friday). We had four top fives this week. The crew and all the sponsors. Rob Hart has this car going consistently awesome at every track we went too. We qualified well every night," said Gravel beside his DDR Motorsports, P&M Transportation backed #89.
...Have you had your plus sign today? ...Just back from Charlotte, NC where we stayed an extra night to get in the World of Outlaws event at the Dirt Track. We were rained out Friday night. I swear if I lived in that part of the country for years I would still never get used to the humidity and the power of the storms. When a thunderstorm lets go - you get soaked. I had to cover maybe 20 yards Friday night from my car to the motel room door and I was drenched. I'm pretty sure the folks in NC think we are crazy in California for not worrying about earthquakes. But I'll take the possibility of quakeage over that koo koo weather. ...The racing Saturday was good and the track deserves HIGH PRAISE for having the surface in any shape at all after so much rain just 16 hours earlier. Donny Schatz and Joey Saldana battled for the win with Schatz getting the better of the deal. While those two were having their own race - stuff was happening behind them that was equally as exciting. Paul McMahan and Danny Lasoski were racing each other hard, Steve Kinser was coming forward, and Jason Meyers was trying to salvage an early pit stop by racing from the back of the pack. ...Lucas Wolfe impressed me again. He finished third and it says here it will not be long before this guy is winning multiple A-Mains on the toughest winged sprint car circuit in the world. ...The WoO event, an insider told me, had more sold seats than the Saturday NASCAR Nationwide race at the 'big track' across the street. You may be surprised to learn that the majority of Nationwide races just do not sell well. The stands can look filled due to a term known as "wallpapering" - which simply means that free tickets are given away to fill seats and make the race look like a happening. It looks better on TV to have butts in seats than to have empties which makes your event look less than sexy. ...The show for the fans at a supersized WoO event is a sight to behold. They have added pyrotechnics by the rental van load. Who doesn't love fireworks? ...Brad Doty and I stopped on Saturday to chat with Erin Crocker and her husband Ray Evernham. Guy Forbrook is spinning wrenches for the Crocker/Evernham #98. It was clear to me that Evernham has been bitten hard by the sprint car bug. Listening to him speak about his curiosity about sprint cars reminded me of Karl Kinser's passion for the cars. Evernham said he and Forbrook go round and round because Guy, with his experience (nine-time Knoxville track champ), knows that certain things "just work" to make a sprint car go fast. Evernham wants to know WHY it works. So he presses Forbrook for answers. Evernham said he hopes to convince Rick Hendrick to let him sneak the #98 into Hendrick's wind tunnel. The trio of Crocker, Evernham and Forbrook will spend each Saturday at the Marion County Fairgrounds from now until the Knoxville Nationals in August. Crocker will run the regular 410 Saturday night series at Knoxville but they also have a 360 car for the ASCS 360 Nationals at the home of the National Sprint Car Hall of Fame. ...Forbrook - as he does when he sees me - says, "what's the best race you've ever seen?". He knows I will answer "Haud in your car at Placerville's World of Outlaws show". We need someone to dig up that VHS and convert it to digital so we can get it on YouTube. I don't remember what year it was (* I've now learned it was March 11, 1992) but I can still see Jac Haudenschild bouncing off cars in heavy traffic in an insanely exciting feature event on the high banked red dirt track. I recall Bob Jenkins doing highlights of the race on a TV racing recap show. He called Jason McMillen a "roving roadblock" as Haudenschild tried to lap him. Other details of the event are hazy to me at best. (Somebody dig that video up!). ... Television business: It was our first televised event of the season on Speed and the first (since 2002?) with Wheeler TV as the production company. I felt like the show was solid. We only had one working RF camera in the pits (the other one took a poo), yet despite that shortcoming - the pits guys (Shane Andrews, and Steve Post) were able to get lots of faces on camera. By my unofficial count 15 of the 24 drivers in competition were interviewed. ...Brad Doty again made my job very easy. I cannot imagine ever working with another color commentator. He loves the sport and he loves the people in the sport. When Brad arrives for a race - he is prepared and has spent time on the phones with drivers and mechanics. I respect that. ...The Glamorous Life: Travel was different this time around as I was serving as my own travel agent rather than using the production company's people as I had done in the past. Painfully this was a harsh realization on Friday night when it became necessary to stay an extra day. That meant changing flights and trying to secure a motel room on the night before a Cup race in Charlotte.The place I was at had no room for me for an extra night. I wound up not far away at a Courtyard by Marriott on Saturday night. But back to Friday - The rainout forced me to change my flight home from Saturday to Sunday. The internet service at the Residence Inn I was at Friday was slower than 1997 technology. So I called United's customer service which is outsourced overseas. I had trouble understanding the guy I was speaking with and I did not like not being able to just do the deal online where you can see all the choices for your flight right on your computer screen. I gave up on trying to communicate with the rep on the phone. I called Expedia.com and spoke to someone who also did not speak English as a first language but at least I could talk to her and understand her. The whole process took over two hours by the time I waited through requesting upgrades on the super slow "hi-speed" internet. UGH. ...The rest of the trip was okay. If you had to guess which World of Outlaws announcer saw Morris Day & The Time play a concert Thursday night - you probably (if you know me at all) would guess it was me. The truth is - I woke up from a nap Thursday night to a text from Johnny Gibson alerting me of the free show in uptown Charlotte. Had it not been for a early breakfast meeting Friday morning - I would have jumped up and headed for the show. Instead - I stayed in and wished Johnny well. I've seen that Time show so many times I could probably do the choreography. "Chili Sauce!" ... I knew Gibson would enjoy it. Sure enough he texted a couple hours later about the great show he just saw. ...Breakfast at Bob Evans was tasty and I was surprised at how inexpensive the menu prices were. Thursday night - it was takeout from Macaroni Grill. Near midnight Friday - once I had the travel mess straight - I needed food and sold out by hitting Jack In the Box. Yuck. After the races Saturday I tried takeout from a TGIFriday's near the motel. The service was slow and my food was nothing special. The best meal of the weekend was the Friday catered supper in the television compound. We had barbequed steak, side veggies, and salad. Saturday's production meal was a choice of roast pork loin, beef, or ham. ...Anyone getting hungry?
An undercover cop might be sitting next to you at Williams Grove. ...Said Fred Rahmer following his win over the World of Outlaws at Williams Grove, "This is unbelievable, I couldn't be happier. I'm very proud to win against these guys, because I didn't know if I would do it again. This is great." Rahmer started 24th in the race. ...Kyle Larson won the Watsonville points show Friday night May 14th. The following night at Tulare - Tim Kaeding took top honors in a thrilling feature event sanctioned by the Golden State Challenge. ...Pennsylvania charger Adam Wilt will have his collarbone looked at today (Monday May 17th, 2010) after suffering an injury Friday night at the Grove. ...Erin Crocker is moving from being a pit reporter for Speed back into the cockpit for sprint car racing at The Dirt Track @ Charlotte. Crocker will race with the WoO at their televised May 28th event. ...Joey Saldana leads the WoO point standings by 13 over Steve Kinser following the action at the Grove, and at Virginia Motor Speedway. Kinser leads the series in top-ten finishes this season. The Kings has 17 top-ten runs already. ...Jason Meyers won the Virginia event to push his series leading win total to five on the season. ...Donny Schatz has one win and is in fourth place in the standings as the weather starts to change into summer like conditions. Schatz - we have always felt - is at his peak when the tracks start to get a little drier and slicker. ...The driver without a win yet that seems to be ready for a breakthrough is Lucas Wolfe. He has four top-five runs but is still seeking that first win. Sam Hafertepe Jr. has also been fast and it would not surprise us if he gets a WoO win very soon. The World of Outlaws return to action on Friday, May 21 at Attica Raceway Park in Ohio where regional ace Tim Shaffer will be waiting to challenge them.
The Bill Brownell Memorial Race at Silver Dollar Speedway in Chico is now scheduled for Friday Night June 4th. ... World of Outlaws winners this weekend were Jac Haudenschild and Joey Saldana. This "Wild Child" win was especially sweet as Jac went all of 2009 without a feature event win. Saldana's win was the first for the Kasey Kahne #9 since Joey had hand surgery. Saldana came from 13th to win the Saturday night feature in Pevely, MO. ...Danny Sheridan won the USAC West Coast 360 sprint car feature at Santa Maria Speedway Saturday night. ...Eric Fisher opened up the 56th season at Skagit Speedway with a win in their 410 winged division. ...Bryan Clauson was the best of 30 entries at the USAC National sprint car meeting in Kokomo, IN. Sunday night. The USAC National sprint car show on Saturday at Lawrenceburg was claimed by Jerry Coons Jr. ...Tony Hunt scored his 27th career USAC A-Main win at Roseville, CA Saturday night. All-American Speedway is Hunt's home track. ...Cory Kruseman won the USAC Western Midget event at Bakersfield Speedway. ...Computer issues over here at the home office kept us from recognizing properly the achievement of Kyle Larson. The Elk Grove driver won the Golden State Challenge event at Tulare about a week and a half ago. He passed both Brent and Bud Kaeding to earn the win. Last weekend in the GSC - Jon Allard returned to the winner's circle with a victory at Petaluma.
This note came from Tony Veneziano of the World of Outlaws: Joey Saldana made his first start last Saturday night at Tri-State Speedway in Pocola since having 10 screws and a plate inserted into his broken left hand. The native of Brownsburg, Indiana worked his way from sixth to third in the first heat race, just missing out on a spot in the dash. He lined up 16th in the feature and steadily worked his way forward, despite having to visit the work area a couple of times for flat tires. He wound up the night eighth to earn his ninth Top-10 finish of the season and remains third in points. "I feel pretty good," said Saldana on Saturday afternoon before climbing in the car. "I think once we're racing, the adrenaline and everything will take over and later in the evening, I'll probably be sore. I think it (the hand) is as strong as it was before, just tender, so you just don't want to hurt it or do anything stupid to it."
Joey Saldana had surgery on his broken left hand last week. He has a plate and ten screws in his hand following the procedure. The World of Outlaws do not race again until Saturday, April 10 at Tri-State Speedway in Pocola, Oklahoma. A press release issued by the World of Outlaws indicates that Saldana is hoping to compete in that event. I cannot imagine driving a sprint car on dirt with a hurt hand - let alone one with hardware parts in it. I want to see Joey race but I hope he takes all the time needed to heal properly. ...Charles Davis Jr. won the ASCS Canyon Region feature Saturday night Canyon Speedway Park in Peoria, AZ. ...Mike Spencer won the USAC-CRA A-Main at Perris Saturday. ...Roger Crockett won the Saturday portion of the Silver Cup at Silver Dollar Speedway in Chico. The Friday feature was snared by Andy Forsberg. ...Shane Hmiel won the USAC National Midget race at Hickory, NC Wednesday.
The NCAA Tournament is positive. ...Rain on race tracks is not. While we enjoyed two nights of action at Tulare - the Mini Gold Cup fell victim to showers. ...I was extremely happy to hear that Tim Shaffer and Jon Allard are okay after their crazy scary crash at Thunderbowl Raceway.
The World of Outlaws races upcoming at Las Vegas and Tulare will include a handful of drivers that might not normally make the tow west. Fred Rahmer - the Pennsylvania "Driver of the Decade" will race the events as will New Mexico's super-fast Johnny Herrera. Daryn Pittman is bringing his PA. based Keen Motorsports team to the action which begins this Friday in Vegas. Both Tulare and Vegas are points earning events in our Racer's Racing Series. Steve Kinser won the first WoO RSS race in Volusia, FL. ...Cody Darrah was released from the hospital following surgery to repair his shattered leg. Kasey Kahne Racing has named Paul McMahan as the driver of the car that was to be driven by Darrah on the 2010 World of Outlaws circuit. ...We are also sorry to hear of the passing of Northern California car owner Steve Harris. Harris battled cancer courageously. Harris' car - maintained by Brian Sperry - with Bobby McMahan at the wheel - won the 2009 Silver Dollar Speedway track championship.
The Chili Bowl is behind us. Whew! Five straight nights (and days) of racing will catch up to you but I wouldn't want to miss it. The annual event is unique for several reasons - not the least of which is that racers from different disciplines are all under the same roof at the Quik Trip Center. Everywhere you turn - you are bound to bump into someone you know from somewhere. Hey - there is Kenny Woodruff! Look - it's the Eckert Brothers! Good to see Jimmy and Betty Boyd! Dave Argabright and Steve Bietler are present and accounted for. Jean Lynch? Check. Bruce St. James and Bob Ream from Arizona? Always. I could go on and on. ...The A-Main on Saturday did not disappoint as Kevin Swindell drove a masterful race and his Dad Sammy wasn't too shabby either. Sammy was spectacular - to tell it honestly - driving from the rear to third place in the final 32 laps. All the while - the crafty 18 year-old Cole Whitt was right there ready to pounce. Darren Hagen led the earliest laps - and then Cory Kruseman took over. Kruseman had a super 2010 CB in his own car. "The Kruiser" won his preliminary night impressively. ...Chris Windom did it again. Windom drove from 20th to 5th in the A-Main this year on the heels of back-to-back 23rd to seventh runs in the previous two years. ...Brad Mosen was the Rookie of the Race at the Chili Bowl. The New Zealand gasser was in one of two V8 midgets that had horses to spare. Teammate Michael Pickens finished eleventh in the Saturday A-Main. The engine was brought over by car owner Simon Longdill. It features two Kawasaki blocks and cylinder heads that are somehow fused together to form a 147 cubic inch flame thrower. Check out a picture of this creation at Tommy's RaceChasin. ... Kyle Larson finished tenth in the Saturday A-Main after winning one of the two B-Mains. The 17 year-old from Elk Grove, CA was especially good in his heat race on his preliminary night. His performance certainly will help him build momentum as a National name to watch. Speed's camera's were rolling with the air date set for Saturday February 13th at 6pm Pacific. ...Cary Agajanian and Tony Stewart were two VIP's checking out the action at the Chili Bowl. Stewart actually worked the heavy equipment that prepares the track in between shaking hands with everyone who wanted a second with him. ...Zach Daum was a surprise winner of the Tuesday night preliminary feature. Daum raced well and his enthusiasm after taking the checkered flag was a welcome site. ...Daniel Adler, a former student in the Ron Sutton Winners Circle Race Team, opened some eyes with a smooth drive on his preliminary night that led to him finishing 15th in the Saturday A-Main. ...One of the best stories of the week was the amazing run by Tony Roney. The Missouri driver did not have a top-five finish in 2009 yet there he was standing on the podium on his preliminary night. He followed that with a 14th place finish in the Saturday A-Main. ...Shane Golobic finished third on his preliminary night and locked himself into the Saturday A-Main. Golobic was among ten drivers that made the Chili Bowl Saturday A-Main for the first time in their careers. Also getting it done was: Brad Sweet, Larson, Brent Beauchamp, Roney, Adler, Hagen, Mosen, Daum, and Chad Boat. ...The weather in Tulsa was relatively mild with only the first day or so under freezing. ...Media Stuff: ...We were working on the official event DVD with Greg Stephens' production group. Johnny Gibson and I always have fun together when we have the opportunity to announce as partners. The Saturday finale is a long day with 20 main events and hot laps between seemingly each race. In a perfect world - we would be much fresher for the finales but human nature kicks in when you've been in a booth for ten or eleven hours and keeping your energy up becomes a challenge. By the time the 50-lap A-Main is over on Saturday - you are so ready for silence (at least I am) that nothing else seems to matter. ...Our opening interview was done with Kasey Kahne - who is always gracious in making time for us. ...On Friday - I sat in for a segment with Sean Buckley on the Jack Slash show. "Buck Seanly" did his internet show from the pits in the afternoon and was featured as a public address announcer on Friday and Saturday when Tony Bokhoven slipped into his Speed TV gear. ...The Glamorous Life: Travel to Tulsa this time around was easy. We flew on United from Sacramento through Denver. I was surprised to be on a Canada Air Regional Jet from Sac to Denver. Usually the plane is larger. Using miles to upgrade to first-class makes a HUGE difference in flying comfort. I was lucky to be able to upgrade on three of the four legs for the total trip. Accompanying me was Paul Shaffer's book We'll Be Here the Rest of Our Lives. I highly recommend this biography to anyone fascinated with music and or television. ...Once in Tulsa - we stayed at the Hyatt Place for the second year in a row. No complaints. In fact - the maids honored my do not disturb sign and never once did I hear the dreaded knock knock knock "HOUSEKEEPING!" Beyond that - they allowed me to check out at 2 pm Sunday since I was scheduled for a late flight. My room was clean and I enjoyed the free wireless internet, big screen HD TV and mini fridge. If you have a chance to stay at Hyatt Place sometime - you should book it! ...Eating in Tulsa is getting better as I learn the layout of the city. Twice I hit both the Village Inn, and Twin Peaks. The Village Inn Pancake House on Yale is near Hyatt Place and is open 24 hours. Corned Beef Hash with Eggs and Hash Browns tastes especially good near 3 am. ...Twin Peaks was a new experience. They stayed open later than normal for Chili Bowl goers. The loud, bar-restaurant boasts large portions and a very tasty Chicken-Fried-Chicken (with gravy!). MMMMMM! ...Brian Dunlap was hyping Taco Bueno on Facebook - so I tried it. Yikers! They had a dessert that was a deep fried cheesecake covered in cinnamon sugar. I took one bite and had to throw the rest away because I was afraid I would become immediately addicted to it. The Tacos were good too. ...My friend David Bruner scooped me up Wednesday for lunch at Billy Ray's Bar B Q. A Tulsa institution, Billy Ray's tangy sauce was a spot hitter. Bonus points were earned as they poured cold Mountain Dew for me. ...I ate at the track as well. I am a fan of the Quik Trip Center's Philly Cheese Steak Sandwich. A bit pricey at $7.50 - the fresh bell peppers make it worthwhile. ...I also had at some point during the week (at the track), potato ribbons, and frozen yogurt. ...It's a chain but Macaroni Grill gets our approval for their outstanding Chicken Scallopine dish. Sunday lunch at Macaroni preceded a trip to the movies. I watched Youth in Revolt which was funny and entertaining. ...As for post-race shenanigans... The Chili Bowl will give you all you can handle. I ventured out for fun on two of the six nights and was not disappointed. The old standby is the lounge at the Best Western known as Elephant Run. The "E.R." Tuesday night was crowded with racing friends from California, Indiana, Missouri, Pennsylvania and Illinois. I enjoyed hanging with Joey Saldana and talking race strategy with him. ...Thursday night I experienced something totally new to me. For years I've heard about a "country bar" that does big business on Thursday nights in Tulsa. I.R.A. guru Steve Sinclair specifically steered me in that direction. I've never been in a country bar in my life. I've never seen line-dancing live... Wow. That's all I can say. The place was jammed! After a ten-minute line, I was inside. The people were dancing in unison (almost as if they were brainwashed). It was completely void of soul, and very eerie to me at the same time. Songs about women with beer guts and another about Geratol and rocking chairs had me laughing aloud as I chatted with fellow racers. A fight broke out and a loud buzzer sounded drawing attention to it. Doors opened on cue and the bouncers ran the fighters right out of the place (just like you see in the movies!). There is no way I would have ventured in that joint alone so I was happy to see familiar faces at every turn. Jason Hageman was in the house. Then I saw Dean Mills, Bud Kaeding, Jennifer McColloch, Brandi Lorenz, and Gary Taylor. ...Steven Gomez, Gary Thomas, Andrea Larson and our crew decided to visit the Hard Rock Casino once the Cattle Club closed. I was impressed with the Hard Rock - and although we only stayed there for a quick second - I could see that place as a possible lodging destination in the future.
As we have done in the past - we'll take a shot at naming 15 drivers that we think have a legit chance to make the Chili Bowl Midget Nationals Saturday A-Main for the first time in their careers. Keep in mind there are 266 entries for the event - so the pool of possible first-time show makers is deep. In my brainstorm of ALL the drivers I felt could do it - I came up with 39 names. Dwindling that down to 15 was tough - but here they are: (in alphabetical order) 1. Brent Beauchamp - Beauchamp almost made the A-Main last year but came up one sport short finishing seventh in his Saturday B-Main. He tried like heck and almost crashed his car on the last lap in an all-out effort to make the big show. That kind of heart does not go unnoticed. This year Beauchamp is riding in one of Cruz Pedregon's Spike's. 2. Chad Boat - Billy's boy keeps getting better and he is now ready for his fifth Chili Bowl appearance. He won the midget (and sprint car) portion of the Bob Darland Memorial at Kokomo, and he impressed us at Tulare in the Fall. 3. Tim Crawley - He ran into bad luck last year but Crawley has the skills to pay the bills. He won 16 features in 2009 in a sprint car. This year in Tulsa, he has a quality ride with Loyet Motorsports. 4. Cody Darrah - The Pennsylvania 20 year-old makes his second Chili Bowl appearance. He is loaded with natural talent which lands him on this list despite very limited experience behind the wheel of a darty little car. 5. Nic Faas - Faas is a Chili Bowl rookie but he is hardly a rookie to midget racing. Faas was the 2008 USAC Western Midget Champion and he owns wins at bullrings such as Ventura, and Bakersfield. 6. Darren Hagen - I still can't believe that Hagen has never made the A-Main. He finished third in the USAC National Midget points in 2009 and is overdue to make the final race Saturday night. 7. Randy Hannagan - The 42 year-old Hurricane doesn't race midgets often but he's too good as a racer to not make this list. 8. Shane Hmiel - He was the Rookie of the Year last year and then parlayed that into USAC's Most Improved Driver of the year. He has adapted quickly to dirt and his aggression suits the 1/5-mile at the Quik Trip Center quite nicely. 9. Kyle Larson - It's no secret I admire the 17 year-old Larson's skills. Last year he jumped into a car for the ailing Jerry Higbie moments before his heat race. Larson had no hot laps and he was not given passing points due to the late swap - but he still performed well enough to put his car in the A-Main on his preliminary night. Larson took home a Golden Driller in the Tulsa Shootout's Outlaw Kart division last week and now it's time for him to further convince folks on the National stage that he is one of the best overall driving prospects to come along in years. 10. Dustin Morgan - Morgan has shown us in past runs at the Chili Bowl that he will put a car wherever it needs to be. He'll gas it up as hard as anyone and except for those rare times when the track goes completely away - you want a driver with their elbows up - the way Morgan seems to always have them. 11. Joey Moughan - He won his qualifier last year and was impressive enough in the process to warrant us noting his speed. Moughan made it to a B-Main on Saturday in 2009. Can he possibly take it a step further this year? 12. Joey Saldana - It will be Saldana's third try at the Chili Bowl. Again - this is a no-brainer case of a guy that is just too good a driver to be ignored. Whether he runs midgets on a regular basis or not (not is the case), Joey understands how to make his automobile pass other automobiles. 13. Mike Spencer - He is the back-to-back USAC-CRA Sprint Car champion, and he came close to making the big show last year but finished 12th in his B-Main on Saturday night. This time around Spencer is in one of the potent Bondio-Barnes midgets and if he can adapt to the car's powerful ability to "jump" off the corner - Spencer has as good a chance as any to make to the A-main for the first time in his career. 14. Kody Swanson - Known more for his pavement prowess - we recall that Swanson raced lots on dirt when he was coming up at Visalia's Plaza Park. Swanson is a quick learner and we've witnessed him adapting to foreign situations with winning results in the past. He's never run the Chili Bowl before but he did run a midget on dirt to top-ten finishes this season past at Ventura, Hanford, Kokomo, North Vernon, and at McCool Junction. 15. Brad Sweet - Horrible luck plagued Sweet in his 2009 Chili Bowl bid but the dude is a former Belleville Midget National Champion and we know he has the ability to get it done.
Happy 2010 to you all. Over here in Rocklin, California, USA, we are getting ready for the Chili Bowl. Again - I will join Johnny Gibson as an announcer on Greg Stephens' DVD coverage of the biggest midget racing event in the world. Sadly, Greg has informed all on the crew that this is the final year he will produce the official event DVD. It is a "passion project" for Greg that is a tremendous undertaking and the toll vs. the reward has waned in recent years. I hope you will join me in saluting Greg for years of documenting some very important races. If you see him at the Tulsa Expo Center - tell him you appreciate his work! According to Tony Veneziano - Donny Schatz returned to action on Sunday at Parramatta City Raceway in Australia and won a duel over Garry Brazier in the annual $10,000 to-win Valvoline Sprint Car Grand Prix. Also competing at Parramatta City Raceway on Sunday was Schatz's car owner, Tony Stewart, who finished seventh after lining up 25th.
We are sorry to hear that SC Motorsports - the team that provided Tyler Walker with good equipment - is selling their racing team. Troy Hennig hipped us to the situation Tuesday. Troy also says that Kyle Hirst and crew chief Lee Watson are headed for a bunch of racing in the midwest and southwest in 2010. Look for a future release from Hennig on Hirst's deal to run the ASCS National Tour. ...Jason Meyers announced that he is going to run the Chili Bowl Midget Nationals for legendary car-owner Steve Lewis. Tuning on the machine will be Rusty Kunz, and Kelly Drake - which gives Meyers a duo that is as good as any two mechanics in the building.
The USAC National and CRA event at Thunderbowl Raceway that was dubbed the Pacific Coast Open, in a nod to the great ASCOT Park races, was enjoyable on several fronts. While the track was a little too good on Saturday, we saw some good stuff on Sunday in the $12,500 to-win A-Main that was snared by Jon Stanbrough. The simple fact that the National Sprint Cars sanctioned by USAC were making a rare trip into Central California was alone worth the price of admission. We are talking about the best non-winged sprint car racers in the world. Even when the Sunday B-Main swelled to 26 cars starting - the talent of the drivers, and the great equipment of the teams led to nothing more than good racing. Bryan Clauson lowered the non-wing track record Saturday night at the Thunderbowl to a wicked fast 14.646. On Sunday it was 18 year-old Cole Whitt setting quick-time in a car tuned by Keith Kunz and assistant Chuck Gurney Jr. ...Levi Jones wrapped up the USAC National Sprint Car driving title for Tony Stewart Racing. Misha Geisert points out that Jones' championship marked the fifth USAC Sprint car title for Stewart. TSR earned its first USAC Sprint car championship in 2003 with J.J. Yeley. Driver Jay Drake won the 2004 title, followed by Josh Wise's series triumph in 2006. Jones earned the 2007 USAC Sprint cars title for TSR and followed it up with this year's triumph to mark the fifth such title for Stewart's open-wheel stable. ...I met Wes Gutierrez who cracked me up in a pre race casual chat. He quipped that he's flipped so often this season he is coming out with a "box-set DVD" of his most spectacular crashes. Unfortunately for Wes - he flipped again Sunday night. I haven't watched Gutierrez enough to really form an opinion of his ability but I know from experience that guys who start out as crashers don't neccessarily remain as crashers. In fact there are many cases where guys who seem out-of-control early in their career become very good once they 'slow down'. As we ALWAYS say - it is better to have to slow a driver down - than to try to speed them up. Since this argument is crying for a couple examples - here ya go... Dave Bradway Jr. crashed lots before becoming a consistent winner. We saw Brad Furr wreck his share of cars before becoming a guy capable of winning on the World of Outlaws circuit. Jon Allard went through a spell of waddage and now he is one of the biggest winners in Chico's history. ...Brad Sweet finished his first NASCAR Truck race right before hitting Tulare. Sweet recently moved into new diggs in North Carolina - not far from Charlotte. ...In preparing for the announcing duties (with Troy Hennig and George Hague) I came across this nugget from OpenWheelTimes.com - Dave Darland has 1452 career A-Main starts and he has finished in the top-5 49% of the time! ...Cory Kruseman finished second Saturday night in the best drive I've seen from him recently. Kruseman has wins this year at Ventura (twice), Hanford, and Perris. ...Peter Murphy says he has plans to race more winged events in 2010. Murphy has won about all there is to win on the Central california non-winged 360 circuit. ...Tracy Hines raced his last event in a Sprint Car for Tony Stewart Racing. Hines (this past weekend) ran a Walker Racing midget at Ventura. ...Bud Kaeding finished third Sunday night at Tulare. Bud will be headed to Australia during the American off-season. Kaeding and Jimmy Sills - the only three-time USAC Silver Crown Champions were both on the grounds at Tulare as Sills was working with Justin Grant. ...Grant has heart. He has sacrificed to pursue his driving dreams and he will be a force to be dealt with soon enough. In 2010 - Grant will run for Ken Baldwin on the local Indiana non-wing scene as well as selected USAC National events. ...The drivers under the age of 21 often get the most media attention but there are some good racers between the age of 22-25. One of those drivers is Garrett Hansen. Hansen (24) smartly withheld Kruseman Saturday despite repeated restarts that made Hansen really earn the win. ...Among the co-owners of Davey Pombo's car is the legendary George "Ziggy" Snyder. ...Chad Boat was impressive in his Tulare debut. Billy's son was the runner-up to Stanbrough on Sunday. ...Ronnie Gardner is another young driver that deserves praise for his speed early in his career.
Trips to Charlotte, NC, and Tulare, CA closed out our racing season (barring a last minute Turkey Night gig). The World Finals for the World of Outlaws Sprint Cars is a big event where the sprint cars share the stage with the WoO Late Models. Next year - big block modifieds will be added. While I appreciate the event, the fantastic facility, and the Speed television coverage - I wish the sprint cars had their own stand alone deal to close out their season. The old days of finishing in Las Vegas was the most ideal scenario I've come across. In consecutive years at Charlotte's dirt track - the LM race has upstaged the sprint cars. And the simple fact that only half of the spotlight is shining on the sprint car teams seems to dampen the celebratory atmosphere. The Friday night show (for the sprint cars) ended at 12:15am. There was still a 50-lap Late Model feature to be run. The temperature was 39 degrees Fahrenheit. The Saturday show was much smoother and it ended at a respectable time. But the Friday deal was way too much to ask of any race fan. Sometimes the truth hurts. I'm a fan as well and I respect the Late Model teams and drivers. But I don't follow their series or read their race results. That leads to me not caring too much about their three B-Mains and six heat races - waiting for my sprint cars to run 30 laps. I like the World Finals but I think it needs to be streamlined (put a cap on LM entries?) rather than expanded and I hope that the 2010 version is contested on a racing surface that has been prepared months in advance - rather than weeks or days prior to racing. Our Saturday TV coverage of the sprint cars produced only two replays in a three-hour telecast. That gives you some idea of how bland the racing was. The Friday night event was wild and had we been televising that night of racing instead - we may have broken the replay machine. There were flips galore on the super fast surface. The worst incident was a double flip between Steve Kinser and Jac Haudenschild. Both drivers emerged from their cars under their own power after the big-time grinder. Terry McCarl hit the wall in turn two about as hard I've ever seen anyone pound a wall. I didn't see the set up but it turns out that it was new teammate Craig Dollansky that had contacted McCarl to send T-Mac crashing. ...Donny Schatz wrapped up his fourth consecutive WoO driving title although he was pressured by Jason Meyers down to the final feature event of the year. ...Joey Saldana closed the WoO season with his 20th A-Main win (plus a prelim at the Gold Cup). Saldana deserves high praise for accomplishing something only done before by Steve Kinser, Sammy Swindell, Doug Wolfgang, and Mark Kinser.
20-plus wins in a World of Outlaws season
46 - Steve Kinser (1987)
36 - Steve Kinser (1991)
31 - Steve Kinser (1992)
29 – Steve Kinser (1994)
28 – Steve Kinser (1980) and Sammy Swindell (1981)
27 – Steve Kinser (1988, 1990) and Mark Kinser (1996)
25 – Steve Kinser (2003)
24 – Mark Kinser (1997)
23 - Steve Kinser (1979, 1981)
20 – Steve Kinser (2002, 2005) and Doug Wolfgang (1981)
Dale Blaney proved once again that if he was running the full WoO tour - he would be a guy to contend with for many race wins and a top points finish. Blaney finished second to Saldana Saturday night. ...Sam Hafertepe Jr. was running a Pancho's Race Products #93 car that was put together for the World Finals. ...Zach Zimmerly - the 15 year-old from Portland, OR - made the long tow to Charlotte and I thought he raced well. That is the kind of experience a young driver needs to realize that the competition at the WoO level is no joke. ...Steve Kinser is now back home resting after successful surgery to fix a bulging disc. Well wishers can "holla" at the King @ Steve Kinser Racing, 280 E Smithville RD, Bloomington, IN 47401.
Dave Darland - winner of 200 career A-Mains has never raced at Thunderbowl Raceway in Tulare. That will change this weekend with the USAC National & CRA non-wing sprint car event at the high-banked 1/3-mile clay oval. Racing deep into November in Central California - teams can expect temperatures in the 60's during the day - cooling into the 40's at night. Bring your heavy jackets. ...Bryan Clauson - the winner of the 2009 Belleville Midget Nationals will also be among those running at Tulare for the first time. ...Tracy Hines will be making his first Tulare start as well. Hines' weekend at Tulare will be his final ride for Tony Stewart Racing. ...Jerry Coons Jr. is yet another making his debut at the Thunderbowl.
Here is some insight to Steve Kinser's injury and scheduled surgery. READ THIS. ...I stand corrected on Tim Kaeding running the fastest lap of the Trophy Cup on lap 49. It was actually lap 48. And..., Kyle Larson also turned an identical lap to TK earlier in the Saturday 50-lapper. ...Lord have mercy. Tim Kaeding done done it again. California's most exciting racer exceeded his own previous best (among what I've seen) with a stirring 24th to first drive Saturday night in the completely inverted Trophy Cup. Even more amazing - TK ran the fastest lap of the A-Main on lap 48 of 50 (rim-riding) after he had already taken the lead and secured the points title. He explained after the race that he was afraid to do anything but mash because he almost spun the car and stalled it by finessing it once through turn four. ...The energy at Thunderbowl Raceway was unlike anything I've been a part of recently. Out of respect for the job Kaeding was doing - even non-TK fans were standing and applauding when he accepted the checkered flag. It sounds cliche but it was "truly a memorable moment". Without question - it was one of the finest drives I've ever seen by anyone. He used every inch of the track - from squeezing though a narrow hole in turn four low, to 'ripping the lip' in turn one to make an outside pass in turn two. Veteran mechanic Rob Hart - the winning crew chief - said, "Now THAT was a sprint car race." So true. There was action everywhere on the high-banked third-mile oval that seems to produce great racing as much or more than any track. Because of the points system used in the Trophy Cup - fans are watching not just the leaders but also the 'race within the race'. Lining up for the feature - Shane Stewart and Kaeding were tied - so the math was pretty simple. As long as they both made it into the top ten - it would just be a matter of which driver could finish in front of the other. Stewart dogged Kaeding through the field and passed him only to be re-passed. They touched wheels once and Stewart did an amazing job to save his car from flipping. The smart Oklahoma driver that leads the ASCS National Points never lost his cool and eventually brought home a runner up finish in the overall points for car owner Paul Silva. ...Paul McMahan drove Rod Tiner's #83T to a third place finish in the TC. McMahan won his Saturday heat race after a strong outside pass of Brad Bumgarner that drew ooohs and aawws from the fans. ...Andy Forsberg won the Friday night feature event. It was announced that Forsberg is changing rides next year with the A&A Stepping Stone folks telling Andy that they cannot continue to field the #92 for him. Forsberg plans to team with buddy Brian Cannon on a #47 machine for 2010. ...Kyle Larson finished fifth in a steady run for BK Racing and Stadelhofer Construction. Somebody with some good equipment should give Larson a shot at the upcoming Turkey Night Grand Prix at Irwindale. ...Stephen Allard drove Jeff Griffin's #50 to a ninth place finish in the overall TC points. ...Cody Darrah's California debut ended on the first night when he crashed into Jesse Hockett. The #29 Bud Kaeding car that Darrah was wheeling was too badly damaged to continue Saturday. Hopefully Darrah will be back to the Golden State soon. You can see the Darrah-Hockett double flip on JackSlash.com. It was good to catch up with Sean Buckley Friday night. ...I also met Wheeler Gresham. The former driver does lots of work with shocks and he is trusted to be "the shock guy" for Steve Harris' two-car stable of Bobby McMahan, and Kyle Harris. ...We saw Devin Deluzio (and wife), and we heard (although I never saw him) that Chuck Miller was in the house. ...My apologies to Chad Compton who I called Colby Copeland one too many times. I can't seem to get my CC's straight. I will try harder in the future to avoid messing up names when I announce. ...I am excited to be heading back to Tulare for the USAC National (and USAC-CRA), Pacific Coast Open November 14-15, 2009. We have long campaigned for having the best non-wing guys make it into Northern/Central California so we are doubly glad to not only see it happen but to also be a part of it. I believe we will see Kevin Swindell, Bud Kaeding, Peter Murphy, and Larson joining the likes of Levi Jones, Dave Darland, Jerry Coons Jr., Hockett, Brad Sweet, Cole Whitt, Tracy Hines, Damion Gardner, Mike Spencer, David Cardey, Josh Wise, Blake Miller, and all the hitters of the non-wing set.
Biggest November weekend ever? - By Bobby Gerould - Rocklin, CA. November 2, 2009 - ...With the Short Track Nationals being pushed back by one week - it now becomes a part of what may be the biggest weekend in the history of November sprint car racing. The World of Outlaws World Finals and the Perris Oval Nationals also take center stage in a crazy-lucrative Saturday night. A record total of 120 entries have already been filed for the Short Track Nationals - sanctioned by the ASCS. Winged 360 drivers representing 23 different states will be in Little Rock Arkansas for the three day affair that pays $15,000 to win. Meanwhile - the best 410 winged teams from the World of Outlaws, and the Pennsylvania region will battle at the World Finals in Concord, North Carolina. The event will be televised live Saturday night on Speed. The Perris Oval Nationals - sanctioned by USAC is annually the biggest non-winged sprint car race in California.
Gary Thomas tips that Mike Henry does indeed have a ride for the Trophy Cup. ...After three years together, Kyle Larson "had a falling out" with David Vertullo and Larson is no longer driving the #83v. The 17 year-old has landed a ride with Brent Kaeding for the Trophy Cup. Larson will drive a #99 as a teammate to BK who will be in his familiar #69. Cody Darrah, in his Tulare debut, will compete in Bud Kaeding's #29. Bud will run for Mike Sala and Brian Mattherly in #19. Bud's best Tulare finish came in 2002 while driving for Sala. ...Drivers and car owners rarely last long together. Jon Allard is wrapping up season five with Morrie Williams - proving that a good combo can stick together. Together - Allard and Williams with Ashley Smith tuning have won 44 A-Mains since they teamed up in 2005. ...Tim Kaeding has raced in two winged 360 events this season and he won both of them. They occurred in back-to-back weekends at Ocean Speedway. That's not a bad way to be heading into the Trophy Cup. ...Here is an amazing stat (courtesy of OpenWheelTimes.com), Brent Kaeding has finished in the top-ten in 45 of the 47 A-Mains he has raced in this year! BK has six wins at six different race tracks in 2009 (Antioch, Chico, Cottage Grove, Placerville, Tulare, Watsonville). At Thunderbowl Raceway - BK owns 13 victories - which leads all drivers. ... I am getting hyped for the Trophy Cup this weekend at Thunderbowl raceway in Tulare. The format is great and passing is rewarded in the point system that determines the overall champion. I think you could make a case for nine drivers that will most likely vie for the high points honors but with some racing luck thrown into the mix - I could foresee at least 20 teams with a real shot at winning the whole deal. Usually the high points driver pockets $15,000 for the team. ...Kyle Hirst has never won at Tulare but I think the 21 year-old from Loomis, CA. has a chance to better his second place finish in a Trophy Cup preliminary (2007). ...I was surprised to not see Mike Henry listed as a driver pre-entered for the Trophy Cup. Henry won twice in California Civil War action in 2009 (Watsonville, and Petaluma). ...Shane Golobic - the 2009 Calistoga Speedway track champion will look to better his Tulare best of seventh place in last year's TC A-Main.
The USAC-CRA championship fight shows Mike Spencer with a one point lead over David Cardey. They resume their battle this Saturday at Perris Auto Speedway where it is also opening night at the Southern California Fair. ... With two races left in the season at Watsonville - the battle for the GLR Investments winged 360 sprint car championship will come down to either Tommy Tarlton or Brent Kaeding. Tarlton owns a slim lead heading into this Friday's penultimate event. ...Our trip to Pennsylvania for the World of Outlaws sanctioned National Open at Williams Grove was lots of fun. I LOVE big events and the energy that accompanies them. The racing competition is ridiculously tough at The Grove. There are so many strong teams in Central PA - and when you throw in the traveling WoO teams - you have an environment that is rarely matched. Greg Hodnett won the $50,000 in Jim and Sandy Kline's #22 after holding back Donny Schatz. Lee Stauffer, the Crew Chief on Hodnett's machine - was also the winning National Open Crew Chief last year when he was with Cody Darrah. ...Darrah won the make-up feature for the Summer Nationals which ran, oddly enough, following the National Open feature. At about 1:25 AM Sunday morning in cold conditions - Darrah took the checkered flag. By state law - that would never happen in California where the latest curfew time I know of is 11:00 PM. ...Brad Sweet ran the Grove for the first time and he did well. He shocked us all by posting the fastest time in hot-laps (although he did not qualify as well). Sweet is all set for his 2010 schedule - again with Kasey Kahne Racing. He will map out a schedule that includes a combination of winged, and non-winged action - including midgets. Look for a number change for Sweet to #1 - the number he ran as a karter. Likewise - Willie Kahne tips that the second WoO car for KKR will switch from #19 to #91 in 2010. It has yet to be determined who will drive that car. Our own best guesses suggest that offers could be made to either Stevie Smith, Lucas Wolfe, or Cody Darrah. ...Wolfe's Indy-Car training deal for 2010 is no longer in play we were told by a reliable source. ...Craig Dollansky says he is bringing back the #7 for 2010 and maybe will have it ready for the World Finals at Charlotte which will conclude the 2009 WoO season. The "Crowd Pleaser" is teaming with Todd Quiring who also owns the #24 driven by Terry McCarl. Dollansky was running a second Mike Heffner #27 at the National Open - as a teammate to Keith Kauffman. At age 59 - Kauffman looked as racy as ever to me. He finished seventh in the second feature event. ...TV Business: Too many times in my past I have seen people try to muck up sprint car racing coverage by pre-planning story-lines and doing hokey shtick. I have long believed that the racing doesn't need much help. It is exciting and dangerous enough that the emotions of the individuals involved can all but carry a show. All we have to do in TV land is introduce the players and try to make you care about them. Then we need to cover the racing well and try our best to be prepared and knowledgeable so that we can run with whatever the action dictates. I thought we accomplished that at the Grove on Saturday night. That is a good feeling. From my own announcing standpoint - there are always parts I wish I could have back or do over. But in a "LIVE" situation - you are stuck with whatever comes out of your mouth. We ended up doing four hours instead of the scheduled three due to a pretty wild and entertaining night of racing. Brad Doty is absolutely the best. He makes my job as play by play guy so easy. I always had, in the back of mind, the feeling that if someone would ever put Brad and I together - we would make a good team. My weakness as a sprint car announcer has always been my lack of mechanical knowledge. Despite the best efforts of friends Larry Shelton and Brian Sperry who have tried to teach me all about the parts on a car - I still would never trust myself to try to explain to a viewing audience the importance of a torsion bar. Brad knows the cars and technical side of the sport so well that any time I have a question I know he can answer it. We have always gotten along so well because Brad is a genuinely nice man that it sensitive to other people's feelings. Being the sensitive cat I have always been - it is nice to work with a guy you have chemistry with. That could be said for the whole crew really. Outside of sponsor commitments - which are a part of any gig - I've never had any real critical direction from "the higher ups". They seem to trust me which is all any professional is seeking. Television and racing have been a part of my life since birth - and I honestly feel like when I call a sprint car race (or basketball game) on TV or radio - I am doing what I was born to do. Chris Dolack and Brian Dunlap who head up the World Racing Group side of operations related to our TV shows are two guys of my own generation that I can speak honestly to - which hasn't always been the case in my media career. They listen to my input and tolerate my Bobby-isms. ...Greg Oldham is the guy that is our Speed liaison. He gets it too. Greg is a man that I have worked with in the past (SCCA Trans-Am) and I am truly comfortable being around him. A big part of our comfort level is tied to our producer David Bruner. He is that rare cool boss that you can say anything to and not feel like it will be held against you. As Brad said to me during the telecast Saturday night during a break, "I sure am glad we have David". In television there can be a tendency for some producers to "want to hurry a show along". They get impatient and start saying things in your ear through the IFB - like, repeated "okay - wrap it up - get it to so and so." Or they might suggest lines or words for you to say that are outside your comfort zone. For instance - I once had a producer in my ear telling me to ask a really personal question to a driver that I thought was 'out of bounds'. I didn't ask the question - but even the mere interruption of my own train of thought - screwed up the next part of the interview. It certainly can vary from situation to situation in television. If I were covering baseball - I would NEED a producer to prod me. But in Sprint Car land, Brad and I know the drill already and it is nice to be trusted to just do our thing. ...Shane Andrews continued his hustle in the pits - asking questions in tough situations to pissed off drivers that really helped race fans get a feel for how emotional our sport can be. I thought Erin Crocker Evernham brought a unique insight to the show based on her own experiences as a driver - specifically relating to how the cars drive with the new WoO wing package. Our Director is Roger Vincent. Roger is a sprint car racing fan and an accomplished TV man that is also easy to get along with. Like so many on our crew - Roger is an experienced pro that wants what is best for the viewer. He understands the ebb and flow of dirt track racing and unlike some directors I have worked with that are counting the minutes until "quitting' time" - Roger is upbeat and fun from start to finish. Technically - I can't begin to know all the people who make the pictures come to life but I do know that Kevin Ellis is a vital piece to the puzzle. "Kev" edits our feature stories and puts together, on the fly, all the highlight sequences you see during the show. That takes a special talent that is equal parts artistic and techy. Ken Farney is our guy that keeps the TV compound and all of the equipment accounted for. Down to minute details like my Mountain Dew supply - Ken has it covered. Josh Becker cannot be overlooked either. He is a real sprint car fan that keeps our graphics straight (and he produced and edited the Eldora show). Credibility is lost when you have misspelled names on the screen and that happens too often in coverage of our sport. Josh keeps it right because he knows the sport and he cares about the sport. ...Winnercomm which is the company that produced the National Open is respectful of our own individual travel requests which is HUGE to me. I fly on my preferred airline which allows me to upgrade due to frequent flyer miles. That makes air travel bearable. I have my own car and my own hotel room wherever we go and I would not do the job if that was not the case. ...I guess what I am trying to convey here - is that it is nice to be a part of something I am both proud of and comfortable with. Now in our third season together - roles are defined and the unit works well. Rare is the crew that is as ego-less as the crew we have in place. I hope we can continue together into the future and bring more coverage of what I believe is the most exciting racing that exists.
Sean Becker won his second straight California Civil War (winged 360) Sprint Car championship Saturday night in convincing fashion with a victory in the season finale for the series. After watching him drive from the back of the pack to ninth at the Gold Cup this year - I've been thinking again that Becker has to be among the most underrated drivers in the country. Naturally athletic, the 28 year-old Becker is a treat to watch drive. He is smart and he finishes races but also passes cars regularly. According to OpenWheelTimes.com - Becker owns 42 feature event wins since 2002. He also has points championships in the Golden State Challenge and at Silver Dollar Speedway. I would love to see Becker have a shot at a big-time ride that includes more National events on his schedule. He might need some more laps on big tracks but I am sure he can hang on any bullring. Fans in Northern California, Oregon, Washington, and Nevada already know. Now its time for Sean Becker to be introduced to the rest of the USA. ...Doug Esh continues to recover from a back fracture suffered in early September at Lincoln Speedway. Esh recently saw Dr. Terry Trammell in Indianapolis, IN - who told Esh if he follows doctor's orders - he should be good as new by January 2010. ...Car counts for the USAC Four Crown Nationals at Eldora: Midgets - 22. Sprint Cars - 49. Silver Crown - 24. ...We are overdue to note the passing of Walt James. I never saw him race in his prime but I did witness his overwhelming enthusiasm for dirt racing! There are several nice pieces written about Walt that can be accessed here by entering "Walt James" in the search box . ...Roger Slack writes... "Is your Dad (Gary Gerould) the Turn 3/backstretch announcer on this broadcast? He mentioned on the NHRA show tonight that he was working in Turn 3 for the 1979 Daytona 500 and that "the fight" happened right in front of him." ...YES!!! I just got off the phone with my Dad - and I learned something new. That is him. I had no idea. ...Craig Dollansky and Kasey Kahne Racing have parted ways. Brad Sweet will be wheeling the DirecTV #19 World of Outlaws car at Eldora Speedway Friday night. However, Sweet needs to stay at the Big E for Saturday's USAC Four Crown action - so who will drive the car at Lernerville Saturday and in the coming months is anyone's guess at this point. ...You never know who is going to see what you thought was between you and your press representative. Juan Pablo Montoya came off looking pretty bad here. Check this out. ...DirecTV no longer offers Versus. The cable channel is the home to the IRL and the ASCS National Sprint Cars among others. That means that a potential audience of 24.2 million just flew out the window. Stating the obvious - this is not good news for any sponsor of the IRL, ASCS, or any of their race teams. I would have loved to watch the ASCS opening night of the Rock 'N Roll 50 at Riverside Speedway in West Memphis, AR today but without Versus on DirecTV - that was not possible. Read more about the DTV vs. Versus feud here.
...In case you forgot - the annual 40-driver All-HammerDown! Team (which will be announced in December) is heavily based on the points you see listed in the right column of the front page of this web space. Automatic All-HammerDown! Team berths are given to champions of several prominent racing series. The remaining spots go to the highest ranked drivers in the Racer's Racing Series point standings. Champions of the following series' in 2009 will automatically be added to the All-HammerDown! Team: All-Stars (Tim Shaffer), American Sprint Cars on Tour, Golden State Challenge (Tyler Walker), USAC National Midgets, USAC National Sprint Cars, and the World of Outlaws. ...I get lots of feedback on the Racer's Racing Series - with the gripe most commonly heard - that the points system is "not fair" to the non-wing racers. This claim is made because the 60-race schedule has more winged events than non-winged events. My answer to this is always simple. The schedule is based on what I perceive as the 60 biggest races in Sprint Car, Midget, or Silver Crown racing. My perception comes into focus first by the size of the overall purse, then by the prestige or history of the event. Finally - the car count is a consideration along with media coverage. Not counting rain outs - there are 17 non-winged events on the 60-race schedule. Of the 40 winged races in the RRS schedule - eight of those are 360 events - and the rest are winged 410 races. ...It is true that as long as the World of Outlaws continue to have the majority of the highest paying races - the RRS points champion will almost surely be an Outlaws regular. The hope is that one day the battle for the RRS title will be close enough at the end of the season that a winged WoO driver will perhaps run in one of the last BIG non-winged races of the year just to try and gain enough points to win our deal that pays nothing but bragging rights. For example - let's say that following the WoO World Finals (the last WoO race on the 2009 RRS schedule), Joey Saldana or Jason Meyers is within striking distance of Donny Schatz. So ...Saldana or Meyers enter the Perris Oval Nationals or Turkey Night or even the ASCS Western World in Tucson - in an effort to overtake Schatz. Maybe Schatz wants to protect his RRS lead and he runs Turkey Night? Okay - I realize these are long-shots to happen but if it did - the race fan and race promoters are the winners. ...If you can't get stimulated by the battle for the RRS championship - you should still be able to have some fun with the fight to get into the top-40 in points - which (again) can lead to a spot on the All-HammerDown! Team. I personally love that we have been able to promote the skills of drivers like Jesse Hockett and Brad Sweet who are succeeding on a National level across multiple divisions of racing. These two drivers make sacrifices and fly on red-eye flights to attend as many shows as they possibly can. It is called desire and hustle! ...In conclusion - to any who say "all you have to do is run the WoO schedule" to be a big points earner in our RRS system - I say - "Go do it." It is not easy. The WoO schedule is grueling and ridiculously tough. Remember that to earn points in the RRS you have to finish in the top-15 in an A-Main - not just start the feature. ...Semi-rant over. ...Gold Cup Bikini Contest photos are up at Steve's Racing Photos. ...Congratulations to Tim Shaffer who wrapped up the 2009 All-Star Circuit of Champions title. ...We have added the November 21st "Western World" at USA Raceway in Tucson, AZ to the points earning races in the 2009 Racer's Racing Series. The ASCS winged 360 event offers an A-Main that will pay $15,000 to win. ...When Fred Rahmer won on September 6th at Williams Grove it marked the 20th straight season that he has won a feature at the famous half-mile. ...Danny Lasoski finished in the top 15 of the Gold Cup A-Main for the 13th year in a row. That is consistency and smart driving when you consider the considerable attrition seen annually at the race. ...Drivers that posted or matched their best Gold Cup A-Main finish included Joey Saldana (win), Jason Sides (second), Jason Meyers (third), Tommy Tarlton (eighth), Shane Stewart (11th) and Kyle Larson (15th).
...There is a current generation of Northern California racers that know not much more than an ultra-agressive winged sprint car on a bull-ring as their version of 'real racing'. But I'm here to tell ya... There's something else. Racing comes in many forms. Calistoga Speedway was made for non-winged sprint cars. That is my conclusion after watching two more nights of great racing at the half-mile. I like sprint car racing. Winged or not - I like it. But at Calistoga - the non-wingers are better to watch. Drivers admit to being too locked down with the wings - making passing difficult. But without the wings - every lap is an adventure. One misstep can lead to a huge difference in track position or it can lead to disaster. The margin for error is much slimmer without the wings. The overaggressive pay the price. Finesse is rewarded. ...As I announced the list of great 'old-school' drivers who were on-hand at Calistoga to sign autographs - I thought about the versatility of some of these dudes. Lealand McSpadden, Jimmy Boyd, Shane Carson and Tim Green were all great with and without wings. Johnny Anderson and Hank Butcher excelled in midgets as well as sprint cars. Although thought of as a non-wing ace - LeRoy VanConett won the Gold Cup with a wing. ...It made me proud to see winged guys like Kyle Hirst, Kyle Larson, Shane Golobic, Bobby McMahan, James Sweeney, and Marty Hawkins run wingless cars at `Stoga. Peter Murphy, Keith Bloom Jr., Jim Richardson, Kevin Swindell, and Jesse Hockett are also drivers who will run with a wing or without. ...Swindell - the Saturday night winner, said he would like to do more winged racing. I would hire that kid in an instant. ...Larson amazed me again. In his first run without a wing in a sprint car - he was running in the top five solidly on both nights. The cushion in turn two bit him Saturday night - costing him a better finish. Sunday he was victim of a crash in front of him and a slide job into him. This was one case where the box score lied. If you just looked at Larson's finishes (12th, and 17th) - you would have no idea how good the 17 year-old looked. ...Just to see Calistoga Speedway packed again made me smile. It takes a collaborative effort to pull off a successful event. I may not know for sure each player that was key - but I do know these folks had much to do with the success of the races: Tommy & Jeanie Hunt, Chad Hawkins and his family, and Greg Sowers. ...Bobby McMahan ran wingless for the first time since 1987. He earned hard-charger honors both nights - with an especially impressive run from 20th to fourth on Saturday as one of the highlights of the weekend. ...Mike Spencer's win at Calistoga was the first by a Southern California driver in non-winged sprint car racing at Calistoga since Jim Peacock won over 35 years ago. ...McSpadden and Ron Shuman are Arizona drivers that won at Calistoga. Tyler Walker of Los Angeles won at `Stoga in a winged car. ...Shannon McQueen broke the midget track record Saturday night with a lap of 20.470. Meanwhile - the sprint car track record also fell. Blake Miller ripped off a 19.335 lap. My father reports that news of McQueen's record lap had reached none other than former record holder Tony Stewart. Stewart mentioned McQueen's super lap to my Dad during the Monday finals of the U.S. Nationals NHRA event. ...The Calistoga Louie Vermeil Classic was listed as a USAC National Sprint Car Special Event - but not one of the top-ten drivers in points was in competition. Damion Gardner would have participated in the event but he was in the stands recovering from recent skin graft surgery on his foot. The USAC "National" status was simply a token as no points were awarded toward the USAC National Sprint Car title. The problem is that the DuQuion, IL USAC Silver Crown race traditionally falls on Labor Day weekend as well. Most of the top drivers in the USAC National Sprint Car point standings have Silver Crown rides. I would love to see another race added at Calistoga later in the Fall sometime around the Oval Nationals - that would attract the following drivers: Levi Jones, Dave Darland, Cole Whitt, Jerry Coons Jr, Tracy Hines, Darren Hagen, Chad Boat, Bryan Clauson, Josh Wise, Jon Stanbrough, Bobby East, Robert Ballou, Bud Kaeding and Brad Sweet - just to name a few. While were at it... I want to see my buddy Bruce St. James, and Jeremy Sherman too. And Jac Haudenschild!!!!!! ...Okay - a real quick shot at the impossible... trying to name the 24 Gold Cup starters in advance. Here goes: Jason Meyers, Joey Saldana, Tim Kaeding, Donny Schatz, Craig Dollansky, Jac Haudenschild, Paul McMahan, Kyle Hirst, Jon Allard, Tyler Walker, Jason Sides, Steve Kinser, Danny Lasoski, Sammy Swindell, Kraig Kinser, Brad Sweet, Brent Kaeding, Sean Becker, Bobby McMahan, Roger Crockett, Peter Murphy, Bud Kaeding, Lucas Wolfe, and Kyle Larson.
Paul McMahan will drive the Roth Motorsports #83 JR at the Gold Cup. ...Kyle Hirst confirmed that he is planning to run at Calistoga in the sprint car division. He is also looking for a midget ride. ...Ken Wagner has a nice tribute to 1970 C.R.A. driving champion Billy Wilkerson here. ...Huge congratulations go out to Bobby McMahan who captured the 2009 Silver Dollar Speedway Sprint Car Championship. After nine years away from racing and focusing on being a dad - Bobby came back late last year and continued into this season with Steve Harris' race team. ...Check out the web site made for the Louie Vermeil Classic. ...Troy Hennig reports that one driver who will not participate at Calistoga is last year's midget winner Johnny Rodriguez. J-Rod recently completed his training to become a Sacramento County Sheriff and he has not raced since the Chili Bowl in January. ...We hear that there IS a possibility that Kyle Hirst will shed his wing and try the sprint car portion of the Vermeil Classic - in hopes of outgunning other contenders for the Calistoga Speedway Scarborough Trophy that goes to the half-mile's high points earner for the year. Also in the mix for that crown (based on pre-entries for this weekend) will be Shane Golobic, Jason Statler, Mike Benson, Kyle Larson, and Jason York. ...Damion Gardner, sadly, will not be able to participate at Calistoga after suffering third degree burns on the top of his foot that required skin grafts. Gardner was injured at I-80 Speedway in Greenwood, NE. Here's hoping for a safe, full, and speedy recovery for DG. ...Donny Schatz won his 100th career World of Outlaws feature event Saturday night at Dacotah Speedway in Mandan, ND. ...Someone actually asked me after Donny Schatz won Sunday night - "Is Schatz REALLY that good?" My answer... an incredulous - "YES!". When Run-DMC said "he's the better of the best - best believe he's the baddest" - they were talking about their DJ Jam Master Jay. But they could have been rapping about the 32 year old from Fargo, ND. Sunday night - Schatz became just the second driver in the history of the Knoxville Nationals to win the event four times in a row. Steve Kinser won it five straight from 1991 through 1995. Kinser - then Schatz is how the Knoxville record book reads. ...Comparing any sprint car driver to Steve Kinser is not fair. The bar is set too high. And comparing eras is a slippery slope. The competition from an equipment standpoint is about 500% tougher these days than it was 25 years ago. But to anyone who remotely questions whether Schatz should be mentioned in the same breath with Doug Wolfgang, Jan Opperman, Sammy Swindell, and the greats that lie just behind Kinser - I say, YES, YES, YES he should be! Schatz should be talked about unquestionably as a GREAT racer. Some perspective. The numbers that Steve Kinser put up may never be touched. Donny owns four straight Nationals and four overall. Steve won five consecutive and 12 overall. Schatz has three straight World of Outlaws titles and is working on number four. Kinser owns 20. Those are not the only measuring sticks to be used. Schatz matches Kinser in Williams Grove National Open victories with four apiece. At the Don Martin Silver Cup - it's Schatz two, Kinser two. The Kings Royal? Kinser has six, Schatz has two. Finally - the Gold Cup scorecard reads Kinser 11, Schatz one. Steve Kinser is still the greatest sprint car driver EVER but Donny Schatz is clearly the best of this era. Check out this handy table of BIG RACES and their winners. ...The final four starters in the Nationals - transferring through the B-Main were Jac Haudenschild, Jason Meyers, Danny Lasoski, and Jason Johnson. We had the first three in our pre-ordained list of the 24 starters. Johnson though was not in the crystal ball. So - let's give The Cajun Sensation some recognition. I still view him as the premier 360 driver in the world. This season - Johnson has ten feature wins to his credit. Nine of those came in the 360 - with one win in a 410 in Australia (as always - these stats come from Open Wheel Times).
...We know 20 of the 24 starters for the 2009 Knoxville Nationals. As I do every year - I want to give some love to the guys that made the A-Main that I did not forecast to do so in the HammerDown! Crystal Ball (which was written four days ago - prior to the Nationals starting). Along with my blatant attempt to kiss up to the drivers that proved us wrong - you will get a handful of excuses. hahaha ...We had the top four in Nationals points in our pre-race prediction but the guy who proved us most wrong was Dale Blaney. What the hell was I thinking? I love Dale Blaney and he has a track record for playing well in the big games. He is smooth and talented. ...I kept remembering Dale saying at Eldora - "we've got one car and one motor". I coupled that with Dale not having had much luck at Knoxville in the past. Whatever I was thinking - it was dead wrong. Blaney posted the fifth highest points total once the prelims had been contested. ...Next was Jason Solwold. I didn't even know Solwold was entered. He showed up in Jim Nace's car and he sits eighth in overall points. Solwold owns four feature wins in Washington on the season with three coming at Skagit Speedway and one at Gray's Harbor. Solwold is a four-time member of the All HammerDown! Team. ... Sam Hafertepe Jr. was on the first draft of my A-Main makers list. But I changed it because I had too many guys from Wednesday on my list. Hafertepe is blossoming in front of our very eyes. He was in contention at the Kings Royal and he was extra good Wednesday night. Hafertepe has reached a point in his driving career where he has logged enough laps at tracks across the country that he can enter an event with a baseline of experience. In the last two months - he owns three third place finishes, a runner-up, and an IRA sanctioned win. ...Dusty Zomer won at Knoxville on July 25th. He proved once again that he knows Knoxville well. Zomer told us in a visit to Knoxville last year that he aspires to be a full-time World of Outlaws driver. Knowing Knoxville and the fast way around it is a big deal to have on your WoO driving resume. ...Tim Shaffer suffered a horrible crash at Knoxville and perhaps that influenced why he was not in my final 24. But again - I have to kick myself. I should never sleep on Shaffer. He is good on any size racetrack which is why he owns nine A-Main wins this season. ...Paul McMahan is my buddy. Sometimes when making predictions you can become confused and confounded by where you place your friends. You ask yourself - 'am I being too soft on my friend?' or 'am I holding my friend to an unfair standard because I don't want people to say I am biased?' ...Well poop. I know good and gosh darn well that Paul can put a car into the feature. The format is perfect for a strong time-trialer - as McMahan is. Rewarded for qualifying - Pauly is not afraid to throw caution to the wind at the start of his heat race. That too is HUGE (as Joey Saldana would say). But I was scared off by what I did not know about the car he was entered in. The #71x is a one-time deal set-up just for McMahan by Bernie Stuebgen of Indy Race Parts & by Tom Buch. The "one-time deal" part scared me off. Had I known that Robert Hubbard was tuning on the car I would have had the team in the final 24. But I did not know about "Hub" and I've seen too many instances where there are bugs in a new effort and the car smokes all night before posting a DNF. Well - that didn't happen. Pauly did his thing and the car was more than capable. He would up 12th in points. Hats off to Indy Race Parts & Tom Buch on making a truly independent deal GO! In my opinion it is one of the best stories of the Nationals this week. ...Jon Allard rarely gets to race on a half-mile race track. There just are not any other than Calistoga - in the Northern & Central California scene that Allard thrives in. The 2008 King of California put the Morrie Williams #0 into the feature - marking the first time that he has made the A-Main at the Nationals. Allard has six feature wins in 2009 - including four at Silver Dollar Speedway in Chico, CA. Allard recently passed Jimmy Sills to move into fifth place on the all-time Chico win-list. ...Picking 24 cars for the A-main in a field as tough as this is borderline impossible. But that having been said - I should have had Shane Stewart in my 24. I feel especially silly about this one. He has only made the last eight Nationals A-Mains in a row! Hellooooo!I I watched him win at Knoxville last year in a strong performance so I considered Stewart but ultimately decided against placing him into the final 24 due to a schedule that had him mostly in 360's this season. I should have known better with Stewart and Paul Silva putting the deal together that they would be A-Main makers. ...Finally, I considered Lucas Wolfe but missed the bus on him as well. Randy's boy put the #5w in the big show. He gets around Knoxville well - having finished sixth at the half-mile during the WoO event there in June. ...There are four spots left for the top four finishers in the B-Main. ...Guy Forbrook is no longer spinning wrenches on the Roth Motorsports #83 for Tim Kaeding. Sonny Kratzer is now in charge. ...A few notes: We could not be happier for Andy Forsberg who won his first Calistoga Speedway feature Saturday night in Civil War action. Andy joined his Dad, Richard as one of the few who can claim a checkered flag (and belt buckle) from the scary half-mile in the Napa Valley. (See photo below and more like it at Steve's Racing Photos)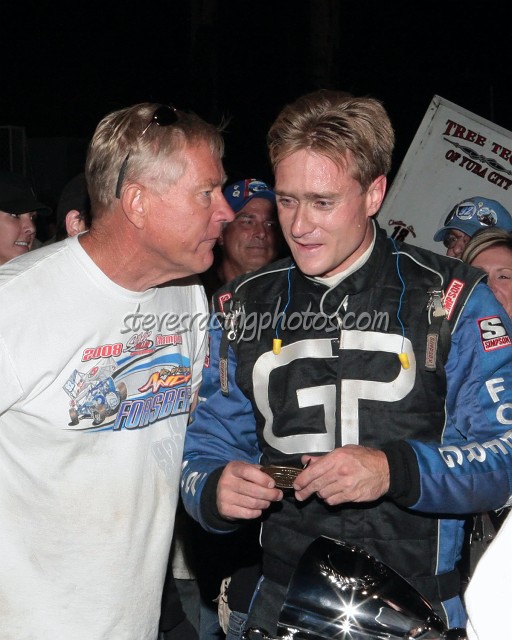 ...Chase Barber says he is almost back to normal after a crash nearly a month ago in a midget at Angell Park Speedway in Wisconsin. Barber suffered a concussion and broken ribs. ...Leo Wyrsch - former race promoter - recently passed away. Leo was the father of former Capitol Speedway (W. Sacramento, CA.) track champion Richard Wyrsch. Leo was 92. ...Please check out this motorcycle crash. The rider, Chris Martin suffered a broken ankle and seven broken vertebrae.
...Every year we try, a few days in advance, to pick the 24 starters for the Knoxville Nationals A-Main. This year we'll do it as a 'train of thought' type deal. Okay - let's start with the locks. Donny Schatz, Terry McCarl, Jason Meyers, Joey Saldana, Steve Kinser, Danny Lasoski, Craig Dollansky, and Jac Haudenschild are all going to be there. That's one-third of the field. Jason Sides is having too good of a year to not be there. Ditto Stevie Smith. Sammy Swindell finished eleventh last year for Guy Forbrook and I'd bet he will be strong here again this year. Cody Darrah, Lance Dewease and Fred Rahmer are three guys I have confidence in from Pennsylvania. I think they will make it. ...While others are stressing out - I see this trio remaining calm and putting their machines in the show: Tim Kaeding, Tyler Walker and Tony Bruce Jr. Wow that is already 17. Seven spots left. So much of a team's success at the Nationals is determined by the pill draw for qualifying. It could go any number of ways. Greg Hodnett has not made it to the A-main since 2004 but this cat is just too talented to not be there. Daryn Pittman is driving Jesse Keen's #17 - a car that I don't know very well - but I have faith in DP to get it done. Brian Brown lives for this week. Brownie is in my 24. So is Johnny Herrera. Who else might make it? Only about 30 drivers. Three spots left. Too many good ones on the list yet; Kraig Kinser, Kerry Madsen, Sam Hafertepe Jr., Lucas Wolfe, Jason Johnson, Tim Shaffer, Travis Rilat, Randy Hannagan, Wayne Johnson, Shane Stewart, Jack Dover, Chad Kemenah, Ed Lynch Jr., Dale Blaney, Mark Dobmeier, Jesse Hockett, Jon Allard, Billy Alley, Cale Conley, Paul McMahan, Don Droud Jr., Bronson Maeschen, Doug Esh, Erin Crocker, Davey Heskin, Rob Chaney, Danny Smith, Brandon Wimmer, Matthew Reed, and Skip Jackson. ...Justin Henderson is not entered yet. ...Okay my final three out of the above 30 possibilities; Kraig Kinser, Hannagan, and Madsen. ...Bud Kaeding won the Golden State Challenge event at Ocean Speedway in Watsonville Saturday night. ...You can listen to the non-wing USAC Nationals at Knoxville on Sunday on Hosehead's Radio. ...When Kevin Swindell raced a winged 410 sprint car Saturday night - it was the first time (according to OpenWheelTimes.com) since October 2006 that he had done such a thing. Swindell finished 16th in the Roth Motorsports #83 jr. Kevin plans to race the same ride wingless at the Vermiel Classic in Calistoga over Labor Day weekend.
Husets Speedway will pay $10,000 to the winner of the All-Stars Thunder through the Plains Tour winner Sunday night. ...The Kings Royal will air on Speed - Sunday August 9, 2009 at 5 PM Eastern. We just finished work on it this week at the World Racing Group headquarters in Concord, NC. It was the first time for me to see the place and it is quite impressive. In the back of the offices - in a garage space - WRG Productions has sprung to life to produce this telecast of the Kings Royal as the first "in-house" World of Outlaws Sprint Car Series TV show. ...Speaking of groundbreaking - the new Iron Man 55 race on the WoO schedule is one I'd love to see. 55 laps for $20,000 to the winner will be a real test of driving skill on the tricky I-55 Speedway in Pevely MO. ...Misha Geisert writes that "Thanks to Gillette, the world's leading grooming brand, the rescheduled Prelude to the Dream on Wednesday, Sept. 9 from Eldora Speedway in Rossburg, Ohio is back on HBO Pay-Per-View. Now known as the fifth annual Gillette Young Guns Prelude to the Dream, the all-star dirt Late Model race returns after its June 3 date was washed out by rain. ...I hope you all appreciate how much Tony Stewart gives back to the dirt track community. ...Randy Hannagan and Kerry Madsen won the first two nights of the All-Star Thunder through the Plains Tour at U.S. 36 and the Belleville High Banks respectively. ...Count winged sprint cars at Belleville as something I'd like to see as well.
Brent Kaeding won the latest round of the Golden State Challenge - contested Saturday night at Antioch Speedway. In so doing - BK took over the points lead in the series. With only five races remaining - the 2009 King of California looks like it will be either Kaeding, Tyler Walker or defending champ Jon Allard. Next week the Golden State Challenge moves back to Silver Dollar Speedway in Chico for two nights of action on Friday and Saturday July 24th and 25th. Saturday's event will be the 26th annual Tribute to Gary Patterson. ... Kyle Larson won the Watsonville Civil War vs. GLR Series event Friday night. ...Jon Allard took top honors in weekly points racing at Chico. ...Tony Stewart and Kasey Kahne both drove NRA Sprint Invader 360's during Kings Royal weekend at Eldora Speedway. Dale Blaney won the NRA feature over Butch Schroeder, Rob Chaney, and Cale Conley. Stewart finished fifth and Kahne was sixth. ...Terry McCarl won the WoO portion of the "Knight Before the Kings Royal". ...The Trophy Cup at Thunderbowl Raceway in Tulare, CA. has been moved back to a two-day show again - after a one year experiment as a three-day deal last year. ...Stewart won the Lou Blaney Memorial at Sharon Speedway (07/07/09). "I need to thank Jimmy Carr and Dean Bruns for their hard work in getting this car prepared. The first time that I came here and competed against Lou Blaney he kicked my butt and I had the utmost respect for him. This event is very special and I will always have it on my schedule," stated Stewart. ...Mike Murgoitio continues to lead a tight battle for the 2009 USAC/SLVRA Young Automotive Rocky Mountain Sprint Car championship. He has a slim 31-point lead over Jim Waters, but Ryan Burdett trails by only 37 and Brian McClish is just 42 back with a total of 76 points available per race. The series resumes July 25 at Rocky Mountain Raceways in Salt Lake City, Utah (from Dick Jordan's report).
Tony Stewart is scheduled to race a 410 sprint car at Sharon Speedway Tuesday night. The current NASCAR Cup points leader will be joined at the Lou Blaney Memorial by his mate Kasey Kahne, and by Dave Blaney himself! ...I watched a large portion of the Daytona NASCAR Cup race from Daytona on Saturday night and I have to admit to being entertained. Count me as a fan of the double-file re-starts. I grew up watching those double-file deals every Saturday night at West Capitol Raceway. ...Hats off to Stewart on his success this season in particular. Tony excels at doing things his own way and it is no surprise to me that he is back on top (although - I admit - I thought it might take a little longer to achieve.) ...Talk of a third Tony Stewart owned NASCAR Cup team in 2010 leads me to believe there will be a trio (Stewart, Ryan Newman, & ??) of past open-wheel stars all joined together. ...Random thoughts: Johnny Herrera is back and running strongly. ...Brian Ellenberger recently scored his best WoO finish with a third place run at Dodge City. ...The best slide job I've ever seen was performed by J.J. Yeley at Manzanita Speedway in SCRA Sprint Car action. Turn three into four on the last lap of a feature to steal a win. I don't recall the year - but I bet Dean Mills would know off the top of his dome. ...Please tell me you watch the Jack Slash TV show at every opportunity. ...Brad Loyet won five straight A-Mains on the tough Badger Midget circuit. His streak was snapped however on Friday night by current BMRA points leader Scott Hatton. ...Can someone please pay Kyle Busch enough to get him in a winged sprint car somewhere? ...Bud Kaeding won the Chico Golden State Challenge feature event Saturday night. It was Bud's first Silver Dollar win in 12 years. He told Gary Thomas, "In 1998 at the Mini Gold Cup I got in a bad wreck over in turn four here and haven't won at this place since, so it's great to get a win in Chico," Kaeding said. "I haven't won here since 1997 so it's definitely been a long time coming. The track was a bit different tonight than it usually is, but Alan (Handy) Padjen is putting in a lot of work to make this place the best it can be so we have to give it up to him."
Condolences to the family. friends, and loved ones of Brian Healey who passed away Thursday after suffering a heart attack. "Healeyman" was an Australian that lived and worked in Sacramento, CA. while still promoting races 'down under' as co-owner of Tyrepower Parramatta City Raceway. He is widely recognized as the man who brought 410 sprint car racing to Australia. Healey was also famously known as one of Steve Kinser's closest friends, and confidants. It won't be the same not seeing him around the #11 when Kinser rolls through California in September.
Over at Watsonville's Ocean Speedway in the GLR Sprint Car Series for winged 360's - Evan Suggs has emerged as the early points leader. Suggs has two second place finish, and two fourths in the opening four events. Winners have included Jason Statler, Brent Kaeding, Justin Sanders, and Tommy Tarlton.
Kyle Hirst was the Sunday night winner at Calistoga Speedway. It continues to be my opinion that Hirst is one of - if not THE - most underrated driver in the country. ...The 2009 Indy 500 was cool but I still wish it was like the old days when I really believed I was watching 33 of the best drivers in the world. What if Indy's lineup looked like this or something similar to it (?): Justin Allgaier, Marco Andretti, Townsend Bell, Mike Bliss, Ryan Briscoe, Kyle Busch, Helio Castroneves, Dave Darland, Scott Dixon, Bobby East, Carl Edwards, Dario Franchitti, Jeff Gordon, Davey Hamilton, Lewis Hamilton, Tracy Hines, Kasey Kahne, Tony Kanaan, Jason Leffler, Raphael Matos, Juan Pablo Montoya, Ryan Newman, Danica Patrick, Will Power, Paul Tracy, Joey Saldana, Donny Schatz, Scott Speed, Dave Steele, Tony Stewart, Dan Wheldon, Cole Whitt, and J.J. Yeley. ...Get well wishes go out to Mason Moore who suffered a fractured fourth vertabra last night in a hot lap crash in Chico. Mason will be limited to no activity for 12 weeks according to team publicist Gary Thomas. ...Tim Kaeding beat a hard-charging Jon Allard to win the Golden State Challenge show at Calistoga Saturday night. Crossing the line in third and scoring his first podium finish of the GSC season was Bud Kaeding who told Thomas, "This is great to bring home a third place finish at Calistoga. Tonight is the most comfortable I've felt in a winged car in a long time and trying acclimate myself back to it was a little tough after running the Silver Crown car in Indiana yesterday. Tonight was my little girl's first race at Calistoga and for me to get a podium and her uncle to win is pretty cool." ...So the first World of Outlaws broadcast of 2009 is in the books. I enjoyed it very much although the racing surface at the Dirt Track at Lowes Motor Speedway left lots to be desired. The feature event was way better than it had any right to be. Unfortunately as well, only 25 cars were on hand for the Nationally televised event on Speed. I heard many wanting to point blame somewhere for the low car count but the reality I've come to accept - is that "it is what it is". Just recently - Sammy Swindell, Kerry Madsen, and Terry McCarl have dropped off the WoO tour - leaving fewer travelers than in the past. Then - there is the situation with the All-Stars who many expected to beef up the car count at Charlotte. I totally understand the point of view of the All-Stars teams that did not want to tow the 9-11 hours it would have taken to get from Charlotte, NC Friday night to Fremont, OH for their Saturday points race. I wouldn't want to do that drive either. But - that said, it saddens me to think that a prime shot at international notoriety somehow was limited to just 25 race teams. Speed TV reaches more than 71 million U.S. households (*as of 2007. More now) - and millions more overseas. I don't know who had their schedule out first (WoO at Charlotte or All-Stars at Fremont) but this is a case where, for the good of SPRINT CAR RACING as a whole - somehow, someway - there should have been a solution. ...NOTES: Cale Conley impressed me - finishing tenth in the A-Main at Charlotte. The 17 year-old from Vienna, WV had veteran racer/engine builder Charlie Fisher working with him on setups and coaching. Conley comes from the USAC Kenyon Midget ranks. ...My TV partner Brad Doty tips that Jac Haudenschild's son Sheldon is a 15 year-old to keep an eye on. Brad says Sheldon displays uncanny car control. ...I met Fred Linder Friday in the pits at Charlotte - and I told him the story of wearing my Fred Linder T-Shirt to Christmas dinner one year (much to the dismay of my Mom). Fred seemed to me to be about as cool a guy as you could run into. ...Rob Hart is spinning wrenches for Reeve Kruk and Brooke Tatnell on their #21AU car. ...Daryn Pittman says he is doing the best he can for his Pete's Bridge Street Motors #25 team. Daryn says the team runs on a budget that is considerably smaller than many other teams in the game today. Daryn and wife Mandy had their nine week old daughter Taylor with them in the pits. ...I asked Daron Clayton if he had ever run at Charlotte before Friday night. He replied with a smile, "I made it to turn three the one time I was here". ...Ed Lynch Jr. is batting .500 in 2009. He has run eight races and won four so far this season. ...Shane Hollingsworth was the surprise winner of the Hoosier Hundred Friday night while Dave Steele won the big money at the Little 500. Chuck Gurney Jr. scored a huge victory in the Night Before the 500 for USAC National Midgets at Raceway Park in Indy. ...Chad Hawkins wrote a letter about the passing of Barbara Wolleson that I hope you will take the time to read. ...Hollywood Hills Speedway in New Mexico is the latest Speedway to be shut down. A press release says the track is closing due to "unsafe conditions of the masonry structures at the track".
...Scott Hall took a nasty ride Friday night at Chico. Check out the footage on youtube. ...It was good to see Joe Hill and Clyde Lamar in the pits Saturday at Chico. Joe spends his time on golf courses in Arizona and Idaho these days. Clyde was visably thinner - having lost "about 35 lbs" after his doctor told him to do so. Both Joe and Clyde looked like they were in 'fighting shape'. ...Our spies tell us that Brandon Carey is young racer to watch out for. Carey, from Ripon, CA., has adapted quickly to sprint cars after success in Micro's. He sits eighth in the Golden State Challenge points so far this season. Tyler Walker owns the points lead by a scant two markers over Jon Allard. Brent Kaeding is within striking distance in third. The series moves to Thunderbowl Raceway in Tulare, CA. this Saturday (May 16th). ...I took in the Dave Bradway Jr. Memorial race Saturday night at Silver Dollar Speedway. I left the track shaking my head in amazement - and saying "wow" over and over. The brilliance came on the final lap of the 40 circuit feature event when Jon Allard ripped turns three and four to perfection and passed race-long leader Brad Sweet for an improbable win. Sweet had Allard covered through the white flag and down the back chute. I'm thinkin' 'this thing is over'. But Allard threw his Morrie Williams #0 into turn three like there was no tomorrow - and it stuck. He beat Sweet at the line by a few feet. It was AMAZING! Sweet said post race to infield announcer Gary Thomas that he did drive the last lap hard - giving more credence to how ultra special the move by Allard was. Seriously - it was as unbelievable a move as we've ever seen to win a feature. ...37 cars were on hand for the night of Golden State Challenge winged 410 sprint car racing. ...Allard also had fast time - establishing a new Golden State track record at SDS of 11.119 seconds for the quarter-mile clay oval. ...A huge part of the show was Brett Miller. He started outside the front row but sailed off the edge of the track shortly after the original green flag. He restarted 22nd but charged through the pack to rebound with a podium finish in third. Tyler Walker also sailed off the track and returned to finish fourth. Brent Kaeding was fifth. ...Paul McMahan traveled from Nashville, TN back to Cali to run the Steve Harris #33 Saturday. Pauly dropped out of the feature while running in the top-five. ...Kyle Larson - who won his first 410 sprint car feature event during the weekly Friday night program at Silver Dollar - had a tough night Saturday. Larson did not transfer through the B-Main. ...Several cars flipped on the night including the #51 of Shane Golobic, #24c Colby Copeland, #83 Larson, and #35a Wayne Johnson. ...The Front Row Challenge at Southern Iowa Speedway (Oskaloosa, IA.) will pay $10,000 to win this year. It has been added to the Racer's Racing Series schedule. The event famously pays $50,000 if the winner can come from the dead-last starting to win it.
...Fred Rahmer won his 500th career feature event Saturday night at Lincoln Speedway in Pennsylvania. The win came against the touring All-Star Circuit of Champions. ...Tulare's Thunderbowl Raceway has added a two-night USAC National Sprint Car event scheduled for November 14-15, 2009. They are resurrecting the Pacific Coast Open name for the race that will pay Saturday's winner $12,500. We have added the event to the Racer's Racing Series schedule. ...Rain in Northern California this weekend shut down too many racing events. Further south they did get in a 360 non-wing show at Santa Maria Speedway that was captured by Peter Murphy. Meanwhile - half way across the country in Iowa - the World of Outlaws ran at Knoxville Raceway for the first time in 2009. Donny Schatz won the event that drew 47 WoO Sprint Cars to the famed half-mile dirt track. ...It is good to see the McCarl family continue their traditions in sprint cars. Terry McCarl's oldest son Austin (16) ran his first WoO event. He finished fifth in the C-Main. Terry's Dad (Leonard) and brother (Kenny) were both drivers as well. ...I liked this quote from Brian Brown - as told to Tony Veneziano - about running up front with the World of Outlaws. "Those Outlaws guys show why they are the 100 percent best in the business. They are like sharks. One of them bites you and the next thing you know all of their friends show up and go after you when they see blood." Brown said that after the feature Saturday where he started from the pole and led the opening 14 laps. He finished fourth. ... Tickets for the 21st Annual Brad Doty Classic are available by calling the Limaland Motorsports Park ticket hotline at 419-998-3199, Monday - Thursday from 9 a.m. - 4 p.m. eastern or visit www.limaland.com for further information. ...T.J. Buffenbarger reports about a big weekend for Michigan masher Dustin Daggett. Daggett became a father (baby girl) earlier in the week and promptly went out and completed a clean sweep Saturday night in ASCS Sprints on Dirt action. Daggett won the heat race, fast car dash and main event for Mott Motorsports. ...The USAC National Sprint Car division raced on Anderson Speedway's (IN.) pavement Saturday (may 2, 2009) but drew only 17 cars. Bobby East won the 100-lap feature over Tracy HInes, Bobby Santos III, Levi Jones, and Jerry Coons Jr.
When Terry McCarl and Steve Kinser made contact battling for the lead at Haubstadt, IN Saturday night - McCarl got the worst of it - flipping out of the lead. Kinser went on to win. McCarl said to Bill Wright, "Steve was in a spot where he had to go to the top and drive around me. He wasn't going to beat me on the bottom. Haubstadt is one of those racetracks, where if you're going to win, you have to force the issue sometimes. Whether that is me trying to slide across the track, or Steve giving it a shot between me and the wall, sometimes somebody loses, and that was me. I was never mad about the crash. I know the deal, and we were both trying to win a race. I wasn't trying to block him or anything either. I thought we were both going to make it through. Believe it or not, it's better to be fast and crash in front, than be slow and crash in the back." ...USACLive on the web is sweet! Streaming live video from Lawrenceburg, Indiana on Saturday was fun to watch. ...Darren Hagen - who was recently injured at Eldora Speedway was among those watching the event at Lawrenceburg. In an interview over the public address with Rob Klepper - Hagen says his broken ribs and collapsed lung are healing well and he hopes to be back behind the wheel again soon. ...Jimmy Patterson was the crew chief on Scott Hall's first win. Gary's son is getting ready for the GP Memorial 2009. Jimmy is seeking lap sponsors and funds to do a T-Shirt. Contact Jimmy at his excellent web site in tribute to his fallen father Gary Patterson at www.garypattersonracing.com.
Congrats to Scott Hall on his first feature win. It came in the wingless sprint car division at Marysville, CA. Saturday night. Scott has persevered to live the dream of being a sprint car driver that started much later in life than what is the norm. I've known him since the days of West Capital Raceway when he and his brother were cheering for their uncle Jimmy Sills. ...Tim Kaeding won the Tulare Thunderbowl Raceway Golden State Challenge event this past Saturday. The victory broke a long winless streak for car owners Roth Motorsports at the popular 1/3-mile. Tim says he thinks it has been eight years since the last win for car #83 at the high-banked joint. Jason Statler finished second while Kyle Larson scored his first GSC podium job with a third. ...Jesse Hockett won the final race at Manzanita Speedway in a close battle with Kevin Swindell. ...The 2009 edition of the National Speedway Directory is at the printers and will soon be available. It will lists a total of 1,395 auto racing facilities. It is the most comprehensive listing of active tracks in the United States and Canada available anywhere. The book lists detailed information on 1,029 oval tracks, 336 dragstrips and 104 road courses. The phone numbers, addresses, exact directions, nights of operation and type of racing are included in this handy 608-page paper-back book. The price for one copy is $14.00 (includes first class postage and handling) or two copies for $24.50 (sent via priority mail). Send check or money order to:
National Speedway Directory
P.O. Box 448
Comstock Park, MI 49321-0448
Last week was tough for many in Northern California as we lost both Christian Stover and Sherm Toller. Stover tragically was killed at age 17 in a ATV accident. The young driver had just completed his first full season driving a sprint car on the Nor-Cal scene. ...Toller (67) was a gentleman that I first met at the now defunct Ernie Purcell Memorial Speedway in Grass Valley, CA. Sherm did some announcing and he always had a kind word and a smile for me. He was the kind of positive spirit that the world needs more of. ...The ASCS National tour is back in action this weekend with a date a I-30 Speedway in Little Rock, AR. Shane Stewart leads the early point standings. It sounds funny to me but Paul McMahan is leading the ASCS Rookie of the Year standings. Paul has never run a full season with that group - which is why a veteran in his 23rd year of sprint car racing is being called "rookie". ...This Saturday April 11, 2009 marks the final race ever at Manzanita Speedway. POOP on that! ...Dick Jordan notes: Only two drivers in USAC history have been able to string together three straight years with a victory in all three USAC National racing series each year. Dave Steele actually did it five years in a row from 2001 to 2005! J.J. Yeley did it from 2001 to 2003. Defending USAC National Sprint Car Champion Jerry Coons Jr. hopes to become the third in 2009 and will try to add the second jewel to the crown this weekend at Eldora. Coons has won in all three series the past two years and won the National Midget race at Las Vegas, Nev. February 25. He now needs wins in the two series where he defends his 2008 titles, the Sprints and Silver Crown, to join Steele and Yeley in the exclusive list.
It's been a minute, I know. ...Here are some thoughts and observations from the last two weekends of World of Outlaws racing at Chico and Tulare... The Outlaws, from a race night operations standpoint, have their shit together. The shows are as efficiently run as I've ever witnessed. One heat ends and the next one rolls onto the speedway. The Dash finishes and the B-Main is right there on deck without a pause. True - that it is the way it should be but we all know that we watch shows that drag out with unnecessary delays. I have long been a champion of the three, to three and a half, hour show being more than enough. In the four recently completed WoO races - we were done by 9:30 pm on three occasions. That leaves time to enjoy some fellowship in the pits or parking lots, and maybe grab a bite to eat before everything in town closes. I love it! Kudos as well to both Silver Dollar Speedway and Thunderbowl Raceway for racing JUST the winged 410 sprint cars that I came to see. I'm not mad at promoters trying to make some $$$ at the back gate with an added class - I'm just not digging it most of the time. It was refreshing to be able to concentrate on only the BIG SHOW. ...From a racing standpoint - I enjoyed the Friday Thunderbowl race the most. While most drivers seemed to prefer the Saturday slick-track, I liked the faster version of the third-mile that was presented Friday night. Randy Hannagan did a fantastic job all night to set himself up for a feature win - withholding Sammy Swindell to the checkered flag by a tenth of a second. Hannagan - always thinking - has figured out a way to "trail brake" his car, in turns two and four, that allows him to exit the turn consistently straighter and lower than most of his counterparts. That part of the formula helped him run a quick lap in time trials, transfer through his heat, run solid in the dash, and then pass cars to win the feature. It was impressive to say the least. Plus - Hannagan is such a good guy - he is easy to be happy for. Randy dedicated his win to his mother Margie who recently passed away. ...Swindell was good both weekends. Two podium finishes at Tulare pushed Sammy to fourth in the WoO points headed into the final run at Manzanita Speedway this weekend. ...Donny Schatz leads the early points parade over Steve Kinser, Jason Meyers, Swindell, and Joey Saldana. ...Chris Luck tips that Elite Racing has long term plans to build a new race shop in Brownsburg, IN. The team has already taken Charlie Garrett Engines in-house while having a deal with Steve Kent to build the frames for the #14. ...Speaking of chassis' - Larry Shelton informed me that A.R.T. Enterprises was the builder of the winner of the opening night of the ASCS National Devils Bowl Sprint Nationals. Paul Silva (owner) and Shane Stewart (driver) pulled off that feat. Making their win even more impressive was that Silva and Stewart only recently found out that their Doyle's Harley Davidson deal would not be making the trip to Texas. Silva improvised and prepared in a very short period of time to get his own #57 to the Lone Star state for Stewart to drive to the checkered flag. ...Terry McCarl broke the Thunderbowl track record - turning a single lap at 12.713 seconds for an average of 94.297 mph. Saldana blistered Chico's quarter-mile for a NTR of his own. He ran the first ten second lap in the history of the track with a 10.918 clocking. Saldana tells us that his Kasey Kahne Racing Budweiser #9 is better equipped this season after struggling at the close of 2008. Advances under the hood have Saldana more horsepower which he says gives him more of a chance for success. (...Can't wait to see Saldana at Eldora!) ...It was good to see Jason Solwold run in the top-three at Tulare. Solwold hopped into the Roth Motorsports #83 JR for the Thunderbowl event. ...Guy Forbrook was spinning wrenches for Roth and driver Tim Kaeding at Tulare. ...Peter Murphy was a huge part of the fun of Friday's Tulare races. Pete appeared in a #13 that had a black front wing, silver top wing, a white hood, and a black tail. Though he owns a vinyl lettering business the car had no stickers on it. Murphy said the deal was so last minute that the number 13 was the only choice that made sense. Murphy said Steve Kinser gave him some good natured grief about his number choice to which Murphy replied, "Steve drives a green car!". All of the fun with the number would have been just an afterthought had Murphy not gone out and won his heat and then the Dash to earn the pole for the Friday Feature. He led the first ten laps before settling for a ninth place finish in the 35 lapper. ...The track was so fast at Tulare on Friday that a dozen drivers turned 12 second laps! ...To illustrate the ever-changing conditions that make dirt track racing my favorite form - the same track was at 15.9 seconds per lap during the Saturday night A-Main. ...Missouri visitor and methanol masher Jesse Hockett was in the McMillen #2 at Chico. ...Wayne Johnson is a racer! He made the trip from Oklahoma City to drive the Main Motorsports #35a both weekends. ...Tyler Walker ran a strong fourth on Friday night at Tulare. Tyler told the Tulare crowd, in an interview with George Hauge, that he is feeling even more comfortable behind the wheel of a 410 sprint car - saying - "I'm not overdriving the car anymore". ...Roger Crockett - who underwent a kidney transplant in November 2008 - says he is feeling well. He still has to be careful and make sure to get plenty of rest - but overall he says thing are good. His father Brian who donated a kidney for the transplant is also doing fine.
Mini Gold Cup ready for green - By Bobby Gerould - Chico, CA. March 12, 2009 ...The Mini Gold Cup returns to a World of Outlaws sanctioned event Friday and Saturday night at Silver Dollar Speedway. Not since 1992 has the popular race been a points earner in the rugged WoO winged sprint car series. Established as a 'must-see' event, the Mini Gold Cup offers a chance to witness the wild 800+ horsepower, 1200 lb. race cars on a surface deep with moisture. Spring rains traditionally saturate Northern California leaving the quarter-mile clay oval "heavy", and often softer than normal. The result is controlled mayhem with drivers doing all they can to keep their front wheels on the track. Favorites heading into the weekend include 2008 Gold Cup winner Jac Haudenschild of Wooster, OH., Tim Kaeding from San Jose, CA., 2008 Mini Gold Cup winner Jason Meyers of Clovis, CA., and defending WoO champion Donny Schatz from Fargo, ND. Also expected to contend for $10,000 feature wins are Jason Sides (Bartlett, TN.), Craig Dollansky (Elk River, MN.), Sammy Swindell (Germantown, TN.), Jon Allard (Chico), Steve Kinser (Bloomington, IN.), Brent Kaeding (Campbell, CA.), Joey Saldana (Brownsburg, IN.), Terry McCarl (Altoona, IA.), Danny Lasoski (Dover, MO.), Kerry Madsen (Australia), Randy Hannagan (Pittsboro, IN.), Andy Forsberg (Auburn, CA.), Tyler Walker (Los Angeles, CA.), and Kraig Kinser (Bloomington, IN.). Track event ticket information can be found by calling the track office at (916) 969-7484. ...The Mini Gold Cup can be seen on DIRTVision.com with live streaming video and audio for both nights of the event. Visit http://www.DIRTVision.com.
...Reports from Phoenix have Manzanita Speedway being sold with the last race scheduled for April 11, 2009. What a shame. The landmark racetrack was home to some of the most famous battles in sprint car racing history. I am still digesting this information but the initial impact is not too far from the reaction you have when a friend passes away.
Cole Whitt and Jerry Coons Jr. were the USAC winners in the sprint car and midget divisions on Wednesday - (Feb. 25th, 2009) at the Dirt Track at Las Vegas Motor Speedway. Terry McCarl ran the non-winged sprint car race. He was one of 52 entries in the class. ..."Due to the recent rain activity, we unfortunately must cancel the World of Outlaws race scheduled on March 7, 2009," Ocean Speedway (Watsonville, CA.) promoter John Prentice said. "We will continue to work with the organization to secure a new date in the season. If you purchased a ticket, you will be receiving a full refund for the amount you were charged. If you paid by credit card, the credit should appear within one cycle." ...Arizona homeboy Bob Ream sent us a link to this video about old time racing. It includes vintage footage from Fresno, CA., and a feature on midgets - racing at the Los Angeles Coliseum. ...Racing is a costly thing. If its not the equipment to pay for - then it is the pit passes, gas, and help that diggs deep into the wallet. I salute all you car owners for doing what you do.
...Destiney Hays is seeking sponsorship help. Her car owner Dan Simpson has made it clear that his own #4s will be at the track but Destiney's #8s will need some help to get there. Mike Thurman, who serves as Crew Chief for the Simpson Racing team, is as good a guy as there is. And if you read this space with any regularity - you know that we think Destiney is among the most marketable drivers in the world.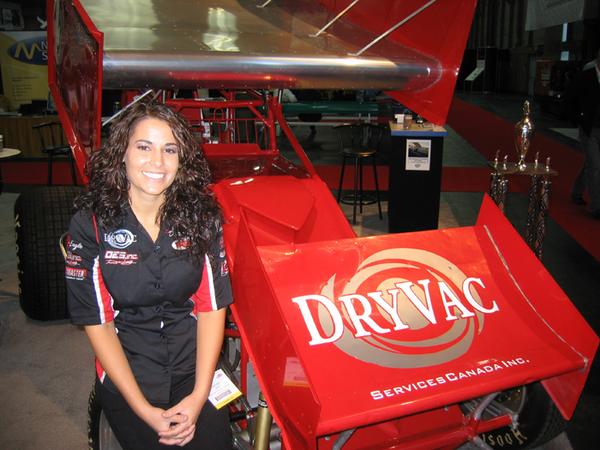 Destiney recently went to Canada where her Simpson Racing car was on display.
If you can help Destiney and Mike get the #8s to the race track - call Mike at (707) 374-7504. ...Openwheelfantasy.com was recently launched and will feature three fantasy leagues; the World of Outlaws- Sprint Cars, the Little 500 and the Golden State Challenge Series.
The 'pick three' fantasy league allows fans a team of three drivers for the season. For each event, players select three drivers from the selected groups who they predict will finish at the front. Players receive points based on where the drivers finish. The top teams in the final point standings will receive cash and other prizes. The entry fee is $20 for the WoO Fantasy League. Payout will be determined by the total number of participants. The first event is slated for May 1st at Husets Speedway. The league will consist of 37 events. The Little 500 and the Golden State Challenge Series Pick Three Fantasy Leagues will have similar formats and rules as listed above. The Little 500 entry fee is $10 with 100% payout to the top finishing teams. The GSC Pick Three Fantasy League is free to play. The season point champion will receive prizes to be determined. To register for a Pick Three Fantasy League, please visit www.openwheelfantasy.com.
HammerDown! Popularity Contest reaches final 30 drivers - By Bobby Gerould - Rocklin, CA. December 19, 2008. ...After months of voting and narrowing from 200 drivers to 70 drivers - we have now cut it to a top 30 in the HammerDown! Popularity Contest. Four polls remain (listing ten drivers at a time). The next three polls will list the 30 remaining with 10 of those drivers making the final poll. Not surprisingly - due to our site being based in the Golden State, California drivers have dominated the voting. Those still alive in the contest include: Jon Allard (CA.), Robert Ballou (IN.), Sean Becker (CA.), Dave Blaney (OH.), Bryan Clauson (IN.), Roger Crockett (OR.), Andy Forsberg (CA.), Rickie Gaunt (CA.), Alissa Geving (CA.), Shane Golobic (CA.), Jac Haudenschild (OH.), Kyle Hirst (CA.), Jesse Hockett (MO.), Danielle Huson (WA.), Brent Kaeding (CA.), Bud Kaeding (CA.), Tim Kaeding (CA.), Kasey Kahne (WA.), Steve Kinser (IN.), Kyle Larson (CA.), Paul McMahan (TN.), Jason Meyers (CA.), Joey Saldana (IN.), Jason Statler (CA.), Shane Stewart (OK.), Tony Stewart (IN.), Brad Sweet (CA.), Sammy Swindell (TN.), Gary Taylor (OK.), and Tyler Walker (CA.).
So who is off to a hot start in cold Florida? Donny Schatz has three wins in five nights so far. Two of Schatz's victories came in All-Star sanctioned events with one under the World of Outlaws banner. ...Stevie Smith has been fast in his new ride, the Zemco #1z. Stevie posted an All-Stars win at Volusia and he has three top-fives in five nights at the half-mile. ...Jason Sides is getting it done in a big way. Back-to-back second place WoO finishes compliment a third place All-Star run. Sides was also runner up in the ASCS sanctioned Ronald Laney Memorial last week. ...Joey Saldana has a WoO win to go with a second, a third, and a fifth in All-Star action.
The biggest news in sprint car racing is that Sammy Swindell, a three-time World of Outlaws champion, and Hall of Fame driver, is returning to the 'greatest show on dirt' full-time. Sammy will run the Chico, CA based Tom Rolfe Trucking #10 in 2009. Sammy said he is doing this deal because Rolfe will allow him to run the show. There is no question in my mind that Sammy, at age 53, can still produce. He dominated the Chili Bowl, and his knowledge of the tracks on the WoO schedule should allow him to mix it up with the front runners. ...I am picking Donny Schatz to win the WoO title. ...I expect big performances in 2009 from Craig Dollansky. He and crew chief Mike Woodring will be paid by Kasey Kahne this season. ...You know that Jason Meyers, Steve Kinser, Jac Haudenschild, Danny Lasoski, and Joey Saldana are going to win their fair share of races. Kraig Kinser, Kerry Madsen, Lucas Wolfe, Chad Kemenah, and Jason Sides, should all be better with another year on the road under their collective arm-restraints. While they may not run all the WoO races - Terry McCarl, Brooke Tatnell, Tim Kaeding, Tyler Walker, Sam Hafertepe Jr. and Tony Bruce Jr. will run a large chunk of the schedule. That means that the WoO deal in 2009 is as tough as ever. ...Haudenschild was recently elected as a National Sprint Car Hall of Famer. Joining him in the class of 2009 are notables Fred Rahmer, Lee Osborne, Jack Elam (J&J Chassis), Allan Brown (National Speedway Directory) and Jim Chini (photographer). Unfortunately - Johnny Anderson was overlooked again. ...Roger Rager and Rip Williams made it into the Hall as drivers. ...The opening two nights of the 2009 All-Star Sprint Car schedule were won by Tim Shaffer, and McCarl.
That didn't take long. Daryn Pittman landed a ride with Pete Postupack and his #25, Pennsylvania based car. The plan for their schedule is to hit a selection of WoO, All-Stars, and Central PA action. Past drivers in this car included Chad Layton, and Lance Dewease. ...I bumped into Tyler Walker at the Chili Bowl. He is recovering from a broken collarbone suffered in a four-wheeler accident. Walker said he's hoping to get his off-track business with his brother rolling so that racing can be something he does "just for fun". He also tipped that he will start the 2009 season in Florida in the SC Motorsports #24. He will run some USAC Silver Crown races for Kasey Kahne, and possibly even see some time in a prominent pavement midget on the West Coast. In true Tyler fashion he had me giggling when he mentioned the uneasiness by car owners that accompanied the news of his broken collarbone. "They want an animal race driver but no one wants the stuff that goes with that", he explained. "If you are an animal on the track in a sprint car - you are most likely an animal away from the track." Walker says he is never going to stop having fun, and playing hard, away from organized racing and he hopes that one day people will understand that a charger on the track is going to be a charger off the track too. Makes sense to me.
As usual when you spend seven days away from home at a race - you learn things. What did I learn (that I can share)? I reckon (that's Oklahoma speak) that the biggest news was that Daryn Pittman was told he would not be back in the Titan Garages #21 sprint car. He found out Tuesday - which leaves him very little time to prepare for this season. Pittman told us on Thursday afternoon that he would continue to make, and field, phone calls in hopes of landing a quality ride. He said he already planned on running some with Gene Jenkins in his #55 car but beyond that he was not sure. Daryn's wife Mandy is due with the couple's first child in about two and half months. ...I could not confirm who would be driving the #21 car but the strong rumor had Brooke Tatnell in it on a schedule that would allow them to pick and choose their races. It is believed they will not be running the entire World of Outlaws schedule. ...Tony Bruce Jr. tells us he plans to run a schedule that will keep him away from the East coast. Bruce wants to compete for the ASCS National tour championship and the healthy $60,000 prize money that accompanies it. He will also hit selected WoO events and the Trophy Cup. "The Ganxta" is also promoting the Steve King Memorial race to be held May 23-24, 2009 at the Jetmore Motorplex in Kansas. ...Tracy Hines is now nicknamed "The Mentalist". He is a dead ringer for Simon Baker. ...If you don't think you can bust your ass at the Chili Bowl - think again. Frank Polimeda took a vicious spill at the end of one of the C-Mains. The Fort Lee, NJ driver earned my respect by staying in the throttle to the finish line. Unfortunately - he paid the price when his car dug in and flipped in a tight series of rolls that bent the cage! Polimeda was released from the hospital on Sunday. ...It was the Loyet Motorsports team that placed the most cars in the A-Main. They had three cars with Brad Loyet (10th), Jon Stanbrough (13th), and Jesse Hockett (18th). ...Kevin Swindell looked great in his preliminary feature but ran into bad luck when Ricky Stenhouse Jr. pushed across the track in turn four and nailed Swindell into the wall. Had that not happened - Kevin may well have won that feature race. ...Shane Hmiel took home Chili Bowl Rookie of the Year honors. He impressed each time he hit the track. In no particular order I was also impressed by:
Thomas Meseraull who put a Mark Bush car into the A-Main.
Chad Kemenah who rolled from the C, to B, to A-Main on his preliminary night.
Brent Beauchamp, Mike Spencer, Joey Moughan, Jonathan Beason, Brian Camarillo, Austin Brown, and Kyle Larson. .

. .
Tim McCreadie, 2006 Chili Bowl champ, will be driving for the Wilke-Pak team at this year's edition of the world's biggest indoor midget event. The Wilke-Pak group fields cars that are at the top of the food chain each year. The car that McCreadie will run is a Spike chassis with a Toyota engine. ...Check out this shot of Sammy Swindell on his ChiliBowl.com profile. I love it! ...J.J. Yeley is not part of the Bondio-Barnes team for the 2009 Chili Bowl. J.J. is bringing his own Beast with Stanton-MOPAR power. ...Kyle Larson wound up finishing seventh at the Tulsa Shootout. Kenny Allen was runner-up to Broken Arrow, OK. driver Kevin Bayer. They only had 473 entries for the Micro-Sprint event! : )) ...Over at Calistoga Speedway - Charlie Sakai, the fairgrounds "Super", found a treasure trove of of old belt buckles that say "I won at Calistoga".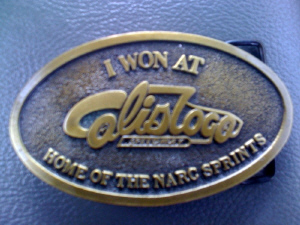 According to Jake Vickers - all the buckles are in mint condition and will be handed out to all event winners 2009. They are estimated to be at least 30 years old. Also any past feature winners who would like to claim one can get them from Charlie at the speedway office while supplies last. ...When Donnie Lehman fires off on his preliminary night at the 23rd Chili Bowl (January 13th, 2009) - he will be the first driver to run in 20 editions of the event. The Springfield, IL pilot is 40 years old. ...Kyle Larson of Elk Grove, CA. is competing in the famous Tulsa Shootout - which precedes the Chili Bowl, indoors, at the Quik Trip Center in Tulsa. The event features Micro Sprints (600 Multi Outlaw) among a slew of other classes. Anywho..., Larson scored the second highest points total through the preprimaries and he will share the front row of Saturday's A-Main with defending champ, Brady Bacon. Also qualifying for the A-Main: Sacramento driver Scott Mauldin, and Chico's Kenny Allen.
Bowl season means midgets indoors in Tulsa - By Bobby Gerould - January 11, 2009 - Terry McCarl calls it "the modern day International Race of Champions" (IROC). And that may be the best description for what takes place in Tulsa this week as 293 pre-entered cars and drivers compete in the Chili Bowl. The indoor event is held at the Quik-Trip Center in Tulsa. A one-fifth mile dirt track that is plenty racy and ever-changing, challenges the pilots. This year - 21 of the top 40 drivers in the 2008 Racer's Racing Series points are among the entrants. Defending champion Damion Gardner will try to become the first driver to score consecutive Chili Bowl A-Main wins. He figures to be challenged by the likes of fellow Indiana sprint car aces Dave Darland, Jon Stanbrough, and Shane Cottle. Young stars such as Brad Sweet, Bryan Clauson, Kevin Swindell, Brady Bacon, and Cole Whitt should also contend. Past champions entered include Sammy Swindell, Tracy Hines, Tim McCreadie, Cory Kruseman, Jay Drake, and Scott Hatton. Past USAC National Midget champions entered that will dice for the famous Golden Driller trophy include J.J. Yeley, Jerry Coons Jr. Jason Leffler, and Kasey Kahne. Brad Kuhn - a former National Midget Driver of the Year, along with "The Rocket" Jesse Hockett will also look to generate headlines. ...World of Outlaws drivers entered include Jason Meyers, Terry McCarl, Joey Saldana, Danny Lasoski, Paul McMahan, Daryn Pittman, Chad Kemenah, and Sam Hafertepe Jr. ...There are 67 rookies entered. Follow the action at any of these sites: www.ChiliBowl.com, www.JackSlash.com, www.motorsportslife.com, or www.RacinBoys.com.
What it is. We hope you all had a happy and safe holiday. I am actually jonzing for racing. I am often guilty of being "raced out" but after a nice break I am excited about heading to Tulsa for the Chili Bowl. How about 281 entries for that bad boy? We have decided to offer "double points" in the Racer's Racing Series for the top-15 finishers in Saturday's A-Main. (The Chili Bowl is race #1 in the 2009 Racer's Racing Series). ...I am figuring it is time to get serious about starting my research for announcing the event with Johnny Gibson on Greg Stephens' DVD production. If I dig for info on twenty drivers a day each day for the next 15 days - I can get it done. What excites me about the Chili Bowl? The field of drivers is incredibly strong and diverse. The best racing obviously occurs in the main events but there is also really good stuff in the qualifying heats as drivers try to score as many points as possible. The qualifying nights have already been divided into four very interesting preliminary matchups. This year the Tuesday night deal is a regular show - not just "amateur night". On Tuesday we are hyped to see Cody Darrah make his Chili Bowl debut. Dean Mills told us that Darrah looked good at the Kansas City indoor midget race before Christmas. That event was won by Bryan Clauson. ...Check out ChiliBowl.com for more including a cool breakdown of each night.
...Dean Mills will receive the North American Non-Winged Sprint Car Poll's "Media Member of the Year" award for the first time. Congratulations to Dean who has given his heart and soul to sprint car racing! You can see his work at www.millsvideoproductions.com ...There is a new book out called "Win it or Wear It" that is filled with great photos, and tales from the original outlaws of sprint car racing. If you are hardcore, and enjoy learning new insights about Rick Ferkel, Bubby Jones, Eldora Speedway, Knoxville Raceway, and the classic "Little Springfield" - then this book is for you! I highly recommend it! You can buy the book at www.coastal181.com. ...I bumped into Bobby McMahan at a Sacramento Kings game and he informed that he will be back in 2009 as a driver at selected events. That is good news for Nor-Cal race fans because Bobby is a smooth veteran that will make every race he enters that much tougher for the competition. ...Meanwhile Bobby says brother Paul is unsure of his deal for next season. ...We feel for the Hannagan family as they deal with the loss of Randy's mother Margie who died Friday after a long battle with lung cancer. Margie was Randy's number one fan. ...Stevie Smith will be the driver of the Zemco #1z in 2009. Smith replaces Jeff Shepard who retired following serious injuries suffered in August at the Knoxville Nationals.
What's good? Time to catch up on 15 things that I intended to get to... 1. Mike Spencer won the USAC-CRA sprint car title for 2008. Consistency did it for him as won just one series feature. 2. Dan(ny) Monhoff sent me the Calistoga Speedway schedule for 2009. It shows the Golden State Challenge winged 410 sprint cars returning May 23-24, followed by Civil War 360's with wings on June 13th, and August 8th. Capping the campaign will be the USAC-CRA non-wing sprint cars and midgets on September 5-6, 2009. 3. Chuck Amati, a Hall of Fame driver from Illinois passed away last week. Amati will always be remembered by me for his horrific front-chute grinder at West Capital Raceway during the Gold Cup (probably like 1977, 78 or 79). Amati came out west and steered for the Carville & Alves team in their sweet #45. 4. Tanner Swanson, younger brother of Kody will join his bro as a USAC Western Sprint Car champion when he is crowned on Thanksgiving night at Irwindale Speedway. Tanner's accomplishment is remarkable given that he finished in the top-three in eleven of his 16 starts (with four wins). Oh yeah, the 17 year-old kid is a rookie in the division. 5. Turkey Night midget entrants for Thursday night include Kasey Kahne, Jason Leffler, Davey Hamilton, and P.J. Jones. 6. Jerry Coons Jr. added his name to elite company when he won the USAC Silver Crown title. He now owns championships in all three major USAC divisions (Sprint Cars, Midgets, Silver Crown). Also in the club: Pancho Carter, Tony Stewart, J.J. Yeley, and Dave Darland. 7. I think USAC having a big quarter-midget event at Indianapolis Motor Speedway is a brilliant idea. The Inaugural ".25 Midget Nationals" will get the green on July 8-11, 2009. The event consists of three days of racing on a temporary course constructed in the garage-area at IMS. 8. Tony Jones is hanging up his helmet. The son of Bubby has decided to call it a career in order to spend more time with family. The 2007 USAC-CRA champ is 39 years old. According to Perris announcer and racing historian Scott Daloisio, Jones amassed a total of 34 wins in the combined history of the original CRA, SCRA and now USAC/CRA. That ranks him 13th on the all-time list. 9. I heard that a format change could be in the works for a top series. The root of the problem with all formats in my opinion is that there are not enough cars on the track to produce any excitement. Even a ten-car race is usually boring. There are exceptions. The Dash at Chico's Gold Cup on Friday night was amazing with Jac Haudenschild 'ripping the lip'. But 95% of the time - the heats and dashes are strung out and lackluster. My idea is always the same. Time trial with a heavy reward in points and cash for quick-time (to try to avoid sand bagging) Run two, 20-car, 20 lap mini-mains with a slight inversion (maybe six cars). The top ten in each mini-main makes the A-Main - lined up straight up by finish of the mini-main. No Dash. The rest go to the Last Chance race. Top four in the Last Chance tag the back of the A. Drama will certainly ensue when a star encounters a mini-main problem and has to run the Last Chance. Without "getting his time back" - he will have to come from row eleven at best in the A-Main. This format is EXCITING because the fan is basically watching main-events all night. The downside is that it will be harder on equipment. More cars = more crashes. 10. Class is something I always appreciate. It was a classy move that Shane Golobic Motorsports was the first to send a care package of goodies to the kids we support at Bald-Knob Middle School in Arkansas. Thanks to the Golobic family! 11. A date to add to the calendar is February 20-21, 2009. The "Copper on Dirt" at Manzanita Speedway in Phoenix, Ariz. features Silver Crown cars, Sprint Cars and Midgets. The event packed in 123 total race cars last February! 12. Lonnie Wheatley reports; Jason Johnson won $50,000 plus contingencies for capturing his first American Sprint Cars on Tour National championship. Johnson said, "When I first told my dad about 15 years ago that I wanted to go ASCS racing and win a championship, he just laughed and said 'Yeah right, you're gonna go beat Gary Wright and those guys." 13. Four-time Civil War Series champion and two-time defending Silver Dollar Speedway track titlist Andy Forsberg is searching for a 360 sprint car ride for the upcoming 2009 racing season. Please contact crew chief Brian Cannon by phone at (530) 514-4735. 14. Terry McCarl's race headquarters are moving to Minnesota. Car-owner Tod Quiring has T-Mac in a Maxim chassis which is also the choice for Kasey Kahne's #9 driven by Joey Saldana in 2009. 15. The Trophy Cup that was so good can be seen on DVD. ...Makes a great Christmas gift! Contact: Grove Hill at Quality Race Video
...Kris Flachman says that Roger and Brian Crockett are doing well following their surgeries. "Quick update!! Roger is doing great!! He has his own room and is watching old VHS tapes of Wheelies Flips and Photo Finishes :) He said he feels great other than being sore. Brian is doing really well and is scheduled to be released from the hospital today (11/13/08) and is heading home." ...When Kevin Swindell won the Western World at Manzanita Speedway Saturday night - he became the youngest non-wing winner of the event. Tyler Walker was a few months younger than Swindell when he won the event in 1998 with a wing on. ...Western World winners (source: Open Wheel Times).
1968 - Bob Cleberg
1969 - Bob Huebner
1970 - Jerry McClung
1971 - Jan Opperman
1972 - Jan Opperman (2)
1973 - Earl Wagner
1974 - Rick Ferkel
1975 - Ron Shuman
1976 - Bubby Jones
1977 - Ron Shuman (2)
1978 - Lealand McSpadden
1979 - Tim Green
1980 - Sammy Swindell
1981 - Ron Shuman (3)
1982 - Steve Kinser
1983 - Steve Kinser (2)
1984 - Ron Shuman (4)
1985 - Steve Kinser (3) (wings)
1986 - Bobby Davis Jr. (wings)
1987 - Steve Kinser (4) (wings)
1988 - Mark Kinser (wings)
1989 - Sammy Swindell (2) (wings) USA sanction.
1990 - Steve Kinser (5) (wings)
1991 - Danny Lasoski (wings)
1992 - Steve Kinser (6) (wings)
1993 - Lealand McSpadden (2) - back to non-wing
1994 - Ron Shuman (5)
1995 - Lealand McSpadden (3)
1996 - Steve Kinser (7) (wings)
1997 - Mark Kinser (2) (wings)
1998 - Tyler Walker (wings)
1999 - Donny Schatz (wings)
2000 - Jay Drake - back to non-wing
2001 - Jeremy Sherman
2002 - Bud Kaeding
2003 - Tony Elliott
2004 - Bud Kaeding (2)
2005 - Dave Darland
2006 - Josh Wise
2007 - Jerry Coons Jr.
2008 - Kevin Swindell
The 19th annual Kaeding Performance Swap Meet and Open House will be held Saturday December 6th at the San Jose Fairgrounds. Buyers and sellers from all over the west coast, Australia and New Zealand will be there. Following the Swap Meet there will be an open house at Kaeding Performance where there will be refreshments, door prizes and specials. For more information or to reserve your spot, call (The Great) BF @ (408)371-3031. ...People, people, people... It's time to get off our butts and help again. Last year we asked that you send racing related items to special needs students in Arkansas. Well - we are asking you to do the same thing this year too. Dana Kay Newsome writes, "Our community is small and we have many students ( not just special needs kids) whose families have a financial disadvantage." So I ask that any of you who read this space with any regularity - send off a care package of goodies to:
Bald Knob Middle School, Attn: Day Kay Newsome
103 West Park St
Bald Knob AR 72010
Jerry Coons Jr. is on the verge of wrapping up his first USAC National Sprint Car championship. He already owns two USAC National Midget titles. Coons will attempt to seal the Sprint Car deal at this weekend's "Western World Championships," set for Nov. 7-8 at the Manzanita Speedway in Phoenix.
The 2008 Trophy Cup was spectacular! Two of the three feature events during the three nights of competition at Thunderbowl Raceway were among the best I've EVER seen anywhere at any time. The Thunderbowl Raceway is a high-banked third mile that when in perfect shape lends itself to 'bang off the wall' type action. There were two or three grooves for drivers to dice it up - and dice it up they did! At one point Sunday - the top seven were in deep traffic and running all in the same set of turns. It was insanely hectic and exciting to watch with the subplots of who had moved forward enough to claim the points championship, rivaling the attention that the race lead warranted. Brad Sweet won the overall title driving Rod Tiner's #83. Among the best moves of the weekend was Sweet's last lap pass in his heat race on Thursday night that allowed him to make the feature event. It was an outside pass made of sheer will, determination, and an understanding of the format that offered even further proof of Sweet's driving skill set. Coupled with his huge Belleville Midget Nationals victory - Brad Sweet has further established himself as a threat to win any BIG race. ...Randy Hannagan won the Saturday night feature event and may well have won on Friday had it not been for a barrel-valve problem. "The Hurricane" was better than anyone at getting off the turns in the middle of the track. ...Tim Kaeding gets a 'tough guy award' for racing Saturday's 50-lap feature with a very sore neck. He couldn't turn his head when he spoke to him before the feature. He suffered the injury in a flip during the first A-Main Scramble Saturday night. He drove all 50 laps and finished fifth in the Roth Motorsports #83jr. ...Brent Kaeding told us that his Saturday A-Main crash was the hardest lick he had taken since a crash at Manzanita Speedway - which is a big half-mile. BK said his lower back, knee, and left shoulder/neck area were all extremely sore. Nevertheless, BK was signing post-race autographs and marveling at the exciting competition. ...It was cool to see Kevin Eckert of Open Wheel Times at the Trophy Cup. Eckert is the most important modern-day sprint car historian there is and you all should make his website a regular part of your healthy diet. ...Mark Dobmeier made the trip to Central California to compete in the Anderson #18 from Washington. The Grand Forks, ND pilot looked good - leading the Saturday feature from lap two to lap 41 before being overtaken by Hannagan. Dobmeier faded to sixth at the checkered flag. ...Kyle Larson just keeps getting better. He finished fourth in the Saturday feature in the Vertullo #83v. The 16 year-old told HammerDown! he would really like to run the entire Golden State Challenge tour in 2009 but he needs a steady 410 ride with spare parts to be able to do so. If one could buy stock in Larson it would be a great investment. We are notorious for hyping young racers in this web space but I'm telling you with all my heart and with all my thousands of races watched - that Kyle Larson is the real deal. Someone needs to offer him a development deal before the opportunity passes by. ...Tyler Walker won both the Thursday and Friday night preliminary features. The Thursday win was especially impressive as Walker had lost the brakes on the SC Motorsports #24. Tyler skillfully used the throttle and the bank of the racetrack to turn his machine and keep it ahead of a charging Craig Stidham. ...Cory Eliason is a 17 year-old from Visalia that impressed this weekend. He has less than a dozen sprint car starts but he handled his #00 like a pro on the fast third-mile dirt oval. ...It was good to see Steven Tiner compete. Tiner has certainly paid his dues as a mechanic. He finished 17th out of 59 in the final 2008 Trophy Cup points. ...Shane Golobic made a great move on Friday night to claim the final transfer spot from the B-Main to the A-main. The 17 year-old from Fremont, CA finished ninth in the final points ahead of 50 others. ...Ben Gregg made the two from Glendale, AZ. He miraculously kept his car from flipping at the start of his Saturday Scramble when he found himself completely sideways of the front-chute. ...Finally, I see a bright future for Bradley Terrell - a young driver that races mainly at Petaluma Speedway. ...Jason Johnson won the 2008 ASCS National Tour points championship and the $50,000 that accompanies it. ...Donny Schatz won for the 24th time this year at Heartland Park in Topeka, KS. Saturday night. ...Why do I call Brad Sweet "The Yam"? Brad has orange hair just like a yam. A yam is a SWEET potato. A yam grows in the dirt. I find too many similarities to come up with any other nickname. Now you know. ...
The World of Outlaws show at Thunderbowl Raceway Saturday night (Oct. 18, 2008) was enjoyable on several levels. The highlight was a three-way battle for the lead in traffic between eventual winner Jac Haudenschild, Steve Kinser, and Sam Hafertepe Jr. ...Legendary "Ohio Traveler" Rick Ferkel was in the Hafertepe camp providing wisdom. ...Randy Hannagan was fast all night as he sported support from the Coelho family on the side of his top-wing. ...Jon Allard has been racing most of the season with a bad back. It was so bad at Chico during the Fall Nationals that Allard said he was having the wind knocked out of him almost anytime he hit a rut on the track. ...Tim Kaeding was exciting as usual - blasting the top of the Thunderbowl to pass cars. TK charged from 20th into the top five but was derailed with a half-spin in turn four. ...Kyle Larson won his heat race and made the Dash at Tulare. The 16 year-old won twice on the 360 California Civil War tour in 2008. ...Danny Lasoski was driving for Dennis Roth this weekend. The Dude said he is still working out what car he will run at the World Finals in Charlotte in a couple weeks. Roth will not travel to Charlotte but he will provide Tim Kaeding with a potent non-wing ride for the Perris Oval Nationals. ...Bobby McMahan qualified fourth quick at Watsonville Friday night at the WoO event. Paul's older bro then drove to an eleventh place finish in the feature. ...Shawn Brouse reports that Jeff Shepard has called it a career. "The Jet" will not strap in to a competitive sprint car again which is a shame for race fans to the 15th power. Shepard was critically injured in a grinding crash during his preliminary night at the Knoxville Nationals in August. Read Brouse's column here. ...Two races I wish was attending are fast approaching. The Copper World for Midgets at Phoenix International Raceway is a sight to behold. Ditto the Turkey Night Grand Prix at Irwindale. I have a feeling those races are going to be extra special this year. (Do I know something I cannot say?). ... Donny Schatz swept the World of Outlaws show at Hollywood Hills, NM. Schatz is looking like he will wrap up his third straight WoO series driving title. Let's not forget that he also has three straight Knoxville Nationals wins.
All-time Williams Grove National Open A-Main is a fantasy line-up to dream of - By Bobby Gerould, September 22, 2008. ...In the history of the Williams Grove National Open - who are the 24 drivers that have performed the best? We applied the Racer's Racing Series points format to the finish of each National Open since 1964*. The top 24 in the point standings make up our fictional HammerDownUSA.com All-Time Williams Grove National Open Feature Line-Up! *based on available data. Some early races did not list the entire top 15 finishers. ...Sources: Open Wheel Times, and our own records.
| | |
| --- | --- |
| 30c Lance Dewease - Fayetteville, PA. 797 | 19 Steve Smith - New Oxford, PA. 758 |
| 69k Don Kreitz Jr. - Sinking Springs, PA. 750 | 11 Steve Kinser - Bloomington, IN. 724 |
| 7 Keith Kauffman - Mifflintown, PA. 683 | 51 Fred Rahmer - Salfordville, PA. 629 |
| 1a Bobby Allen - Hanover, PA. 626 | 19 Stevie Smith - New Oxford, PA. 624 |
| 5m Mark Kinser - Olitic, IN. 592 | 59 Kenny Jacobs - Holmesville, OH. 560 |
| 10 Dave Blaney - Hartford, OH. 523 | 33 Danny Lasoski - Dover, MO. 488 |
| 15 Donny Schatz - Fargo, ND 486 | 17e Cris Eash - Hanover, PA. 474 |
| 22 Greg Hodnett - Thomasville, PA. 474 | 1 Lynn Paxton - Dillsburg, PA. 461 |
| 56 Smokey Snellbaker - Ephreta, PA. 416 | R19 Jac Haudenschild - Wooster, OH. 391 |
| 77 Bobbie Adamson - Mercer, PA. 383 | 29 Kenny Weld - York, PA. 358 |
| 29 Doug Wolfgang - Sioux Falls, SD. 330 | 73 Kramer Williamson - Palmyra, PA. 314 |
| 26 Barry Camp - Beavertown, PA. 286 | 45x Johnny Herrera - Albuquerque, NM. 285 |
See the spreadsheet here.
Thanks to Todd "Smitty" Smith for identifying Barry Camp's hometown as Beavertown, PA. ...I set out to make a list of the top 15 drivers who are doing it both with a wing and without a wing. I figured I would use the Racer's Racing Series point standings from this year as a guide. The problem is - there are not 15 drivers that have scored scored points in 2008 that are what I like to call "hybrids". For the record the results of my list go exactly six deep. To score RRS points one must finish in the top-15 in one of 60 of the biggest events in sprint car, midget and Silver Crown racing. Only six guys have scored both with and without a wing on their head. They are: 1. Jesse Hockett 274, 2. Brad Sweet 265, 3. Tim Kaeding 234, 4. Brent Kaeding 133, 5. Bill Rose 119, 6. Tony Stewart 90. ...Congrats to Jon Allard on his win in the Chico Fall Nationals. Allard conquered a soft, rain soaked, racing surface to score his 35th career feature event win at the high-banked quarter-mile. The win moved him into a fifth place tie with Jimmy Sills on the all-time Chico winner's list. ...Cole Whitt won the Hut Hundred for USAC National Midgets at the Terre Haute Action Track. ...Kraig Kinser continued his strong second half of the season with a win in WoO action at Brainerd, MN.
The press release for USAC's Western Sprint Car race at Roseville is here. ... Mark Dobmeier of Grand Forks, ND, took home a check for $10,000 as the 2008 Husets Speedway track champion. Dobmeier owns 22 wins to date in 2008 according to Kevin Eckert's Open Wheel Times. Dobmeier is presently in the midst of six race win streak dating back to August 23rd at Knoxville. ...Roger Crockett shed his wing to win a special $2,000 to-win non-wing sprint car race at Willamette Speedway in Lebanon, OR. ...Todd Shaffer won the Selinsgrove National Open which paid $7,500 to win. ...Robby Wolfgang, the 16 year old son of Doug Wolfgang scored his first sprint car feature win on July 27 at Huset's Speedway in South Dakota. Robby had been doing moto-x in the past. ...Alissa Geving received some major press recently. The San Francisco Chronicle deal is here. ...Brooke Tatnell will be among the entrants for the Trophy Cup - which has expanded to a three night format for 2008. Tatnell is scheduled to drive the M&S Motorsports #18 at Thunderbowl Raceway in Tulare on October 23-25, 2008. ...When the Selinsgrove National Open was postponed due to rain - we swapped it out with the upcoming Gold Crown Nationals for midgets - as a Racer's Racing Series points earning event. The Gold Crown deal at Tri-City Speedway in Illinois pays $15,000 to win and $1,000 to start the feature. That qualifies it immediately as one of the biggest paying midget races in the world. POWR-i and USAC appear to be co-sanctioning the event. Check out the payoff here. ...If you attended the last years of action at West Capitol Raceway you will remember the name John C. Anderson. His scruffy looking #67 was often fast on the quarter-mile clay oval. Well - guess what? John C. is still going strong. This year he won his first championship as a driver at age 52! John C. is the 2008 wingless spec sprint champion at Marysville Raceway Park in Marysville, CA. He drove for car owner Bill Felver. ...Nick Green, son of Tim, will contend for Rookie of the Year honors in 2009 on the Golden State Challenge tour. Green will run for Steve Harris on a team managed by Scott Hall. ...Destiney Hays and Dan Simpson - teammates in DES Racing - are taking a break from the World of Outlaws tour as the series goes east. Hays and Simpson will next compete at Watsonville, and Tulare in about a month. ..Mike Erdley won the 41st running of the Tuscarora 50 at Port Royal Speedway in Pennsylvania.
...The Gold Cup of 2008 will be remembered as one that got away from Jason Meyers, and one that was nevertheless well earned by Jac Haudenschild. Meyers was leading when he found himself with no room to maneuver coming off of turn two on lap 26 of 40. A slower car had taken Meyers out of a excellent shot at $50,000. Inheriting the lead was Haudenschild but he earned the right to be in that position due to some great moves on his preliminary night in the dash. He went from tenth to third in that dash to set up a second place finish in his preliminary feature. The points he earned Friday lined him up in the second row Saturday night. Haudenschild then used a wicked cushion on the high banked quarter-mile clay oval to get past Craig Dollansky for second place - thus putting him into the position to take advantage of Meyers' misfortune, and win his third Gold Cup. ...Shane Golobic made the A-Main on Saturday night in Brian Sperry's #51. Golobic, at age 17, is among the youngest drivers to make the Gold Cup feature. (Help us out if you know, for a fact, a younger Gold Cup A-Main starter.) ...I was impressed with Colton Heath. The Marysville, WA. driver comes from the Micro ranks where he was a 600 champion at Deming Speedway. Heath showed the bravery and skill required to run the high-scary side of the race track at Chico. History shows that someone who can rip Chico's high banks with precision is someone to be reckoned with. ...Shane Stewart ran his last race for Roth Motorsports at the Gold Cup. Stewart says he will now saddle up for Paul Silva in some Northern California action. ...The cat is out of the bag on Dollansky moving to Kasey Kahne Racing in 2009. The Crowd Pleaser was actually watching the races Friday night from atop the Kahne/Saldana team trailer. A press release will make it official sometime soon. Crew chief Mike Woodring is going with Dollansky in the move. ...Look for a cool contest in the future that will "pimp out" one of the current World of Outlaws sprint cars. Yak Vinyl Graphics has agreed to "Yak (pimp) out" the car that fans vote needs it the most. Candidates will be named sometime prior to the World Finals. ...It was good to see Brent Kaeding have success at the Gold Cup. BK finished fourth Saturday night. ...Who said sprint car racing is turning into a kid's sport? Check out the ages of the top Gold Cup performers this year: Jac Haudenschild (50), Dollansky (42), Jon Allard (32), Brent Kaeding (51), Sammy Swindell (52), Paul McMahan (37), Steve Kinser (54). ...Bobby McMahan returned to racing at Chico after a ten year absence to run the Steve Harris #33. The former Silver Dollar Speedway track record holder looked like he hadn't missed a day. He rolled the 360 powered car to a perfect 11.9 clocking on his preliminary night. A sixth place finish in Saturday's C-Main was enough to give Bobby the $1,000 bonus for the top 360 team of the 55th Gold Cup. ...Jason Solwold said he loves his new ride in the #39c car. He will return to California for the WoO events at Watsonville, and Tulare. ...Jesse Hockett looked good in winning the B-Main Saturday night. It was Hockett's first Gold Cup. ...I hope that you all will keep Roger Crockett in your thoughts as he readies himself for a kidney transplant scheduled for November 11th. Crockett will continue racing up to the surgery date and he expects to be out of action for three months. Crockett says that doctors tell him that the success rate for his type of procedure is 98-99%. He joked that he will feel like Superman once the deal is done. Crockett made the A-Main Saturday night at the Gold Cup in the Henderson #7n. As a side note, it was great to see Roger Henderson Jr. enjoying himself after the races Friday night. A Henderson Jr. post-race sighting is about as common as a lunar eclipse. ...Donny Schatz and Joey Saldana both were forced to use provisionals to start the A-Main Saturday night. ...It was cool to see Lucas Wolfe in the #5w at Chico. Cars based in Pennsylvania rarely make that long tow. Bobby Allen, and Brian Paulus used to do it. Al Hamilton brought his #77 for Stevie Smith (they won it in 1993!) Brad Doty had the Bower's Coal #28 out this way. ...We hear from a solid source that P.J. Chesson is trying hard to find sponsors for a return to World of Outlaws sprint car racing. ...Colby Copeland deserves some love for his drive this weekend. He finished eleventh in the B-Main Saturday - which was better than about 70 others. The Roseville, CA. based youngster comes from the Outlaw Kart ranks.
Calistoga, Calistoga, Calistoga. Disneyland uses the slogan 'The Happiest Place on Earth' (or something like that, right?). Well, for anyone who can remember what seeing non-winged sprint cars at Calistoga was like prior to 1985, this weekend was a bit like the Disneyland slogan. Familiar faces were smiling because the Louie Vermeil Classic was a huge fireball of Northern California racing nostalgia. Race organizers went the extra mile to give the event special touches that made it memorable. There was an original race program, an event t-shirt, a raffle with fantastic prizes, and bonus money for the 'little-guy' teams. There was bonus money for the top-three finishers, a pre-race wine tasting/autograph session, and solid promotion through advertising. The overall two nights of racing were good - sometimes great, and most importantly everyone stayed safe. ...Calistoga is no-joke. Watching a non-wing sprint car or midget get around that place is scary even to a spectator. Fans were ooohing and ahhhing with each bicycle, cushion hook, of left-front hike. You really felt like these cats at the front that were pushing it were right on the very edge of disaster at any moment. Jesse Hockett called Calistoga a "nut sack track" on the JackSlash Webcast Monday night. And that crude definition is right on the money. The drivers that were brave enough to 'attack the track' yet manage to hold it together were fast. Hockett, and Tim Kaeding put on a great show Saturday night. Kaeding took advantage of the tiniest opening in turn one on a restart to pass Hockett in what turned out to be the winning maneuver. Nothing excites the race fan in me more than seeing a driver drive his car HARD. I saw that and then some from Johnny Rodriguez in the Mitchell #87 midget. J-Rod was man-handling his car in an epic battle Saturday with Scott Pierovich. It was impressive and exciting to see these two trade the lead running evenly like you might expect to see from AMA Bikes on a dirt-mile. Rodriguez was abusing the cushion while Pierovich was rolling the bottom like some kind of cross between Bobby Allen and Danny Lasoski. On Sunday, Garrett Hansen joined J-Rod and Pierovich to make a midget-a-trois. Sunday's sprint car feature was a non-stop 30 lapper won by Kevin Swindell. I will have to check - but I think Kevin has to be among the youngest winners (19) ever at 'Stoga with or without a wing. I know Jason Meyers won there as a 19 year old. ...Hats off to Brent Kaeding, Jason Statler, Jason York, Jim Richardson, and all the winged guys that gave the half-mile a go this time without the top on. BK won the Calistoga track championship for the fourth time. He finished third on Saturday and looked good in so doing. York finished seventh on Saturday after starting 14th. He looked like he raced without a wing every week! ...Daniel Hood raced this weekend. He wants to encourage all to post your racing video content on RacerTube.com. ...Hansen had the sickest qualifying lap in a sprint car I have seen in some time. Pushing for Hockett's already laid down track record, Hansen rode a wheelie about half the length of the front straightaway. Hansen wound up second fast by a fraction of a second. ...Nic Faas impressed me as a youngster that stands on the good foot. He leads the USAC Western Midget points, and as a rookie sprint car driver he shows signs of being a factor. ...Brady Bacon took home $15,000 in the Badger Midget Fireman's Nationals in Sun Prairie, WI. ...Jason Solwold used home cooking to beat the World of Outlaws regulars in the Skagit Speedway World of Outlaws opener Saturday night. It is our opinion that Solwold is too good to not be on the road full-time with WoO. ...Tyler Walker won one of the three All-Star events he ran for Kasey Kahne Racing. Walker drove a #91 to victory at Hilltop Speedway in Millersburg, OH. ...Jesse Hockett will run the McMillen Motorsports #2 at this week's Gold Cup Race of Champions in Chico. Hockett established a new track record at Calistoga, and was runner-up both nights in the same car without a wing. ...A while back we posted information about raising funds for Jeff Shepard's air ambulance. We confirmed that the $17,000 was raised by contributions from race fans! Way to go people!
Jason Johnson is no longer driving for Kasey Kahne Racing. ...A second Kahne car will be driven this weekend by Tyler Walker. (Walker is running All-Star shows in Pennsylvania & Ohio - not in the WoO show at Skagit. It is not known at this time if the car will carry the Remington #19 decal package or the Sage Fruit #9 decals) ...Brad Sweet was originally scheduled to race the second Kahne winged car this weekend but a USAC conflict will keep "The Yam" in Kahne's non-winged cars. That opened the door for Walker to race the car. This deal also does not affect Walker's status as driver of the Chastain #24. That team was going to be idle this weekend, thus giving Walker the opportunity to race for his friend Kasey Kahne. This weekend's deal also does not mean that Walker will be a teammate to Joey Saldana in 2009 when it is believed that Kahne will field a full-time second car on the road with the World of Outlaws. So far, Kahne's limited car owner track record shows that he likes guys that seemingly have their best racing days ahead of them. He has hired Saldana, Johnson, and Walker for his winged teams, and Brady Bacon, Kevin Swindell, and Sweet for his non-wing efforts. It is too early to say who Kahne will choose to drive his second WoO car in 2009. We bet it will be crowd pleasing one way or the other. ..Justin Henderson has landed a ride for the month of September in Central Pennsylvania. The South Dakota charger will drive the Steve Miller #22z. ...Sammy Swindell popped into Placerville, CA. to race a weekly winged 360 show on the high banked quarter-mile of Placerville Speedway. Sammy won the feature event. See YouTubeage here. ...Alissa Geving won the 2008 Petaluma Speedway Sprint Car (winged 360) championship. The 16 year-old is easily among the youngest sprint car champions ever at any track anywhere. The third generation racer is granddaughter of Leroy Geving, and daughter of Gary Geving. ...Silver Dollar Speedway crowned Andy Forsberg as the 410 sprint car title holder for 2008. Forsberg edged out Sean Becker for the championship. The two are linked as well in career feature wins at the Chico, CA. quarter-mile. Both drivers have 22 victories. ...Speaking of Chico career wins, I marvel at Tim Kaeding's record of 51 triumphs - all before his 30th birthday. This season Tim passed such Silver Dollar greats as Wayne Sue (49 wins), and Shane Scott (49 wins) to be the number two all-time winner behind only Brent Kaeding (86 wins). ...The latest Calistoga USAC press release is here. ...Steve Jones keeps me hip to what is happening at Watsonville's Ocean Speedway. They are prepping for the 48th running of the Johnny Key Classic. Key was a racer from Salinas that was killed in 1954 - the prime of his racing career - in a midget crash in Cincinnati. He was so good that in 1952 he won 53 feature events! I think it is cool that they remember him. Jones says "there are five past Key race winners that have guaranteed starting spots in this years running (2008) of the Classic." They are Brent Kaeding, Bud Kaeding, Craig Smith, Ronnie Day and Jason Statler.
...A Jeff Shepard update. According to web reports - Jeff continues to make gradual progress from injuries suffered in the 2008 Knoxville Nationals. How can you contribute to Jeff's recovery? The Steve King Foundation is collecting donations and passing them along to the Shepard family. You may donate online by going to www.SteveKingFoundation.org and clicking the donate button or by mailing a check to: Steve King Foundation. 24583 NW 208 Rd. Jetmore, KS 67854. Please put "Jeff Shepard" in the memo line to ensure properly processing of your contribution. ...Alan Messick points out that the video of Mike Sargent's flip at Calistoga in 1978 was shot by Dick Wallen. Find out more about Wallen's classic videos at www.racingclassics.com. ...Mike Sargent's horrific crash at Calistoga has resurfaced on YouTube. Yikers! ...Robert Haugh reports that Kyle Larson will drive Cliff Blackwell's #27 midget during the Vermeil Classic weekend at Calistoga. ...Johnny Rodriguez is looking for a sprint car ride for the `Stoga event. J-Rod, who already won a USAC-CRA feature this year at Perris will drive a Mitchell Family midget for the Calistoga Labor Day two-day show.
Tracy Hines was crowned champion of the 2008 Indiana Midget Week. The final race of the series went to Bryan Clauson at Kokomo Speedway. Other A-Main winners during the week were: Brad Sweet (Lawrenceburg), Davey Ray (Bloomington), and Brad Kuhn at Gas City. ...Cameron Dodson captured the checkered flag and $10,500 at Iowa Speedway in USAC Silver Crown action Sunday (August 10, 2008). ... Jason Statler won the California Civil War Sprint Car Series event at Calistoga Speedway on Saturday night August 9, 2008 (same night as the Nationals). ...An annual deal I would like to do is to acknowledge the drivers that made the Knoxville Nationals A-Main that we did not have listed in our pre-race predictions. It is nearly impossible to get all 24 starters correct. As it stands, 20 are in the show with four B-Main transfers yet to be determined as we type this. But already seven driver-team combos have made the big show that we did not list in our final 24. They are... Sammy Swindell. Sammy hasn't raced too much this year but place him in Guy Forbrook's potent #5 at Knoxville and it's just like riding a bike for the three-time World of Outlaws driving champion. Sammy will start seventh on the grid. Swindell still has midget race dates left this year with Cruz Pedregon. Sammy continued to show that knows the quick way around Silver Dollar Speedway when he finished 2nd, and 3rd in back-to-back late July Golden State Challenge events for car owner Tom Rolfe. Hopefully we will get to see Sammy at the Gold Cup in September. ...Justin Henderson. We really should have put more thought into our listing of 24. As good as Henderson has been all season at Knoxville we should have recognized him as a lock for the A-Main. Concentrating on races closer to home - Justin has a pair of wins at Knoxville as well as a pair of W's at Husets Speedway. ...Dusty Zomer. As well as he qualifies it is no surprise at all that Dusty "zoom zoom" Zomer is in the field. He owns three runner-up finishes in weekly 410 racing at Knoxville. The 23 year-old from Brandon, South Dakota, wants to be a full-time WoO racer some day. ...Jason Sides. The 2001 Nationals Rookie of the Year is just the kind of guy we like to see make the field. Sides has a deep appreciation for the history of sprint car racing - giving him perspective on just what an accomplishment it is to be in the top-half of the final 24. Sides #7s recently found speed - having finished in the top-ten of four consecutive World of Outlaws A-Mains. His best run of the year was a third in the April WoO show at Eldora. ...Tony Bruce Jr. He will start 15th in the 2008 Knoxville Nationals after recently winning his first WoO A-Main at 34 Raceway in West Burlington, IA. Bruce also has two feature wins this year in ASCS 360 sprint car racing. ...Bronson Maeschen. The biggest "upset" in our opinion was Maeschen making it into the field. He is excellent in time-trials. Wednesday night he parlayed his third-quick effort into a starting birth in the biggest race of the year. His best finish this season was a fourth in the ridiculously short Twin-16's at Knoxville. ...Billy Alley. A three-time winner to-date in 2008, Alley raced his way into the show after struggling in time-trials. the 25 year-old was the 2006 Knoxville track champion. (Gary Wright became the eighth driver we didn't list in our final 24 predictions. Wright is a three-time winner this season including a four grand score at Devil's Bowl in March.) ...Congratulations to Scott Benic and Dave Darland on their win in the Ultimate Challenge. The August 5th, 2008 RRS points paying event paid $30,000 to win! Hoseheads.com was there LIVE.
...Each year we attempt to list the 24 teams that will make the A-Main on Saturday night at the Knoxville Nationals. This year - I think you could make good cases for nearly 50 teams but only 24 will actually get it done. Our best guess? I like to look at the qualifying night list and pick 12 from each night. Wednesday seems tougher than Thursday to me. (By the way - the 24 that will make the show will be the overall 24 highest in points - regardless of their qualifying night.) ...The top 12 for Wednesday? 1. Donny Schatz, 2. Steve Kinser, 3. Shane Stewart, 4, Greg Hodnett, 5. Daryn Pittman, 6. Jac Haudenschild, 7. Fred Rahmer, 8. Paul McMahan, 9. Randy Hannagan, 10.Chad Kemenah, 11. Wayne Johnson, 12. Kerry Madsen. Disclaimer: Knoxville is place where you need some racing luck. The track can change dramatically from the beginning of time-trials to the end of time-trials. The points system for the Nationals carries heavy weight for time-trials - so anyone of our best guess top-12 (other than Schatz) could fall out with a bad pill draw - opening the door for any one of these drivers who are more than qualified to be in the top-12 on their preliminary night: Davey Heskin, Jason Johnson, Mark Dobmeier, Ed Lynch Jr., Tim Shaffer, Tony Bruce Jr., Brian Paulus, Cody Darrah, Bronson Maeschen, Jon Allard, Justin Henderson, Skip Jackson, Chad Layton, Chad Hillier, and Doug Esh. ...How about a top-12 in points from Thursday? 1. Joey Saldana, 2. Jason Meyers, 3. Terry McCarl, 4. Craig Dollansky, 5. Danny Lasoski, 6. Jeff Shepard, 7. Lance Dewease, 8. Tyler Walker, 9., Kraig Kinser, 10, Sam Hafertepe Jr., 11, Brooke Tatnell, 12. Tim Kaeding. ...These drivers could easily get it done as well: Sammy Swindell, Brian Brown, Stevie Smith, Jason Sides, Dusty Zomer, Billy Alley, Gary Wright, Roger Crockett, Danny Smith, Jake Peters, Dean Jacobs, and Travis Rutz. ...Get well wishes go out to Brad Bumgarner who is recovering in a brace following a sprint car crash at Chico last week. He has a compressed and fractured T-5 vertebrae. Send him some cheer at: Brad Bumgarner, 1389 East Ave. Chico, CA 95926. ...Sean Becker won the latest round of California Sprint Car Civil War competition at Placerville Speedway. In-so-doing Becker retained his points lead over 16 year-old Kyle Larson who recently obtained his learners permit to drive a passenger vehicle in California. ...It seems that it all is happening as we envisioned it with Brad Sweet winning the Belleville Midget Nationals, Chuck Gurney Jr. winning on Brickyard 400 weekend in USAC national Midget action, and Larson already proving he is special beyond words. Sweet joined an elite clique of Belleville Midget National winners that includes such names as Jeff Gordon, Kasey Kahne, Chuck Gurney, Lealand McSpadden, Jack Hewitt, Jason Leffler, Dave Darland, Billy Boat, Stan Fox, Jerry Coons Jr, and Robby Flock among others. ...Brooke Tatnell won the final tune-up for the Knoxville Nationals Saturday night - August 2, 2008 at Knoxville Raceway. The 410 sprint car show ran as a companion to the Knoxville 360 Nationals. ...Congratulations to Tony Bruce Jr., on scoring his first World of Outlaws feature win this week in Burlington, Iowa. ...A race I would have liked to see took place when the All-Stars raced at the Belleville High Banks - Thursday night July 31, 2008. Tim Shaffer took home the win. Unfortunately only 19 cars took time trial laps. ...Night number two of the Thunder Through the Plains tour went to Randy Hannagan at Thunderhill Speedway in Mayetta, KS. ...New Gary Patterson shirts and race stickers are available at www.GaryPattersonracing.com. Check it out! ...See photos from Chico racing action at GraphXDesigns.
...I haven't written much about my 2008 experiences on the road for various reasons. One - I got the flu real bad at the start of June. And then the biggest factor - kidney stones. So far I've passed three stones this summer. A kidney stone is painful and I just haven't felt like writing. There were a few days when the pain was so bad I could not stand up straight. …There was also the NBA Draft in late June which I was devoting attention to on another web site. Today – I catch up! However, I doubt there will be much Positivity in this ramble as I wait through what will be a 4 hour and 17 minute layover at Dulles Airport in Washington D.C. …This on the heels of a wasted trip to Canada to watch it rain at Ohsweken Speedway. By the way – for almost the entire racing population – it should be noted that the correct pronunciation is (O `SchWEEk in). I had always heard people say OSH week-in. I know the real deal because I asked Glenn Styres the promoter who was raised on the Native soil. ...We were supposed to tape two WoO shows for Speed but the wet weather prevented that from happening. I never even stepped foot in the announcer's booth. I did spend a significant amount of time at the track Tuesday and we had some time to make a quick pit tour before the skies opened and the thunder cracked. ... I am a patient man in most instances but there are times when circumstances are beyond my control that I have a very hard time waiting. Tuesday (July 22nd), and today (July 24th) are two such days. ...All of us were bored. As we waited Tuesday evening to see if we would race or not, Producer David Bruner and I walked the t-shirt trailer row and we chatted with Mandy Pitman, Patti Haudenschild and Lori McCarl. I hung out with TV crew members and listened to their uncensored tales. I conversed with Shane Andrews, Craig Dollansky, Terry McCarl, TV Director Roger Vincent, and Brad Doty and we all hoped for a resolution one way or the other. ...Rain delays and flys. You know what I'm saying? (It is almost as irritating as the fester sitting next to me here as I type this.This grown idiot is chewing with his mouth open, and slurping his drink like a two year old.) I'm a little bitter right now. Flight delays and flys. You dig? …Canada. …The natural terrain reminded me of a combination of Iowa, Pennsylvania, and Washington – if that is possible. It was very green and pretty in most instances. …The people were friendly. …I heard a good sports talk show on a Toronto radio station. Chuck Swirsky happened to have the Toronto Raptors V.P. on the air Wednesday – and I enjoyed that. ...On the other hand – the Mountain Dew in Canada does not have caffeine. The place we stayed at was a true dump. The Days Inn in Brantford, Ontario had black gook coming out of the shower faucet. The vending machine was a Coke machine sold out of Coke, and Sprite, and my third choice as well. The Japanese food restaurant attached to the motel was open until ten which allowed me to purchase a chicken teriyaki dinner to go on Tuesday night once they officially called the race. I am a Californian married into a Japanese American family. I know my Japanese food. This stuff hardly qualified. As soon as they cancelled on Wednesday I hopped into my rental Mustang at 100 kilometers per hour - headed for Buffalo – like Joey Saldana getting out of Edmonton in 2007. In truth – my desire to be back in the USA after 38 hours north of the border was mostly related to the poor conditions of the Days Inn motel. On my scale I gave it one star and three hairs in the tub. I also wanted (needed?) some Dew with bite. Don't get it twisted. I liked the Ohsweken Speedway and was disappointed to not see cars turn on a lap. The front straight is 80 feet wide. Styres' care for his facility was evident at each turn. He has Musco lighting, and a boomin' (sound) system. Despite heavy mud due the rain – the place was remarkably clean. It looks like a great place to see a race. The track hospitality was tremendous. We were fed steak and potatoes like kings by Styres' staff.
If there is a next time – I will import my own Mountain Dew and I will stay in Hamilton, a city with a population of over a half-million that includes a Crowne Plaza Hotel. ...I learned a few things. The most news worthy was that Roger Slack has resigned as the head man at The Dirt Track at Lowe's Motor Speedway. Slack, a very smart man, was the National Sprint Car Poll 410 Promoter of the Year last year and we are sure that he will land in a good position – whatever he decides to do. …We also learned some about Steve Poirier – the reigning Canadian 360 National champion. Poirier had a 410 ready to go to challenge the WoO teams. …We felt bad for Kevin Loveys and Marie LaPointe who are crew members from the region that were denied a chance to apply their craft in front of family and friends. ...For the record, downtown Buffalo is nothing to get excited about. I stayed at a hotel (The Adam's Mark) last night that had service so poor it was laughable. There was little in the way of night-life or shopping near this place that I hoped would be an oasis. Live and learn. I should have stayed near the airport which at least had a mall near it. …I should have been watching a double header WoO sprint car race at Ohsweken Speedway but instead I was text messaging Sean Buckley about what in-room movie I should watch. "Jack Slash" said go with "What Happens in Vegas". ...What about the rest of the year to date? Here is a summary: The Kings Royal at Eldora in Ohio is still one of my favorite events. You should treat yourself to that half-mile track if you have not already done so. Saldana's tire-blowing heartbreak was a blessing for Daryn Pittman who turned around his season in one night. …It was great to see the past Kings Royal winners gathered in Rossburg. Doug Wolfgang, Sammy Swindell, and Bobby Davis Jr. brought a smile to my face. I also enjoy getting to speak with Dale Blaney. Brad Doty jokingly gets frustrated on our pre-race pit tour when Dale and I start talking basketball. ...Saldana's "Knight Before the Kings Royal" heat race performance was the best jaw dropper I've seen this year. For eight laps I almost held my breath as Joey drove Kasey Kahne's #9 four-wheels above the cushion. It was SPECTACULAR! …Lodging is still an issue when we race at Eldora. The Holiday Inn Express in Greenville is great for convenience but the bed in my room was harder than a day-show tire. Also three lights, and the phone were not functional in my "suite" with paper thin walls. The options in Sydney are farther away and equally unimpressive. Maybe Tony Stewart can build a racer's motel that is at least a three-star place in Rossburg! That would be too cool. ... I barely remember Dodge City. At the height of my kidney stone pain I plugged through the two nights there. I did marvel at Donny Schatz's outside pass for the win on the second night despite rubber being laid down. …I also caught a movie in Dodge City as I waited for my flight out on Sunday. Don't Mess with the Zohan was entertaining – making me chuckle. (Guys – you all are hip to Emmanuelle Chriqui right?) …The motel was the Best Western which surprisingly was not bad at all for the second year in a row. ...At Knoxville – the surprise was Shane Stewart stepping up and passing Schatz when I was certain the race was over with the #15 in the lead. …A Friday night post race double of hanging out at the Dingus, and the Red Carpet Motel lightened the mood of a stressful weekend of struggling to remember all the sponsors that we must take care of during broadcasts. Oh yeah – the weather! There were tornado watches and warnings all around our urine smelling motel (the Baymont) in Pella. Yikers. ...Ed Bernhardt, you out there somewhere? There is a guy that wants to contact you. Contact us for the info.
Daryn Pittman won the latest heat of the HammerDownUSA Popularity Contest. ...Tim Kaeding is now driving the Roth Motorsports #83 Jr. He promptly won at Chico in Golden State competition Saturday night (07-12-08). Tyler Walker was second in that event followed by Brad Bumgarner who notched his best career run on dirt. ...Danny Lasoski is blowing them away in the Knoxville Raceway points championship battle. Teamed again with Guy Forbrook, "The Dude" has a 410 point lead over Billy Alley. This week Lasoski is driving the Doyle's Harley Davidson #1HD in the ASCS Northwest Speedweek. Their first race was held Monday night at Southern Oregon Speedway. Jon Allard was the winner. ...The most recent winner at Knoxville was 20 year-old Davey Heskin. ...Brady Short, Cole Whitt, and Dave Darland won features most recently in the Indiana Sprint Week. Levi Jones leads the USAC National Sprint Car points.
Jeff Bland surprised the Indiana Sprint Week contingent with a win on the opening night of the mini-series at Lawrenceburg. ...Steve Kinser, and Tim Kaeding won the most recent heats in the HammerDown! Popularity Contest Poll. ...Craig Dollansky won his sixth World of Outlaws feature Sunday night at Haubstadt, IN. The Crowd Pleaser has never won the Kings Royal at Eldora but this may be his best chance to date. ...Destiney Hays is back! She will drive a second Dan Simpson Racing winged sprinter for the remainder of the 2008 season - concentrating on Northern California events plus the World of Outlaws races from Billings, Montana August 19th through the Gold Cup at Chico. That means the team plans to hit Skagit, Elma, and Cottage Grove. ...Brad Sweet doubled up on wins at Silver Dollar Speedway in Chico this weekend (July 4-5, 2008). Driving Rod Tiner's #83, "The Yam" won both Friday's points race - and Saturday's Golden State Challenge event. ...Cody Darrah won $7,000 for his PA. Speedweek feature win at Port Royal Speedway Saturday night. ...Doug Wolfgang is going to be at the Kings Royal as part of a salute to past winners of the $50,000 to-win event (read more here). ...With a month of racing remaining - Jon Allard leads the Golden State Challenge standings by 44 points over Tyler Walker. Read more about it from the local Chico newspaper. ...Jeremy Campbell is now racing for Rick Ferkel in the famous #0. ...Paul McMahan is settling in to his new ride for Lonnie Parsons. Tony Veneziano caught up with McMahan and produced this nice update on the pro's pro. ...Sam Hafertepe Jr. is quietly having a great season as as a sophomore on the World of Outlaws trail. The Texas driver already owns ten top-ten finishes in the opening 25 WoO shows of 2008. ...Wayne Johnson broke through in ASCS National competition on the fourth of July. The Mustang, OK. driver sits third in their points behind leader Gary Wright, and second running Jason Johnson. Zach Chappell is within striking distance as well in the ASCS National points fight. ...Brad Sweet got some ink in the Scramento Bee. Dig it - here. ...Two more adjustments to the Racer's Racing Series schedule have been made. The Mitch Smith Memorial at Williams Grove was postponed due to weather and re-scheduled for July 11th. However - the race will no longer be a points earning RRS event. It was learned that the event will pay $5,000 to win rather than the previously stated $10,000 to win. ...The July 5th RRS date sanctioned by the World of Outlaws at I-55 Speedway was knocked out due to flooding. So - we have added the third leg of the Ollie's 360 Challenge at Williams Grove - August 19th, and the USAC-CRA Sprint Car event at Calistoga Speedway - August 31st to the schedule.
...Jac Haudenschild, Jason Meyers, and Paul McMahan were the winners of the last three heats in our HammerDown! Poll Popularity Contest. ...McMahan is now in the Casey's General Store #6. McMahan finished 13th in his first night driving the Lonnie Parsons owned Maxim. ...Congrats to Brad Sweet on sweeping double USAC National Midget shows at Knoxville Raceway last weekend. ...Kudos to Andy Gregg who scored his first feature win at Chico's Silver Dollar Speedway June 27th. ...A tip of the HammerDown! cap to Randy Hannagan for taking home the Ohio Sprint Speedweek points title.
...Lonnie Parsons, car owner of the Casey's General Store #6 has parted ways with driver Tim Shaffer. Early word has Pennsylvania's Mike Wagner in the car this weekend at Dodge City. We hear that Shaffer will run at Dodge City in a second Sides Motorsports car. Shaffer won at Dodge City in 2006 during National Sprint Tour action. ... Tyler Walker was the winner of the Calistoga Speedway season opener Saturday night (June 14, 2008). Read Bill Sessa's account of the night here. ...Donny Schatz won heat two in our HammerDown! Poll Popularity Contest. ...Kudos to my man Johnny Gibson on announcing his 1,100th consecutive World of Outlaws sprint car event. Lost in the amazing stat is the fact that "Gibby" drives every mile on his own in his van. His next drive will be from the Lincoln, NE. area to Dodge City, Kansas. He began announcing for the series in 1997 and has been present at every event since. ...Make sure to see Sean Buckley's video of Bret Mellenbernt's vicious non-wing sprint car launch. ...We spoke with Steve Howard of So Cal Performance this week about the Labor Day weekend Calistoga USAC races. Howard has raised money beyond the normal purse for the competitors in the CRA sprint car and Western Midget divisions. The races - being held on Saturday and Sunday August 30th and 31st. Tickets will be $25 Genral Admission. Juniors - (age 4-12) will be $10, and under four years old will be free. You can buy tickets by calling So Cal Performance at 562.862.9122. ...When the King talks you should probably listen. Steve Kinser voiced concern over the World of Outlaws rule that says you must run the same tire from your heat race in the dash. Kinser punctured his right rear tire in his heat race Saturday night at Knoxville. He was qualified for the dash but was faced with a choice of either scratching from the dash or racing with a plugged right rear. His concern was safety which is a valid point when you are racing at the speeds they race at on a half-mile such as Knoxville Raceway. The rule was put in place to save teams money. Without the rule - teams would bolt on a new right rear for every dash. This is a tough one. If a guy with a heat race punctured tire could change to a fresh tire - even if he started at the rear - he would have a competitive advantage. If you made him put on a "used tire" then the gray area of 'how used is it?' comes into play. In my book - safety trumps everything. So maybe the rule should say that running with a plugged tire at any time is not allowed. ...Joey Saldana won Heat One of our HammerDown! Poll Popularity contest - garnering 40% of the votes among ten drivers.
...With the announcement that the Hoosier Hundred will not be made up in 2008, HammerDownUSA.com's Racer's Racing Series has added a new date to the 60-race schedule. Leg #2 of the Ollie's 360 Challenge at Eldora Speedway (July 8, 2008) will now count as a points earning event. The three-race Ollie's 360 Challenge offers $6,000 to win each race with a $50,000 bonus to any driver who can win two of the three races. Already entered in the series are NASCAR Cup stars Dave Blaney, Kasey Kahne, and Tony Stewart. ...Donny Schatz swept the weekend of World of Outlaws racing - winning at Attica Raceway Park - Friday night, and at Eldora Speedway Saturday. He remains the only series driver that has finished in the Top-10 in all 14 events this season. ...Schatz (3), Jason Meyers (5) , Craig Dollansky (2) and Steve Kinser (2) are hogging all the wins right now in the Greatest Show on Dirt. ...Shane Stewart won the Quik-Liner Cup for time-trials in the World of Outlaws. Points were awarded in the first dozen races - and Stewart in the Roth Motorsports #83 - narrowly defeated Dollansky for the cup. ...Congratulations to Kyle Larson on his Civil War feature win at Chico. Now 15 years old - Larson is next in line to be a great young racer from California. If you are scoring at home - California kids Brad Sweet, Kody Swanson, Tanner Swanson, Shane Golobic, Robert Ballou, Darren Hagen, Mason Moore, Kyle Hirst, Alissa Geving, Evan Suggs, and Larson are all performing very well. Sweet, 22, is still seeking his first win of the year but he has four runner-up finishes that prove his versatility. "The Yam" has second place runs in a 360 and 410 winged sprint car, as well as in a non-wing sprinter on Kokomo's dirt, and Anderson's pavement. ...Kody Swanson, 20, is featured in the latest edition of Sprint Car & Midget magazine. ...Tanner Swanson, 17, is Kody's younger brother and right now he leads the USAC Western Sprint Car points heading into this Saturday's event at All American Speedway in Roseville. Tanner has wins at Altamont, and Anderson (IN.) this season. ...Golobic, 16, upset the Golden State Challenge regulars earlier this year at Watsonville's Ocean Speedway. ...Ballou won on May 4th at Terre Haute. ...Hagen, 21, has two USAC National wins - one in the Midget at Manzanita, and the other in a non-wing sprint car on Winchester's blacktop. ...Moore, 17, is one of four young chargers in the top-ten of the Friday night points at Silver Dollar Speedway. Moore is fourth in points with one feature win. He is joined by Hirst, Robbie Whitchurch, and 18 year-old Brett Miller in the top ten. Hirst, 20, has two 2008 wins, one at Chico in a 410 winged car - and the other in Civil War winged 360 action at Placerville. ...Geving sits eleventh in the current Civil War points - while leading the standings at Petaluma Speedway. ...Suggs, 21, has four top-five's in the Golden State Challenge. He sits sixth in points.
...Jason Meyers kept right on winning with a victory Saturday (May 24, 2008) at Virginia Motor Speedway. Delaney's daddy now has five wins with the World of Outlaws this season. ...The Night Before the 500 Midget race at Raceway Park in Indianapolis was snared by Bobby East. Kody Swanson had quick-time and finished fourth. ...The Hoosier Hundred was a wash out and a make-up date has not yet been announced. ...Casey Shuman won his second ASCS Canyon Region feature of 2008 by topping Saturday night's 51-lap Salute to Indy atop Manzanita Speedway's 1/3-mile clay oval.
...It's a huge weekend for points earning races in HammerDownUSA.com's Racer's Racing Series. The RRS awards points at 60 of the biggest events annually. Memorial Day Weekend serves up four truly BIG sprint car, Silver Crown, and midget races. Friday night, both the World of Outlaws and USAC Silver Crown divisions have races at Concord, NC., and Indianapolis, IN. respectively. The WoO show at the Dirt Track at Lowe's Motor Speedway will be televised LIVE on Speed at 8PM Eastern. The 56th annual Hoosier Hundred at the Indiana State Fairgrounds is as traditional as they come. Saturday - points will be offered to the top 15 finishers in the Little 500 at Anderson Speedway, as well as the top 15 at the Night Before the 500 USAC National Show at O'Reilly Race Park. ...Jason Meyers won the most recent RRS points earning race at Lernerville Speedway May 13th. ... The latest on the Calistoga USAC races on Labor Day weekend is that the race is a GO. USAC is promoting the event themselves. I apologize for the confusion about whether the race would actually take place. I should have done a better job for you all in checking my facts. This time around - I have talked with Patty Sereni at Calistoga Speedway, and Tommy Hunt at USAC and I have been assured that the races are on. They are set for Saturday and Sunday of Labor Day weekend. Tickets will be available shortly through USAC's web site. Of course we feel this is an event that cannot be missed! They haven't run sprint cars without wings at Calistoga since September 28th, 1985. ...With the latest RRS rainout at Williams Grove - we have added the first leg of the Ollie's 360 Challenge at Sharon Speedway (June 17th) to the schedule.
...Peter Murphy scored another Bandit sprint car win at Bakersfield Speedway this past weekend. ...Tyler Walker won a thriller at the Thunderbowl in Tulare, CA. The Golden State Challenge win made Walker the first repeat winner in the series this year. ...Up at Chico in Friday night action (May 9, 2008), it was Andy Forsberg claiming his 22nd career win at the quarter-mile clay oval. The following night - Forsberg won for the third time this year at Placerville Speedway. ...The World of Outlaws have had more rainouts (ten) than nights of racing (seven) so far in 2008. They try again this week with Tuesday's RRS points earning feature at Lernerville followed by two nights at Williams Grove Speedway. The Friday Grove show is also a RRS points race. Both nights of action at the historic half-mile in Mechanicsburg, PA will be taped and later televised on Speed. ...Belated kudos to Robert Ballou on his win at Terre Haute in MSCS sanctioned competition. Ballou is quickly becoming the non-wing master of manly-man race tracks. ...A bonus is available at this year's Brad Doty Classic at Limaland Motorsports Park in Ohio. A $10,000 "Clean Sweep Bonus" will be paid to any driver who can set fast time, win a heat race, win the dash, and win the 40-lap A-main. The bonus money for the July 9th race is being put up by the University of Northwestern Ohio. ...Nebraska driver Jack Dover, an 18 year-old, won the ASCS National event at State Fair Speedway in Oklahoma City Friday night.
Kenny Jacobs won the Lernerville Speedway (Sarver, PA.) All-Star feature Friday night (April 25, 2008). Paul McMahan posted quick-time and finished second in Rick Ferkel's #0. ...A cat named Skip Wilson was the Friday night winner in ASCS National Sprint Car action in Paris, TX. ...Billy Wease captured the Gerhardt Classic at Madera for USAC Western Midgets. Only 16 cars bothered to show up for the 100 lap race. ...Lots to catch up on. First off - condolences to the McCray family following the passing of Joel on April 20th. Joel McCray was a super supporter of sprint car racing that sponsored and owned cars associated with such Sacramento area legends as Kenny Woodruff, Duke McMillen, Johnny Anderson, and LeRoy VanConett. The J.F. McCray Plastering banner currently rides with Tim Kaeding on the McMillen tuned Tom Rolfe #10. ...At Gas City, IN. (04/18/08) USAC was able to dodge rain and get some racing in the books. Shane Cottle won the feature on a night when 46 cars timed-in. ...Congrats to Kody Swanson on his first USAC National Midget victory. The win came a couple weeks back at Southern National Raceway Park in Kenly, N.C. Swanson is driving for Steve Lewis' Nine Racing Team. ...Robby Flock recently broke Rob Russell's four-year old track record at Placerville Speedway. Driving Mike Sala's Spike/Wirth #19s, Flock ripped the P-Ville red-clay quarter-mile in 11.619 seconds! Flock also won the BCRA feature that night. ...Sprint car racing lost a visionary with the passing of Morgan Hughes. The Williams Grove Speedway mastermind consistently poured his soul into our sport. "Motor sports lost a true visionary in Morgan Hughes," said World Racing Group President Tom Deery. "For more than 30 years, he strived to make Williams Grove the best dirt track in the country, and he succeeded in leaving behind a legacy of accomplishment that lives on at perhaps the most competitive speedway in the country. He will be missed by all of us." ...One more reason to love Terry McCarl. "At some of the fuel stops we've had, we've still had seven or eight gallons of fuel, and that is bull! I hate fuel stops. I don't think there should have been one at Eldora. Let drivers run out of fuel. I can tell you the next time we're there, we'll have the big tank on, and they should make them mandatory." ...Blake Miller recently won the special open-comp non-wing sprint car event at Victorville Speedway (Victorville, CA.). The race paid $5,000 to-win. ...Check check. ASCS sprint car acing is now 15 divisions strong. One National series is supported by 14 regional deals. Jason Johnson and Gary Wright are the star attractions. Johnson won the most recent ASCS National event Saturday night (04/19/08) at Lucas Oil Speedway in Kansas. ...Recent winners in USAC Western racing include Paul Zimmerly (Altamont midgets- 04/19/08), and Brian McClish (Altamont Sprint Cars 04/19/08). ...In Golden State Challenge competition, Bud Kaeding was the most recent winner. His Petaluma Speedway feature win was capped by a big wheelie and tight donuts. ...Evan Suggs has posted three straight "top-fives" in the GSC. ...Alissa Geving finished sixth at her Petaluma home track. She had a 360 under the hood vs. the more powerful 410's.
I updated the Chico winner's list. ...Also updated the Driver Index a little bit. ...I want to re-visit the USAC decision to scrap the new generation pavement Silver Crown car in favor of the older original big cars. While I agree that the newer car was not the answer, I think it really put the 20 or so car owners, who supported the series as it transitioned from the old car to the new car, in a tough tough spot. Among those car owners are California's Bud Kaeding and Ken Pierson. Kaeding won two Silver Crown titles back-to-back and is supposed to be defending his championship this season. However, Kaeding is rideless for the next event on the pavement schedule. The Richmond race would have had Bud in the lineup if USAC kept going with the newer, safer, uglier car. Instead - after the calendar was well into 2008 (February 15th) - Bud and Pierson and the other car owners were told that for this season USAC was going back to the old Silver Crown cars. Kaeding sold his old style Silver Crown car when USAC decided to go to the new car. ...It is a tough situation for sure. A vital part of effective leadership is recognizing and admitting a problem - then correcting it as soon as possible. USAC saw that the new car wasn't working - so they clipped it. I just feel bad for the people who stepped into the new deal and spent their time and money - only to be told that their cars would be "undergoing revision and redesign." ...My recipe for USAC's Silver Crown future goes something like this...USAC should spend money on a viable TV package or production of a "This week in USAC" type TV show. As I stated previously - the Silver Crown series needs to run at the most traditional tracks we have. If the track has no history with sprint cars, midgets, or champ cars - then the venue should be somewhere where there is another draw (like the entertainment choices of Las Vegas). I would also get the series to more half-miles. A dream Silver Crown schedule would have the long-standing dates at DuQuoin, Springfield, and the Indy Mile, plus Eldora, Manzanita, Calistoga, Terre Haute, Knoxville and Williams Grove. On the pavement - USAC has smartly added Newton, IA., the day after the Knoxville Nationals. They need to (even if it requires spending their own money to promote it) bring back the original Copper World at Phoenix International Raceway in late January or early February. I would try like heck to make a deal with the beautiful Irwindale Speedway as well. Forget trying to put these guys on display as an afterthought to a NASCAR or IndyCar weekend. A support series rarely gets support. ... Pay very close attention to how the series does in 2008. At the risk of blasphemy - I would say if the series for the Big Cars doesn't show significant improvement in car counts, at the front gate, and in close exciting racing, maybe it is time to let it rest in peace. OR - let it be someone eles's worry. Sprint Cars are the more exciting division in my opinion. Why not put all the resources from Silver Crown into making the USAC National Sprint Car series the main deal?
...Kudos to the Clauson family (Tim, Bryan specifically) for spending some of their NASCAR cash to start a new sprint car racing team. ...Over here, I just finished work on a Brent Kaeding biography piece that will coincide with his induction to the National Sprint Car Hall of Fame. The work will be available for reading in an upcoming issue of Flat Out magazine. ...Regarding the Hall of Fame, Tom Schmeh, our good friend, is taking a new position as curator of the Hall. His old job of basically being THE MAN at the Hall will be filled soon. ...BtW, another year has slipped by with Johnny Anderson not getting into the Hall of Fame. COME ON! Really? Are we going to have to take out advertising to get Anderson into the Hall? For the record, I voted for Anderson, and Kaeding this year. ...The upcoming USAC sprint car race (April 5, 2008) at Eldora is set to pay $5,000 to the winner. ...In case you missed it - USAC has done away with the "next generation" Silver Crown car that was running on pavement for the last couple years. Instead, the dinosaur battle busses are back. ...Lew Lewis says Jerry Belville has been found! ...The recently rained out Civil War event at Placerville Speedway has been rescheduled for Wednesday, April 9th. ...1976 West Capital Raceway points champion, Jerry Belville, has been nominated for the West Capital Raceway Hall of Fame. But he cannot be located. You out there Jerry? Please contact W.C. "Lew" Lewis, Vice President, West Capital Raceway Alumni Association. (530) 713-6491 or email openwheeler12@wcisp.com.
A few tidbits to share with you all following two nights of racing at the Mini Gold Cup in Chico... Jason Meyers' chassis this season is a home-grown deal assembled by Steve Kent. Chris Luck - a sponsor of Meyers - says the KPC frame is exclusive to Elite Racing with the #14 team owning the jig. Kent - a former King of California driver - has been busy in Central California working, among other things, as a car builder for the Gerhardt gang over at Western Speed. Kent is also the guy to call when you crash you pavement sprint car badly enough to need frame repair. ...Paul McMahan is scheduled to race in Pennsylvania at Lincoln Speedway this weekend. It will be just one more car of the several he plans to steer in 2008. We've always thought McMahan would be a natural in a pavement midget, sprint car or Silver Crown car. If I owned a good team with one of those seats available - I would be giving Paul a call. ...I was happy to see car owner Brian Sperry score the Friday night win. Sperry is a longtime friend that eats and sleeps sprint car racing. He is an even keeled dude living his dream of being a winning car owner on the rugged Northern California sprint car scene. A disciple of Kenny Woodruff, and Tim Green, Sperry has quietly accumulated lots of equipment to keep his #51 visible with either McMahan, Chuck Gurney Jr., or even Sperry himself behind the wheel. ...Brad Sweet confirmed his intent to run the Calistoga non-wing show over Labor Day Weekend. ...Mark Hall has a 410 engine for the 2008 season. The former champ at Marysville and Grass Valley raced well this weekend with the extra horsepower. ...There were 60-plus cars in the pits each night at Chico making it easy to see a handful of things that impressed me in some way shape or form... In no order: Meyers - Jason was all business - setting the tone early by attacking the track in time trials. The work he does away from the track is perhaps equally as important. Through Jason's leadership - his team is well funded, well equipped, and well traveled. The Elite Racing Team is professional in every sense of the word. ...McMahan - Paul's ability to qualify well is a huge asset for any driver to possess. His work in qualifying set him up for success each night. He also schooled cats on starts and restarts. He never did anything to jeopardize his team's chances to win. ...Tim Kaeding - T.K. could probably drive at Silver Dollar Speedway blind-folded. He passed cars every time he hit the track. Friday - he started 14th in the 30 lap feature and ran up to fourth. He did an amazing job to keep his car going after a wild pirouette in turn four in his heat race Saturday night. ...Greg DeCaires - This cat absolutely knows his way around Chico's quarter-mile. Others may do it with more flash but that was GDC passing seven cars in the Saturday feature to score a fifth place finish. ...Kevin Sharrah - He was extra good Friday night finishing seventh but ran into qualifying trouble on Saturday. Nevertheless - Sharrah showed skills Friday that opened eyes throughout the pit area. ...I like the look of Shain Matthews #67. ...For their lack of experience - Brent Bjork, and Christian Stover both looked promising. Bjork's car is being maintained by Brent Kaeding's shop which is a huge bonus for Bjork's development. ...Tyler Walker won his heat races on both nights. Walker told us he is happy beyond words to be back racing a winged sprint car in California. He and Lee Lindgrin (crew chief) are sure to win features this year. They scored a fifth place finish Friday but had mechanical gremlins Saturday.
With the cancellation of the World of Outlaws show at Bulls Gap, TN. due to bad weather - we have added the May 23rd WoO race at The Dirt Track @ Lowe's Motor Speedway as a points earning event in the Racer's Racers Series. ...Troy Hennig tips that Sean Becker and Rod Fauver have teamed to compete at all the 410-winged sprint car races at Silver Dollar Speedway. "Sandy and myself are looking forward to working with Sean and see if we can go after a track championship together," said Fauver. Becker will pilot the J & J chassis car that Sammy Swindell drove to a third place finish at the 2007 Gold Cup. "Fauver is supplying the car and my grandpa George is bringing the motor," said Becker. "I am still driving the 2sb at all Civil War shows so this does not interfere with that program." Hennig says fans should expect to see at least two or three cars a night from Fauver's Race Ready Rentals in the pits at Chico. "I have had a lot of people inquire this year. I got guys coming from Australia and the Midwest to race at Chico this year in the rental cars," said Fauver.
...Alissa Geving will receive the "Rising Star" award from the MSPA at the annual Green Flag Dinner in Oakland, CA. March 5, 2008. ...The Weekly Calistogan says that Mike Kenny is retiring as manager of the Napa County Fairgrounds. ...Rollie Helmling - the former head man at USAC - will become the state of Indiana's new motorsports development director. ...Zach West has added 23 year-old crew chief Lee Watson to the fold for 2008. ...Word is that the Henderson Racing Team #7n has moved their shop to Grant's Pass, OR. ...From Tuesdays with T-Mac (Terry McCarl) by Bill Wright: "The recent road trip from Florida to Mississippi to Arizona to Northern California was a costly one for the team. "For a car owner, it's just like throwing money out the window," says TMAC. "It's really a tough time of year to be a car owner. When you make a commitment to do a series or a point chase, you can't second guess yourself; you have to commit to it. We've done it with the WoO, of course, and also at Knoxville and Huset's. We'd drive the five hours to Sioux Falls knowing it would rain, and it finally starts when you get all the way there. That's just part of the deal, so I try not to dwell on the cost of business, but it makes it tough." ...Cole Whitt - the 16 year-old speedster from Alpine, CA. has joined Cory Kruseman's team for theThursday and Friday races under the USAC CRA banner at Las Vegas Motor Speedway. Whitt ran strongly at the Chili Bowl in January. ...The World of Outlaws will again have a television package this season. An announcement with details is forthcoming. ...Bill Sessa notes that Andy Forsberg will be one of two drivers honored by MSPA as an "Oval Track Driver of the Year" during its annual awards dinner in Oakland, March 5. He will share the award, in a category that is always one of the most competitive, with San Jose's Bud Kaeding, who won his second consecutive national Silver Crown national championship. Also on the agenda is a MSPA Hall of Fame induction for Burt Foland SR. ...With the rain-out of the World of Outlaws event in Tulare, CA., the Racer's Racing Series has added the Anderson 400 Midget Classic (July 26th) to the 2008 schedule of points earning races.
...That was sprint car racer Ryan Newman winning the Daytona 500 - taking the lead from sprint car racer Tony Stewart. I admit to shouting at no one - alone in my living room - watching the finish of the Daytona NASCAR spectacle. I am not a NASCAR hardcore in any shape or form but I am a sports fan and the Daytona 500 is a race I always keep tabs on. Duh. ...Anyway - I felt a sense of pride seeing so much attention on Stewart and Newman. Not that it matters at all - but I told my cats the race was over when Tony took the lead with his high side drive on the final restart. I recall talking with Newman about eleven years ago in Phoenix at the old Copper World on the mile when we did TNN's Race of the Week. My first thought about him was 'Man - this guy could be Glen Boune's brother - he looks so much like him'. About that same time - Stewart was winning those Midget and Silver Crown races on pavement. Kasey Kahne was making his pavement midget debut. The point is - in about another eleven years or so - some drivers that are kids now will be winning races on the biggest stages. ...Do you wonder which guys from the HammerDown! world will be running up front at Daytona in 2019? ...We've done this before - but it is time again to use the Racer's Racing Series point standings (from 2007) as a rough guide to list the best driver/racer from the world of sprint cars, midgets, and champ-dirt cars for each age. ...Age 14: Coleman Gulick. Age 15: Kyle Larson. Age 16: Cole Whitt (Shane Golobic). Age 17: Chris Windom. Age 18: Brady Bacon (Bryan Clauson, Robert Ballou). Age 19: Kevin Swindell (02/21 will be 19), (Kody Swanson). Age 20: Ricky Stenhouse Jr. Age 21: Lucas Wolfe (Darren Hagen). Age 22: Brad Sweet. Age 23: Bobby East, (Kraig Kinser). Age 24: Jesse Hockett. Age 25: Levi Jones. Age 26: Gary Taylor (Brad Kuhn, Roger Crockett, Mike Spencer). Age 27: T.J. Stutts, (Brian Brown, Sean Becker) Age 28: Bud Kaeding NOTE: Kaeding is trying to become the first driver in the 38-year history of USAC Silver Crown to claim three consecutive titles. Age 29: Daryn Pittman (Jason Meyers, Tim Kaeding). Age 30: Donny Schatz. Age 31: Jon Allard, (Shane Stewart, Jason Johnson ). Age 32: Jason Solwold. Age 33: Aaron Pierce, (Dave Steele). Age 34: Brian Paulus. Age 35: Joey Saldana. Age 36: Brooke Tatnell, (Kerry Madsen). Age 37: Paul McMahan. Age 38: Greg Hodnett. Age 39: ??? Age 40: Tim Shaffer. Age 41: Dave Darland. Age 42: Craig Dollansky. Age 43: Terry McCarl. Age 44: Dale Blaney. Age 45: ??? Age 46: Todd Shaffer. Age 47: Jeff Swindell. Age 48: Kenny Adams. Age 49: Danny Lasoski, (Jac Haudenschild, Gary Wright, Fred Rahmer). Age 50: Danny Smith, (Brent Kaeding). Age 51: Rip Williams. Age 52: Ed Lynch Jr. (Sammy Swindell, Kenny Jacobs ) Age 53: Steve Kinser. Age 54: Jimmy Sills. Age 57: Keith Kauffman. Age 63: Johnny Parsons Jr. ...The Calistoga Speedway winner's list was recently updated. ...Car counts at Manzanita for the Copper on Dirt: Midgets - 57, Sprint Cars - 44, Silver Crown cars - 17. The Copper on Dirt Silver Crown pays well enough to be a Racer's Racing Series points earning event but until the car count is higher it will remain outside of our top 60 features of the year. ...Speedy recovery wishes go out to both Troy Rutherford, and Marty Boyer. Rutherford is in a So-Cal hospital with a rare blood related virus. He has been in the crash house for a while and is said to be improving. ...Boyer is a great guy who loves midget racing. He recently suffered a stroke. He has helped many in their introduction to the Belleville High Banks - where Marty is like the "Mayor" according to Chris Lovett. Information on his current condition is here. ...Midget Madness has information on how people can help.Direct donations can be sent to: Duane Boyer - 1112 N St. Belleville, KS 66935. ....Were you at Calistoga Speedway in 1973? I need to know who the winning car owners were for the nine feature events contested under the NARC sanction. Please email me if you know.
...Speedy recovery wishes go out to Rip Williams who suffered broken bones in his left foot this past weekend at Perris Auto Speedway in the USAC-CRA season opener. Cory Kruseman won both nights of action at the PAS. ...Methanol cost this weekend? $6.50 a gallon! ...Sparky Howard confirmed his plans to run the USAC-CRA event at Calistoga Speedway over Labor Day weekend. Also planning on running is Jerry Cisco. Kyle Larson said he hopes to give the `Stoga non-wing show a try but he will decide for sure at a later date. Kyle Hirst tells us he is not sure if he will run with a wing in Washington or do the Calistoga race. ...James Sweeney will not only run on dirt this season. The 2006 Placerville Speedway Rookie of the Year has plans to try his hand at non-wing sprint cars on pavement. Sweeney's team was the winning squad at the Tony Hunt Race for a Reason charity event over the weekend. The annual shindig held at the RPM karting facility in Sacramento raised over $25,000 for the Make-a-Wish Foundation. ...Michael Faccinto of Hanford, CA told us he is looking forward to his midget debut on the Manzanita half-mile at the upcoming Copper on Dirt event (Feb. 15-16). The high school basketball player is playing hoop for the last time this season - saying that next year - he will run the Chili Bowl rather than lace up the hi-tops.
...They had a practice day at Perris Auto Speedway - which was not a good thing for Luis Espinoza. Check out the Jeff Kristensen video (it's about six minutes - thirty seconds into the video). ...Kudos to Tracy CA. pilot Jason Botsford for going all the way to Florida to start his racing season. That's heart! ...Time for the sprint car community to unite and help out one of our own. The plain and painful truth is that when Bobby Jackson - the former World of Outlaws Director of Competition - passed away, he had no life insurance. This has saddled the family with financial distress they never could have foreseen. Bobby's wife Patty was a friend and "mother, sister" to many of us who spent time out with the series away from our homes. On more than one occasion Patty was there for me. I would like to use this space to ask any and all of you to to send whatever you can to: The Jackson Family, c/o Josh Jackson, 11216 58th St. W, Milan IL 61264. HammerDown! thanks you!
We were shocked to hear about the death of Bobby Jackson. The former World of Outlaws Director of Competition passed away earlier this week. In a statement from the WoO - Carlton Reimers said it best, "The racing community is very saddened by the loss of Bobby Jackson," said Reimers, the Advance Auto Parts World of Outlaws Sprint Car Series Director. "Bobby loved all types of racing, especially dirt track racing, but his heart was with the World of Outlaws Sprint Car Series. For many years, Bobby was the Series Competition Director, knowledgeable and quick-witted, he presided over many great races. On a personal note he, along with Ted Johnson and Rick Ferkel, taught me most of what I know about racing. He will be missed. God speed and our prayers are with his family." ...We have heard from many racers about the big non-wing Calistoga race over Labor Day weekend. Surprisingly to me - some drivers who would like to run said they may not run because of USAC's requirement of the HANS device. One driver said he feels like the HANS is a 'frontal impact' helper. He says that frontal impact crashes are more prevalent on pavement and in the big heavy NASCAR stock car world. He doesn't feel like the HANS is worth the investment for just a one shot deal with USAC at Calistoga. ...I say... I just hope as a race fan for a huge turnout of cars and drivers who have the experience to get around the joint as safely as possible. My heart believes that the stands will be overflowing with fans who are ultra hyped to see the non-wing sprint cars on the nasty half-mile for the first time in over 20 years. Maybe USAC would consider a waiver of sorts for the old-schoolers who learned to race prior to the requirement of a HANS device. Personally I've seen the device work well on a couple of occasions. They were both pavement sprint car crashes that looked fatal but had drivers wind up okay. One walked away. One was airlifted but survived to race again. ...Tony Hunt, five-time USAC driving champion, will be teamed with Toyota for the 2008 racing season. Driving the Alan Kaiser sprint car – Hunt has aligned himself with Toyota Racing Development (TRD) in competition for the USAC Western Sprint Car championship. The Toyota 360 Sprint Car engine is a derivative of the eight-cylinder Toyota engine previously used in NASCAR Busch and Craftsman Truck Series competition. The combination is a natural fit for Hunt who has long been supported by Thompson's Toyota dealership in Placerville, Calif., Said Gary Reed, Vice President of Special Racing Projects for Toyota, "We are fortunate to have Tony as a part of our 2008 sprint car motor program. Tony's success in the USAC Western Sprint Car Series will give us added experience to create a winning formula. His support of one of our Toyota dealers allows us to connect with the consumer while we continue to grow in short track racing." Hunt's first race in the Toyota powered sprint car will be at Roseville California's All-American Speedway on April 12, 2008. The car will be campaigned in Nevada, Idaho, Utah, and Southern California as well. Sam Bailey of Bailey Brothers, a prominent Northern California engine builder, will be maintaining the Toyota engines throughout the season. For more information on Tony Hunt – please visit www.TonyHunt.com ...Jason Newton is a driver to look out for. Newton was the 2007 Ocean Speedway (Watsonville, CA.) Rookie of the Year on the strength of a seventh place finish in OS points. He won a main event at Antioch Speedway last season as well. ...USAC did well to add the Ultimate Challenge to their 2008 schedule. The BIG RACE at Oskaloosa, Iowa on August 5th is a part of HammerDownUSA.com's Racer's Racing Series. The USAC sanction places the USAC brand in the heart of sprint car country as it runs just one day prior to the opening night of the Knoxville Nationals. ...My friend Bruce St. James is still recovering from an accident suffered as a cab passenger. After a season that saw Bruce win his first feature, and destroy two sprint cars, en route to fourth place in the ASCA points - he never thought his most painful injuries would come from a doggone taxi. Bruce writes, ..."dizzy spells, numbness/tingling in my extremities, headaches, severe back pain" have been nagging through the winter months. The official diagnosis is that St. James has a herniated disc in his neck, a narrowing of the spinal column, nerve damage and the beginning stages of arthritis in his neck and back. Bruce quips, "other than that, I'm fine." ...Sean Cain of Fire Down Graphics e-mailed the new 2008 version of the Rudeen Racing #26
Posted on Hoseheads.com: "Ricci Faria is selling his entire Visalia, CA based #89 Sprint Car operation- equipment and tractor/trailer. Ricci hopes to drive a limited schedule for another team, so contact him if you are looking for a driver for your California based team. You can contact Ricci at ricci@trailercompany.com." ...Ricci is an excellent racer that won at least 24 feature events in California in the span from 1997 to 2007. He won with wings in 410's and 360's and he even beat USAC-CRA in a rare non-wing start. ...Lance Dewease has thrown his helmet into the dash for the All-Star Sprint Car 2008 championship. The Pennsylvania top-gun will ride in the Catoctin Motorsports #30c - which is the same car Dewesae was driving at the end of the 2007 season. Bryan Autullo reports that Dewease said, "I'm looking forward to running at some new tracks. I have never been to about 90% of the tracks on the schedule. It will be challenging on the slick bullrings. The All Stars have some pretty tough competitors and I know there are some really good teams in Ohio on the local level, so I know it won't be easy, but I am excited about the chance to do this.". ...Paul McMahan has a deal with legendary original outlaw Rick Ferkel to drive the "Ohio Traveler's" famous #0 on the All-Star tour in `08. Said McMahan on his website, "Rick called me ... to ask if I would be interested in driving his # 0 car for the All Star points chase for 2008. I have spoken with many different owners and crew chiefs about driving for them next season and had yet to find exactly what I was looking for, until Rick called. Rick wants to race and have fun, while also giving me the equipment I need to be competitive. After coming off of the last race at Charlotte with all the bad luck I had, I am more than ready to race and have fun and make a living while doing it. Rick and I have always gotten along real well, and my wife and I are looking forward to a wonderful racing relationship with Rick and Cathy. ...Dale Blaney and Dean Jacobs will also challenge champion Greg Wilson in the All-Star deal. ...Evan Suggs told us recently that he will attack the entire Golden State Challenge series in 2008. Suggs recently secured backing from GLR Investments that will allow the team to branch out. He has been impressive in the handful of times I've seem him compete. ...Darin Smith aka "Heavy D" will spin wrenches for Shain Matthews this season. ...Photog's - I am looking for a nice pic of Stan Yockey in racing action. Did you get a shot of him at the Chili Bowl? Please email me if so. ...Chili Bowl Travel Guide: This was by far the easiest and best trip to Tulsa I've made. I never ate at Denny's (that is a victory in itself), my flights were on time, and my hotel was the best I've stayed at during the Chili Bowl week. ...I flew United from Sacramento through Denver to Tulsa. With all the miles I've accrued in the last year on United - I have status that gets me a seat in their Economy Plus section. That means a little more leg room and the good possibility of having no one sitting next to me if the flight is not full. I was actually able to catch some Zzzz's on the plane! I traveled on Monday so as to be ready and rested for Tuesday racing. I always pay a little extra to have a four-wheel drive SUV in case on poor weather. I drove a Chevy ???? to the Double Tree on S. Yale. My room was clean and comfortable with a balcony where I could breathe fresh air (which is something you want after spending multiple hours inhaling dust and carbon monoxide). ...Food choices for the week included a Pei Wei chinese restaurant, three trips to Jamba Juice, a Sonic drive-thru stop, and only one Quik Trip junk food sell-out. At the track, I had the always strong Potato Ribbons, a so-so Chicken Strips basket, and three Chili Frito Pies made three different ways from three different concession stands. The tastiest thing I ate all week was from the outdoor "unofficial" Bar-B-Q. Some dude had a tent up and for a $5 donation - you could fill your plate. During the all-day Saturday racing - Johnny Gibson and I took advantage of a brief and rare break to sneak out to the guy's tent for ribs and chicken. The smoky flavored baby back ribs were so good that I have already tried to duplicate the taste at home. ...Three stops at the world famous Elephant Run bar post-race kept things festive. I went to the "ER" Wednesday night with 'Gibby' and then bumped into the Jack Slash contingent at the hotel upon my return. Laughs ensued and we ended up dining at the Village Pancake House around 3:30 am. ...My friends Sean Buckley and Dean Mills were breaking ground on the internet with live streaming video from the bar from Thursday through Saturday night. Curiosity delivered me to the show Thursday and I did a brief guest segment on Friday. An early flight Sunday morning kept me from attending the Saturday night post-race deal. ...Gibson found out Friday afternoon that he had pneumonia. He wasn't feeling right all week and decided that he should see a doctor before he left for Australia Sunday. Like the trooper he is - Gibson never missed a race despite his illness. ...In the booth we shared space with race officials Tommy Estes Jr., and Steve Sinclair. Lonnie Wheatley - the PR man with extraordinary organization skills - is also a part of the crew. He set up a Chili Bowl pool that was won by $inclair.
...Back at the home office after a week in Tulsa, Oklahoma at the Chili Bowl. I was working for Greg Stephens Motorsport Video on the DVD's he produces documenting all 97 races that took green flags from Tuesday through Saturday night. As always - Johnny Gibson is the host and he and I share the microphone - calling the fun! In total - 274 cars and drivers 'drew-in'. It really can be overwhelming. Basically - you wake up - eat - go to the track - eat - hang out - sleep and start over again. The Saturday deal took 12 hours from my arrival at the track at 11:15 AM until I drove away in the 39 degree chill at 11:15 pm. The first races were twin "K" Mains! As usual I observed too many things to report (some I simply can't report). I will try to share some of my observations with regard to drivers and how they performed. Let's start with a hap-tip to Bobby Michnowicz who put the Bach #48 into the Saturday A-Main. The Southern California driver has recently been running at Ventura in the VRA Sprint Car series. At one point in 2001 and 2002 Michnowicz seemed to drop off the racing radar but he proved he still has skills this week at the Quik Trip Center. ...I was impressed with Jeff Bland Jr. Each time he was racing he appeared under control yet fast. Bland is from Bloomington, Indiana and in 2007 he was both track champion and rookie of the year at Lawrenceburg Speedway. In addition, Bland was voted as Sprint Car Sportsman of the Year by his fellow competitors. ...Brad Sweet was the Chili Bowl Rookie of the Year. "The Yam" was the only rookie to make it to at least a B-Main. ...Ryan Kaplan had no luck at all as he fought mechanical gremlins all week. ...Brett Miller impressed during his Saturday afternoon racing. Miller ripped the top of the track and passed cars like a veteran even though it was his first try at it. ...Shane Golobic was very impressive during his track time. He possesses the finesse that the best drivers have. It is rare to see a 16 year-old with his maturity level. ...Ditto for Brady Bacon. Bacon was fantastic on Saturday night - showing the flashes of brilliance that have folks saying "can't miss" when the topic of talent arises. ...Aaron Fiscus was as good on the bottom on the track as anyone was all week. ...Kevin Swindell looked as good as I've ever seen him look in a non-wing car. In his third Chili Bowl - Amy & Sammy's boy finished sixth in the A-Main. ...Billy Wease made the feature for the first time in his career. He is catching up on the dirt. He already has the total pavement package. ...Nathan High finished tenth in the A-Main on Saturday. ...Understand there are 274 drivers at the Chili Bowl and I can't comment on every driver. I am just randomly writing about some of those who I feel I need to praise. ...Sometimes I hear about a driver from a source that I respect and I put stock in that. Although they didn't have a great week - Ricky Williams (Clinton, OH.) and T.J. Smith were sold to me as future stars. Said one HammerDown! insider, "The Williams kid has Brent Kaeding like instincts." ...For what it's worth we remind that the column is called Positivity. I have some (very) negative thoughts about a few things observed but I choose to not write about it. For giggles - one thought I had about one unnamed driver was "this guy is totally out of control and borderline dangerous". ...We heard stories of guys paying as much as $18,000 to car owners for the opportunity to drive at the Chili Bowl. One driver who participated last year but not this time around said he would have settled to pay $8,000 for a good car but that opportunity never presented itself. The going rate for a top-notch car seemed to be in the neighborhood of ten grand. ...Midget chassis market share at the Chili Bowl? Based on my own calculations of 274 entries I came up with a top ten of 1. Spike 33%, 2. Stealth 24%, 3. Bullet 5%, 4. F-5 3.5%, 5. Ellis 3.5%, 6. Beast 3.2%, 7. TCR 2.8%, 8. Buzzard 2.1%, 9. FSC 1.7%, 10. Maxim 1.4% & Edmunds 1.4%.
Who could win the 2008 Chili Bowl? Here is the HammerDownUSA.com short list: Jerry Coons Jr., Tony Stewart, Dave Darland, or Brad Kuhn. Or 'could it be...' someone from this group of contenders: Tracy Hines, Danny Stratton, Cory Kruseman, Sammy Swindell, Jon Stanbrough, J.J. Yeley, Davey Ray, Justin Allgaier, Jason Meyers, Darren Hagen, Kasey Kahne, Jason Leffler, Shane Cottle, Damion Gardner, Danny Lasoski, Tim McCreadie, Casey Shuman, Brady Bacon, Josh Wise, and Terry McCarl. ...Who might be Rookie of the Year at the 2008 Chili Bowl? We think it will come down to a battle between Brad Sweet, Hunter Schuerenburg, Andrew Felker, Stewart Friesen, Shane Golobic, Kyle Larson, Blake Miller, Mason Moore, Brett Miller, Kevin Ramey, Jeff Bland Jr., Bob Ream Jr. or Jerrod Wilson. ...Only 24 starters will make the Chili Bowl A-Main Saturday night. It is one hard feature to crack. With 285 entries - one should feel a sense of accomplishment if you can be among the final 24. I would be ticking off 261 teams if I tried to pick the 24 feature event makers one week in advance. So how about trying to single out 24 drivers that I think could make the Chili Bowl A-Main for the first time in their career? Here goes (in alphabetical order) ... Brady Bacon is looking to make the A-Main in his fourth Chili Bowl try. The 17-year-old ranked fourth in USAC National Sprint Car points and eighth in in USAC National Midget points in 2007. Last year he finished ninth in B-Main #2 on Saturday. ...Sam Hafertepe Jr. impressed during the World of Outlaws season. Last year at the Chili Bowl - he drove only to the H-Main on Saturday. This time around - Hafertepe has a different car and engine package that may help showcase his skills more. ...Darren Hagen would be the one guy I would put money on to make it into the final 24 that has never done it before. He was second in USAC National Midget points in 2007 on the heels of an F-Main to C-main run at the CB. The All-HammerDown! Team performer should get it done this time around. ...Randy Hannagan could make the show in his third try. He is a student of racing that will race smartly amidst the wipper-snappers trying to thrill seek. ...Nathan High was the Arizona Midget Racing Association champ in 2007. Last year at the CB he was an 'E-Mainer' on the final day of competition. It would be asking him to step up big-time but based on seeing him in a 360 sprint car at Manzanita on the inner-track - I think he has a shot at getting it done. ...Jesse Hockett has yet to see his name among the A-Main participants. Hockett started 85 feature events in 2007 with 34 top-fives and 49 top-tens. I'm thinking Hockett has a legit chance to be in the final 24 at 2008 Chili Bowl. ... Levi Jones surprisingly is 0 for 3 in his attempts to make the A-Main. During that same time-span (2005-07) - Jones has two USAC National Sprint Car championships to his credit. Obviously - Levi is a prime candidate to make it for the first time. ...Ryan Kaplan was a victim of bad luck last year when he was taken out of his preliminary night heat race by no fault of his own. The Chico, California 21 year-old has the talent to break through this year. ...Chad Kemenah has the God-given ability to finesse a race car - so even though he rarely runs a midget - we think he could come through. ...Brad Loyet won the POWRi Midget title in 2007 after finishing ninth in his B-Main at the `07 Chili Bowl. Loyet is now ready for his fifth Chili Bowl. Perhaps this will be his year. ...Terry McCarl has very limited experience in a midget but the dude is a skilled race car driver driving for a great team. McCarl is part of the Wilke-Pak squadron for 2008. It says here that T-Mac could be in the final 24 mix in just his second try at it. ...Thomas Meseraull is a certified masher that almost made the A-Main last year - falling one spot short in his B-Main. The 2004 BCRA champ could easily be a proud participant in the big show this year. ...Billy Pauch Jr. has better equipment this time around which could be the nudge he needs to open eyes in Tulsa. Pauch Jr. ran five ARDC midget events last year and was a top-ten finisher in each of them. A Saturday A-Main berth would be asking for a HUGE step-up but I liked this kid's smooth style when I watched him compete in each of the last two CB's. He could get it done. ...Chris Rahe is now 40 years old. The late bloomer won eight midget features out here on the West Coast in 2007. He has the skill and the know-how to be among the elite A-Main makers. ...Joey Saldana is certainly among the most skilled racers to have never made the CB final cut. He only tried once before - back in the year 2000 - earning a D-Main nod. Saldana will have great equipment - driving for Kasey Kahne at this year's event. ...Hunter Schuerenburg is a Chili Bowl rookie that we think could make some noise. The 18 year-old was fourth in the King of Indiana Sprintcar Series points in 2007 - one year after being named the National Sprint Car Poll non-wing Rookie of the Year. ...Matt Sherrell would have to really step up from a D-Main deal last year to make the feature on January 12th, 2008. He impressed me two years ago in an ancient car, and then last year I again saw glimpses of greatness. A better ride, and continued experience lead me to think Sherrell can improve dramatically. ...Brady Short has an impressive resume that is missing a start in the CB A-Main. The 23 year-old will try for the third time to put Scott Benic's F-5 chassis in the headliner. ...Mike Spencer is a smooth sprint car driver that we think will give Mike Sala's #19w a real good chance at being there for the A-Main. ...Ricky Stenhouse Jr. is coming off of a career year that saw him capture wins in big midget events such as Knoxville's King Doodlebug race, and the little-car portion of the Four Crown Nationals at Eldora. He could make the Saturday A-main with ease. ...Shane Stewart has yet to make the A-Main at the Chili Bowl. I don't know enough about what he is driving this year to truly comment on his chances but I do know Shane is an excellent driver capable of big performances at big races. ...Brad Sweet will try the Chili Bowl for the first time and we fully expect him to make the show. He is a natural talent that, despite only running a handful of midget events, won at the extremely tough Bakersfield Speedway in USAC action during September. ...Kevin Swindell is now 18 years old and experienced enough to make the final 24. He ranked sixth in USAC National midget points in 2007, scoring a win during Indiana Midget Week at Lawrenceburg. ...Gary Taylor has knocked on the door of the CB A-main but has yet to find the door open. This past season he won the SMRS Midget championship. He now lives in the Tulsa area. Maybe the home cooking will be enough to get Taylor past the velvet rope and into the club. ...Billy Wease is a pavement specialist. However, like a National League Pitcher that belts home runs - we think Wease has the kind of talent to shine on any surface. Billy is trying for the sixth time to make the A-Main. ...Finally - we list our 24th (okay it's actually 26th) driver that we think can, with some racing luck, make the A-main for the first time in their career. That driver is Cole Whitt. He has impressed in each of the last two years at the Tulsa Expo Center. Now 16 years-old, Whitt might have the chops to play on the big stage Saturday night. ...If you are a driver that didn't make this list - please do not take it personally. Perhaps I am not sold on the car you are driving. ...Our deepest condolences go out to the McMahan Family over the passing of Paul and Bobby's Grandpa James "Penny" Paniagua (89). The builder of quarter-midgets was a racing legend in Northern California - having built cars for John Bickford and his then prodigy Jeff Gordon. Personally, Mr. Paniagua was a smiling face I often passed by on my way to the announcers booth at various tracks in these parts. He often had a kind word to say. From past talks with Paul I know that 'Grandpa Penny' meant the world to him. Memorial services are at 11 a.m. Saturday at the United Methodist Church, 6th and M streets in Rio Linda, CA. ...The biggest news I've heard is that Ron Shuman is entered in the Chili Bowl in one of A.J. Felker's potent #37's. The Flyin' Shu last ran at the Chili Bowl back in 1997. It will be cool to see him in action once again. Shuman is one of the most accomplished midget racers of the last 30 years. Shuman won a record eight Turkey Night Grand Prix's and was twice the runner-up at the Chili Bowl (1993, 1995). ...You can keep track of all the Chili Bowl happenings by visiting the official website of the race at www.ChiliBowl.com
With Shane Stewart in the Roth #83 for 2008 - I have a couple of questions that I'm sure you have too. What happens to Danny Lasoski? And who will drive the Doyle Harley Davidson #1sprinter? Do you know FACTS? Email me. ...Curiosity about the All HammerDown! Team is a good thing I guess. Each year there are drivers that performed well but eventually did not make the team. I understand their wondering why they did not make it. Each year - we fine tune the criteria for making the team - trying to come up with a list of 40 drivers that were special that season. The Racer's Racing Series point standings do not lie. The 60 races selected on the schedule are mostly winged sprint car events because winged sprint car races in general have consistently higher purses than midget races, or non-winged sprint car events. Money is not the only consideration though. Tradition, the historical car-count at an event, and size of the media market are also factored into the schedule. In the end, the All-HammerDown! Team nods go champions in the World of Outlaws, The All-Stars, the ASCS National Tour, the Golden State Challenge, USAC National Midgets, USAC National Sprint Cars, and the King of Indiana Sprintcar Series. The rest of the team is comprised of the highest ranking in the RRS points. ...So who do I personally think has a right to gripe a bit? Let's start with Robert Ballou. Ballou won nine races in 2007 including the Ron Shuman Classic at Lakeside Speedway in Kansas City, KS, and the sprint car portion of the Four Crown at Eldora. However, his only points in the RRS were at those two events. He finished 74th overall. A big win at Lawrenceburg in October earned Ballou $10,000 but no RRS points. That race could have counted in the RRS standings with a ten grand offering to win but at the end of the day hard choices are made about the 60-race schedule and we opted for more prestigious events that pay less to the winner. Three prime examples of races that really need to pay more but made the 2007 RRS schedule on tradition and prestige are the Night Before the 500 (midgets at Indianapolis Raceway Park), Turkey Night (midgets at Irwindale), and the aforementioned Four Crown midget and sprint car events at Eldora. ...Chris Windom had a quietly consistent year deserving of All-HD status but he fell just shy of making it by RRS points. Good runs at the Chili Bowl, and the Belleville Midget Nationals kept the youngster in contention. Lance Dewease, Kevin Swindell, and Dale Blaney all finished in the top 40 in RRS points but missed the cut due to the automatic berths for the series' champions. Those title holders that did make the All-HD team but were not in the top 40 in RRS points were Jon Stanbrough (43rd RRS), Brent Kaeding (63rd RRS), Gary Wright (56th RRS), and Greg Wilson (68th RRS). ...The highest rated drivers in the respective 2007 National Sprint Car Polls to not be All-HammerDown! Team makers were (410 winged) Fred Rahmer, (360 winged) Jason Johnson, and (non-wing) Tony Jones. ...Rahmer finished 67th in RRS points, while Johnson was 65th. Jones was 108th among the 228 drivers that earned points last season. ...Brian Brown won the Knoxville Raceway 410 sprint car championship which is no easy task. His only points in the RRS came during Nationals week when he posted top 15 runs on his preliminary night and at the Saturday night finale. We certainly believe that Brown could have scored more in the RRS but being locked down chasing weekly track points doesn't allow for much opportunity to travel. ...You already know that we think the world of Kody Swanson and he didn't make the All-HD cut either. Swanson at present is a pavement specialist.
Kudos to Chris Lovett for being the first to send stuff to our special needs kids in Arkansas. Lovett paid for DHL to ship 20 2008 sprint car calendars for the kids! ...Yo Yo Yo (kinda like Ho Ho Ho - but different) December has ushered in all kinds of tidbits. Lonnie Wheatley reports that even with the pre-entry deadline of December 15 still over a week away, the Chili Bowl office has been flooded with entries. Ryan Newman is set to make his CB debut. Currently, a total of 169 entries from 21 different states as well as Australia have filed entries for the 22nd Annual event which takes place atop the ¼-mile Tulsa Expo Raceway inside the newly named QuikTrip Center on January 8-12, 2008. The complete list of entries for the 22nd Annual Dodge Chili Bowl Nationals is available at http://www.chilibowl.com/2008chilibowlentries.asp. ...The Chili Bowl finals on Saturday January 12th will be aired live on HBO Pay Per View. "Every year, the Chili Bowl is one of the hardest tickets to get in racing," says Emmett Hahn, who organizes the event with Lanny Edwards. "This telecast puts you there live, but from the comfort of your living room." ...We heard through the grapevine that Tom Gee and Gary Clem are among the guys 'in the truck' to produce the show. This is a good thing as both bring a wealth of experience in BIG motorsports events presented for the television screen. ...USAC National Sprint Car and National Midget schedules are out. Visit USACRacing.com to view. ...Cory Kruseman is offering 10% off of purchase to his driving school. Check out www.kruseman.com for details. ...Troy Hennig reports that Tyler Walker has signed on to drive the Scott Chastain owned NMI Industrial Contractors #24 for the entire 2008 season. The team (SC Motorsports) plans to compete at 50 races in `08. On the team schedule is the entire Golden State Challenge plus the Dirt Cup, Knoxville Nationals, selected World of Outlaw events and special 360 races like the Fall Nationals in Chico and The Trophy Cup in Tulare. On board as crew chief is Lee Lindgren of Elk Grove. Helping Lindgren is Jason Chastain. "Scott and I talked about who we wanted as a driver and Tyler's name kept coming up," said Lindgren. "So I called Kaeding's and got his phone number and we talked for a while. I know Tyler is excited about running with us next year and driving sprint cars again." ...Craig Dollansky will drive Larry Woodward's Volcano Joe's #2 in 2008 on the World of Outlaws tour. The Crowd Pleaser told Tony Veneziano "This deal came together rather quickly. I'm looking forward to getting to know and working with Larry and Lori (Woodward). They are great people and have a true love for racing. Together, I believe we can do what is necessary to make this a winning combination." Mike Woodring will spin wrenches on the black deuce. ...One email that came in among the jillions we receive stated, "My name is Dana Kay Newsom. My husband, Kevin, and I are avid sprint car fans; however, on a daily basis he is a nurse and I am a special education teacher. We live in Bald Knob,AR which is a small community about 60 miles North of Little Rock. This year our school is in fiscal distress and found out in August that we had a short period of time to raise 2.2 million dollars in an effort to save our school. The problem stemmed from a treasurer who resigned in June. Our dilemma is that we ( myself and my teachers aide) usually try to meet the needs of our special needs students whether it be school supplies, clothing, or christmas gifts and stocking stuffers. Our local businesses usually assist in our effort but for obvious reasons they are tapped out. Our classroom is decorated in the racing theme which is as close as some of the kids will ever get to a race (considering most don't get out of the county). We would like to ask if you have any promotional items or anything race themed that you might be able to spare that we might use as stocking stuffers or gifts. We appreciate your consideration. God bless and happy holidays." ...You can help them out by sending your goodies to the attention of:
Dana Kay Newsom - Special Education Teacher.

Bald Knob Middle School.

103 West Park St. Bald Knob, AR 72010.
Kody Swanson has been hired to drive for Steve Lewis in 2008. The team plans to run the entire USAC National Midget schedule. Swanson, from Kingsburg, CA. is now 19 years old. This season, Swanson swept the USAC Midget/Sprint doubleheader in September at Altamont Motorsports Park. He also won a 50-lap USAC Western / Rocky Mountain Sprint feature at Rocky Mountain Raceways. Swanson attends Fresno State University and will continue his education while he assumes his full-time responsibilities driving for Nine Racing. In a prepared statement Kody said, "I am so grateful for the opportunity to work with a team like Nine Racing, and this is really an honor for me." Nine Racing scored two huge victories at the end of the 2007 racing season, winning the Copper World Classic at Phoenix International Raceway with Dave Steele, and the Turkey Night Grand Prix with Dave Darland. The Lewis team has won 10 USAC National Midget Series Championships. Past drivers in the famous Lewis midget chair include prominent names such as Tony Stewart, Kasey Kahne, J.J. Yeley, Jason Leffler, the late Kenny Irwin Jr. and Mike Bliss. ...Kerry Madsen is set to ride for Vermeer Motorsports in 2008. The #55 car that was a staple of the weekly Knoxville Raceway scene will hit the road full time with the World of Outlaws next year. ...Jason Statler is among those off to New Zealand to compete in sprint car races. The former "King of California" will run five events at least before returning back to the USA.
...Congratulations to Ryan Kaplan who won the 2007 USAC Western Sprint car championship as a rookie! The Chico driver is a classy kid and we are happy for his success. Likewise, congrats to Johnny 'Lightning' Rodriguez on his USAC Western Midget title for 2007. ... Happy Thanksgiving everybody! The weekend past - I was in Tulare for the Trophy Cup. ...Thoughts, observations and things I learned... Chatted with Ronnie Day who says he would like to run about 20 selected races in 2008. The Elite Racing "California car" will not return in `08. Jason Meyers says his team will field a World of Outlaws entry only. ...Kyle Hirst will ride in the Gary Perkins #6 car that Brad Sweet drove this year. ...Hirst looked strong on Friday night as he battled to hold back Joey Saldana. ...Saldana will have Budweiser beer as a sponsor in 2008. ...Danny Faria Jr. tore ligaments in his thumb at the Cotton Classic - so Mike Faria raced Danny's #17v at Tulare. Danny says he hopes to be healed in time for the Chili Bowl in January. It will be "Hollywood's" debut in the biggest indoor midget race in the world. ...Jason Solwold told me he had nothing for sure in 2008 but he felt confident that something would open up for him. It says here that Solwold should be considered amongst the top 'free agents' in open wheel racing. ... The $90,000 event was enjoyable and frustrating over the course of Friday and Saturday. We went an hour and a half beyond the 11 pm curfew as Friday night spilled into Saturday morning. The feature race was cut by two laps. Then - the Saturday show had laps cut from the C-Main, and B-Main as race officials tried to be done by curfew time. The biggest obstacle was that 82 cars jammed the pits. But that shouldn't be hard to overcome - had we started earlier and made a couple tweaks to the program. My remedy for the Trophy Cup 2008 is to start a full two hours earlier on Friday - and one hour earlier on Saturday. That means everything from the pit gate opening - to the drivers meeting, to hot laps, to time-trials would commence super early. Secondly - I would alter the format so that no more than 16 cars start the C-Main, and D-Main. If it means running E and F Mains - I still think you would save time because a 24-car C-Main is asking for trouble. A winged 360 sprint car C-Main is going to be full of inexperienced drivers. Crashes and spin outs multiply quickly. I believe strongly that shorter fields would produce less major accidents. Next - I believe there should be one person, other than the Head Scorer, assigned to tally points. The Head Scorer is stretched too thin by having to score and tally points. Because the Trophy Cup format is based on points - some race lineups cannot be made until the completion of the race that just ran. True - the assigned points person could not start on lineups until the Scorer had final results - but at least the Scorer would have a break to collect his thoughts. As is - he is stressed to the max - constantly scoring races, making lineups and doing points. Finally, I want to see the rule for jumping starts altered. Evan Suggs left early on his heat race start and was put all the way to the rear of the field - rather than one row back (which is how I think the rule should be enforced). The rule WAS explained at the drivers meeting - but I just think it is too harsh. ...All of that having been said - I love the Trophy Cup. I want it to succeed and continue forever. The format is unique and it does produce entertaining race watching. Seeing World of Outlaws drivers in the field - mixing with the Northern and Central California stars is what makes the race special.
It's all over. The World of Outlaws 2007 season finished with a bang Saturday night at the Dirt Track at Lowe's Motor Speedway. The first World Finals for sprint cars and late model stock cars was a huge success drawing big car counts and a sellout crowd. One would have to think that this deal will be repeated for years to come. …Steve Kinser won the Saturday feature in an exciting contest with Danny Lasoski, and Daryn Pittman. Friday's feature was won by Jason Meyers who stole a victory from Donny Schatz on the final lap. The 2/5's mile red clay racetrack was by far in the best condition that I've ever seen it in. There were two and sometimes three grooves for drivers to work with – and the hard packed surface stayed smooth, yet moist (sounds like a skin care lotion). …As we told you last month – Kraig Kinser is the new driver of Tony Stewart's #20 sprint car for 2008. …Many times life seems unfair. It hurts me when friends are in pain – either physically or emotionally. You could chalk up both versions of pain for my buddy Paul McMahan. The ultra professional pilot put on a happy face as best he could but his last ride for T. Stewart Racing was a weekend to forget with a wicked crash on Friday that saw pieces and parts of his sprinter hanging from the fence. Adding injuries to insults – Pauly was the victim of an exploded u-joint Saturday that left him in the hospital with a hairline fracture of a big toe. The good news is that good things happen for good people. So it says here that McMahan will bounce back. He will run the Trophy Cup on November 16-17 at Tulare. …I appreciated the effort made by the Pennsylvania drivers to come down to North Carolina for the weekend. Lance Dewease, Chad Layton, Fred Rahmer, Greg Hodnett, Mark Smith, and Joey Borich were all in the house. …Donny Schatz is off to Australia already. The North Dakota driver wasn't even going home after the banquet (Monday in Charlotte). Schatz is going to run some races down under – then come home to the USA before returning back to Australia again around Christmas time. …I got the story second-hand but nevertheless I felt for Jason Solwold who apparently was not told that Jac Haudenschild would be driving the R19 car in 2008. Solwold learned of the Haud hiring through friends who read internet reports. …News of Bud Kaeding's Perris Oval Nationals win put a smile on my face. It offered further proof of Bud's ability in 'long' races. …TV Business: If you watched the show on Speed you may have noticed that we were "kinda live" rather than "live-live". The dead giveaway was that we did not show the B-Main. This occurred due to already being heavy on content-time following the heat races, and dash. We started recording our show 'live-to-tape' about an hour and a half before we actually hit the air. The hour and a half cushion allowed us to stand-down during lulls. An assessment of the remaining program time was made following the heats – which determined that we would be well over our three-hour allotment of time if we showed the B-Main. So we 'stood-down' during the B race and came back up when the cars were about to go four-wide for the start of the feature. …The race – for the time being was the last gig that I know I have other than the Trophy Cup. There is some talk about television coverage in 2008 but as of right now – nothing is certain. Brad Doty, Sean Buckley, and myself worked the entire season as independent contractors. We may or may not have done our last races on TV. I felt good about the job I did this season and I am hopeful that if there is more WoO TV in the future I will be asked to continue to be a part of it. In no way am I comparing myself to a race driver but in many respects I can relate to those who are without a ride for 2008. We all believe that we will back next year but like I said - nothing is certain.
The most interesting thing I've heard lately is that Jac Haudenschild is going to drive the Carnahan Motorsports #R19 in 2008. ...Tim Kaeding and Sammy Swindell are among the entrants for the non-wing Perris Oval Nationals. ...Don't forget to tune in to the World of Outlaws World Finals - LIVE on Speed - Saturday November 3rd at 5PM (Pacific). Many of the Pennsylvania drivers are headed south to North Carolina for the BIG event.
...The past weekend was a busy one with a trip to San Jose for Brent Kaeding's mom's funeral services, and then a ride to Tulare, CA for the World of Outlaws races. The 'Celebration of Life' for Dixie Kaeding was an emotional roller coaster with laughter and tears. Remember Olympia beer? "Oly" was Dixie's brand. That brought chuckles from the estimated 500 that attended the services at Oak Hill Memorial Park Friday afternoon. But even the toughest were not prepared to hold back the waterworks when Howard Kaeding - down on one knee - said goodbye to his wife of 52 years at the grave site. Dixie Kaeding was one heck of woman - a true matriarch that held her family together. The proof that she touched lives was evident in the support that her family received Friday. ...The following day we were off to Central California for the Dave Helm Memorial race at the Thunderbowl. My favorite racetrack was soft from an all-day rain 24 hours prior. That made the conditions for racing less than ideal. It happens. It doesn't make me think anything less of Tulare - it's just that for one night - the track was not it's usual exciting self. Donny Schatz won again - his 19th WoO feature of the year. ...Look for Brad Sweet to team up with Kasey Kahne in 2008 (post Chili Bowl). The word is that Sweet will run non-wing stuff for Kahne as well as selected winged events. ...I am not a fan of "one-lap qualifying". That was the deal Saturday night at Tulare. They say that any time there is more than 40 cars - they will only allow one-lap - rather than the standard "best of two laps". Teams also left the drivers meeting not knowing how many laps the feature would be. It was scheduled for 40 laps but the rain of a day prior had officials fearing a rough track - so they said they might cut it to 30 laps. After the heats the drivers wanted to go 30 - and officials wanted 40 so they compromised on 35 laps. It is easy for me - who is not in the seat - to say "What difference does five laps make?". Seriously though. Are we sprint car racers or opera goers? Come on. If a sprint car race is scheduled for 40 laps - it should be 40 laps. If a track is rough - either cancel the whole thing - or race on it as scheduled. You don't see a football game played for three and a half quarters because the field is tearing up. Gray areas are bad in any sport. The rules should not be open to 'race-night' interpretation. ...On the positive side. The WoO officials did a great job to get the show done at 9:04 PM.
Lots to catch up on. First - I want to offer condolences to the Kaeding family who lost matriarch Dixie on Friday (Oct. 5, 2007). Tim and Bud's grandma, Brent's mom, and Howard's wife is also mother to Brent's brother Joel, and their two sisters. Services are scheduled for Friday at 1:30 PM at Oak Hill Cemetery - not far from the Kaeding race shop in Campbell, CA. ...Dick Jordan of USAC updates us on the CRA points battle: Tony Jones' point lead over runner-up Mike Spencer has slipped to just 53 points going into an October 27 race at the Las Vegas Motor Speedway Dirt Track. Spencer, of Temecula, Calif. closed the gap with a third place at Ventura (Calif.) Raceway Saturday and a victory at Perris (Calif.) Auto Speedway Sunday. Scotty Weir of Marion, Ind. won Saturday night's 30-lapper at Ventura. He passed Spencer on lap 27 and led the final four laps to beat Rip Williams, Spencer, Troy Rutherford and Damion Gardner. ...The Tulare World of Outlaws race this Saturday night is named after Dave Helm. The cool car owner from Selma, CA passed earlier this year. ...Hard not to feel bad for the people on the WoO tour that have to drive all the way back out to California after racing in Pennsylvania and Minnesota the past two weeks. ...2007 ASCS Patriot Sprint Champion Chuck Hebing won 14 sanctioned feature events this season. ...Troy Hennig has thoughts on the recently completed Fall Nationals at Chico. ...Bob Ream points out all the goofy wings and things that went on to cars at the annual Cheater's Day races in South Dakota. Check out Jim Fisher pics here. ...Petaluma Speedway recently hosted a $2,500 to-win spec sprint race. Darrell Hanestad won the deal, and Nick Green finished third. ...Alissa Geving won her fourth feature event Saturday September 29th at Antioch Speedway (CA.). The 16 year-old masher finished second in the points at Antioch and earned Rookie of the Year honors. ...I was too excited to attend my first Williams Grove National Open. As a Californian – visiting "The Grove" in the past – I knew that I wasn't really experiencing it at the right time of year. I had been there in the spring and summer – usually May, June or July – for each of the prior experiences. But the National Open is the event that is synonymous with Williams Grove Speedway, the Pennsylvania Posse and winged 410 sprint car racing in the rugged Central Pennsylvania circuit I had always heard so much about as a kid, and adult. Hearing Steve Kinser praise guys like Lynn Paxton made me romanticize the day when I would witness with my own eyes – the brilliance of a true Pennsylvania sprint car hero doing his thing at the National Open. I reckon one day I will look back on this trip and say with pride that I saw Fred Rahmer, Lance Dewease, and upstart Chad Layton racing on the paper-clip half-mile dirt track that first held races back in 1939. The Grove did not disappoint in any way on this trip. Even though there was not a pass for the lead in Saturday's $50,000 to-win A-Main – I still enjoyed watching the 900 horsepower cars defy belief with their extreme HammerDown! style. The atmosphere was thick with what I call, 'racing festers' everywhere! They say the place seats 10,000 people but you can cram fans into the infield as well. Saturday night – was one of the biggest sprint car audiences I have ever been a part of. Only Knoxville Nationals final nights have seemed more crowded to me in my experiences. When a big crowd is on hand – the energy of the collective group seems to feed on itself. The cool, crisp autumn air set it off exactly like I had envisioned. It felt special. …Layton dominated the opening night – doing everything but setting quick-time. He won his heat, the dash, and the 25 lap preliminary feature. Layton was the most prolific winner in the 358 winged sprint cars in Pennsylvania – before delving into the 410's. He owns three Selinsgrove track titles, and two Williams Grove championships in the lower 358 class. But Friday night left no doubt that the 31 year-old from Harrisburg, PA is going to be a force to be dealt with on big tracks for years to come. He has been driving the Pete Postupak #25 for about a month (and a half) now – taking over for Dewease who left the ride. I've seen Layton compete in the past but he never looked as strong as he did Friday night. He traded slide jobs with Kerry Madsen in a furious battle for the lead Friday night. Good stuff! Madsen deserves praise as well. In his first National Open – the Madman showed he could dice with the best at the tricky track that has two completely different corners at each end. Madsen wound up third at the checkered flag in the opener – as local T.J. Stutts passed him in the late going. The entire weekend tested the World of Outlaws drivers – with the Saturday top-ten showing an even five-five split among WoO cats, and Posse drivers. For the locals – it was their 31st and 32nd nights of competition at the half-mile this year. The WoO drivers were running there for the sixth and seventh time in 2007. It is hard to explain – you really need to see it with your own eyes – but the racing is so totally different than what we see on regular basis in California. While they did hold time-trials this weekend because it was a WoO sanctioned event, the idea of qualifying laps is a chore to endure for the local fans and media members. Weekly – they do not time-trial at The Grove. Instead their races are lined up according to a handicapping system. The longer racetracks generally produce less in the way of wheel-banging, and therefore – caution flags are fewer and farther between that what I grew up watching in the Golden State. While I believe California drivers would struggle at the Grove – I would also be quick to say that the Posse drivers would be in an equal amount of trouble on a bull-ring like Watsonville out West. The racing really couldn't be any more different. …Saturday's feature race started with a wicked front chute grinder for Kinser. I was happy to see Steve pop out of his #11 as quickly as he did because the first look at his mangled car resting was not a pleasant site. He hit the inside guard rail with full force after riding over the back of Craig Dollansky's #7. Tim Shaffer and Brian Montieth also flipped in the melee. …Last week we reported that a source had told us that the Roth Motorsports #83 might be parked in 2008. That appears to be an inaccurate report now. I apologize for speculating. I know better. ...Donny Schatz' Saturday win gave him four WG National Open titles – equaling Kinser's mark. In just five sprint car races – Schatz earned over $300,000 when you combine his winnings from the Kings Royal, the Don Martin Memorial Silver Cup, the WG Summer Nationals, the Knoxville Nationals, and the WG National Open. The only BIG BIG race Schatz didn't get this season was the Gold Cup. …Impressive runs Saturday were turned in by Danny Lasoski, Daryn Pittman, and Jason Meyers. All three of those guys advanced by a dozen cars from their original starting spots. …We saw past National Open winner Bobby Allen roaming the pits Saturday night. Also on had was the legendary car-owner Al Hamilton. …Jason Solwold had quick-time Friday over a 58-car field. The luck of the time-trial draw is huge at the Grove. Paul McMahan – who always times-in quickly – was about a second a half off the pace with a late number drawn. I chatted with Pauly very briefly Friday and he seemed to be in good spirits despite feeling ill. He is unsure of what 2008 will hold at his time – but he said he has some possibilities that may well suit him just fine. Every once in a while I hear someone say something negative about McMahan or any WoO driver not winning features at a rate like Schatz or Joey Saldana. What these people fail to realize is that running in the top-ten in the WoO point standings in no easy task. The fact is – McMahan is fourth in the Racer's Racing Series points, and eighth in the WoO standings. That tells me that Pauly is among the best OVERALL open-wheel dirt racers out there today. To the nay-sayers – if it is so easy to run in the top-ten in the WoO, or RRS standings – go do it! Some drivers may win 20 features in their region but how can they perform at Knoxville, Eldora, or the Grove? Can they also be good on small bull rings? Do they consistently finish races or do they crash? With McMahan the answers are… - he is a Knoxville Nationals A-Main fixture, he has wins at Eldora, and Williams Grove, and he is probably at his best on the bull-rings. Most nights – and I mean 95% of the time – McMahan's car rolls into the trailer in tact. You should never ever sleep on guys like McMahan, Jason Meyers, Jason Sides, etc… These cats would win dozens of features if they didn't race against teams like Schatz, Kinser, Lasoski and Saldana every night. …Did I just ride my high horse? …TV Business: Saturday's show felt better to me than Friday's did. The energy was much more evident on the final night. I concentrated on identifying cars by colors and numbers – reminding myself that most viewers don't know our cars the way us hardcores do. Roger Vincent – our director – reminded me of this – which I figure was his way of saying I needed to be better at it. I appreciate that. I welcome constructive criticism from those I respect in the business. ...I learned that audio engineer Bryan Korot is part Russian. …Sean Buckley and I have taken to bouncing ideas back and forth during the day. Sean may read me something he has written for the show – while I will often share my 'scene-set' ideas with him. …Brad Doty and I always have a mid-day conversation about what we want to talk about in the 'open'. Our production meetings usually occur at 3:30 pm. Producer David Bruner leads the discussion of what we want to accomplish during the night. This meeting is fortification of our mid-week conference call where we talk as a group about our ideas for the show. Usually Bruner, myself, Doty, and World of Outlaws' guys Chris Dolack, and Brian Dunlap are the most vocal in these calls. Bruner leads and we all put in our two cents about our own perspectives. Dunlap is the direct link between the WoO and Winnercomm – the production company. He keeps us informed on any number of details related to the sponsors of the show or often to the logistics of getting set up at the tracks. Dolack – Vice President of Public Relations for the Outlaws usually has an idea about the general theme of the show. He is always thinking about the BIG picture. I like that. Brad lends a drivers' perspective. He asks questions that no one else considers and that makes us all have better attention to detail. My two cents is most often in the form of historical information. Bruner holds it all together. He is ultimately responsible for what hits the air. It is very much a team effort. …Buckley and Laura Lingner are constantly feeding us info in the booth throughout the night of a race. They roam the pits and deal face-to-face with all the emotions that accompany competition. It is not easy. I know from past experience in Sean's role. Drivers and mechanics are often grouchy and no fun to deal with. It really makes you appreciate the pros that 'get it'. …The Glamorous Life: Each week I could complain about flying. I'll spare you the details but suffice it to say it was the longest flight of the year (roundtrip) Washington DC to Sacramento. …The place we stayed is one of the best on the tour; the Courtyard by Marriott in Mechanicsburg, PA. …Our food on Friday was sliced beef (crying for some sauce), macaroni and cheese, and ???. …Saturday's meal was herbed chicken and ???. …Post-race Saturday – Buckley, Ken Henderson, and I all wound up at the same stop-n-rob looking for food. The old microwaveable burrito was a predictable choice for me. …Upon arrival Thursday – I broke a rule of mine and ordered Chinese food East of the Rockies. Bad idea. My lemon-chicken was hard to describe, and the fried rice was scary.
Cody Darrah's broken arm looked like this. Darrah is now healed and ready to race. ...Donny Schatz is the winningest driver of the year 2007 (so far) at Williams Grove Speedway and he only ran there five times. Schatz' four wins are one better than Mark Smith's three victories. ( I am only taking about 410 wins here.) Drivers with two wins at the Grove this year are Mike Erdley, Greg Hodnett, Doug Esh, Don Kreitz Jr., Kevin Nouse, and Michael Carber. ...The 1983 audit of wins at Silver Dollar Speedway (courtesy Marty Kobata and his old Racing Wheels') changes the All-Time top-five. We can add eight more feature wins to the total of Wayne Sue, and five mo w's for Shane Scott. With these additions - Scott moves to number two on the career win list with a total of 49. Sue will be number three with 48 wins - dropping Tim Kaeding back to fourth with 44 wins. The master list is here. ...Eldora was challenging for the 120th appearance by the World of Outlaws at the famed half-mile Friday night. Joey Saldana put Kasey Kahne's #9 up against the wall and won the 30-lap feature after he passed Steve Kinser. Early leader Donny Schatz popped a tire on lap ten – then went to the rear of the field and still finished seventh. After a JEI chassis experiment at the Gold Cup – we hear that Schatz and Tony Stewart Racing have ordered J&J cars for 2008. …Speaking of TSR – Paul McMahan was told that he will not be back in 2008 as the driver of the #20 car. Pauly finished third at Eldora after exchanging sliders with Daryn Pittman. Three scenarios we heard in regard to the new driver of the #20 are… Number one: Kraig Kinser is the leading candidate to run the Bass Pro Shops car next season if he doesn't have anything happening in NASCAR. Kraig has three sprint car starts under his belt this season with a third, a second, and a win in regional competition. Steve's 22 year-old boy won the 2005 Knoxville Nationals – then driving for the family team. Scenario number two: Jason Solwold is believed to be highly thought of among WoO insiders. If Kinser lands another NASCAR deal – it could be Solwold's ride. Scenario number three: Tim Kaeding gets the job. …McMahan will be looking for a ride along with the likes of Jac Haudenschild, and Danny Lasoski. Apparently Rick Wright will not field a WoO tour machine in `08 – leaving Haud searching. …Brooke Tatnell was driving Guy Forbrook's car in Midwest action last week. …At Eldora – Ed Lynch Jr. was the first car to time-trial – and he wound up with quick-time. …Ricky Stenhouse Jr. drove in the WoO show Friday night. He was gearing up for the three-division USAC show the following day. Stenhouse will most likely be in an ARCA car – affiliated with Jack Roush in 2008. …Sammy Swindell was spinning wrenches for Chad Hillier Friday night. …Jason Sides had a scary deal when something broke on his #7s and spit fire into the cockpit. Sides jumped out on fire and ran down the front chute with flames visible on his driving uniform pants leg. Sides ran straight to the fire crew and they extinguished the fire after too many anxious seconds. He wound up with singed eyelashes. …Food for thought: it took Schatz 34 races to win his first feature at Eldora. He now has 62 starts at the joint – and it is safe to say he has it figured out. I write that to give hope to the young drivers who are scratching their heads trying to ascertain what it will take to get up to speed there. The answer is… EXPERIENCE! …Paul May crashed hard in turn one in his heat race. "The Mayniac" climbed out of his mangled car under his own power. …TV Business: The Eldora show will include a feature on Haudenschild – who is adored by the fans in Western Ohio. …I tried hard to get in more sponsor mentions during this show. …We taped our 'opening' segment outside on the roof of the grandstands at the Big E. My partner Brad Doty is a brave dude. He doesn't like it when he has to be carried in his 'chair' and doing the deal where we did it – meant Brad had to be lifted basically through an opening in a window out onto the 'catwalk' on the roof. He joked that Eldora Speedway tried to take him out 20 years ago and now it was trying again. …Our catered lunch (served in the old Eldora Ballroom) was among the best of the season with Romer's Catering providing the grub. We had pork chops, chuck roast beef, mashed potatoes, green beans, salads, rice pilaf, and cookies! The Glamorous Life: … The worst part of my job reared its ugly head today. I write as I endure a three hour-45 minute layover at my "favorite" airport – Chicago's O'Hare International. I was supposed to fly from Dayton, Ohio to Denver – and then Denver – home to Sacramento but my Dayton to Denver flight was cancelled. No reason was given. So the United Airlines festers booked me from Dayton to Chicago and then Chicago to Sac. My brilliant plan was to arrive in Chicago – eat – and then go join the Red Carpet Club which is a lounge deal that United has in their hub cities. Basically you can drink free sodas and sit on couches and watch TV or – do internet stuff in a place like the Red Carpet Club. I reasoned that a membership would help me today and the future when a deal like this goes down. So - I eat at Manchu Wok in the airport and then stroll to the RCC and inquire about a membership now that I have Premier status on United. Guess what? That ish cost $400!!! …"Sorry but no thanks", was my reply to the nice lady who told me the amount. …So I wandered to this gate area across from my gate and as I write I have two hours and 45 minutes left to kill before a three-hour, 56 minute flight which will be followed by a 40 minute drive to my house in Rocklin. …I have a hard time with 'wasting time' when I am not in control of my time. Yes – I do understand that I am blessed to be in this situation at all. It comes with my present job as TV boy for the World of Outlaws broadcasts. I'm not seeking sympathy – I am simply telling you all how much I'd like to poop on this part of the gig. …Thursday was travel day. After nappage at the Hampton Inn in Sidney, OH – Sean Buckley and I hit Taco Bell. I have a ban on the Bell dating back to 1990 so I ate at Steak N Shake. Buckley and I ventured into Dayton for giggles on Thursday night. We were looking for signs of life since the entire town of Sidney was basically sleeping after 9:30 pm. We found good times near the University of Dayton campus. Post-race Friday – my choices were McDonald's, Taco Bell, Waffle House or Burger King. I chose a 24 hour Kroeger's grocery store – figuring I'd make use of the in-room microwave. Marie Calendar's Lasagna was not really that good. I had some chili-cheese dip appetizer with Fritos Scoops that was tastier. I was surprised to see Brent Kaeding, Matt Britt, Bud Kaeding, Shane Anderson, and the BK Racing crew walk through the door of the Hampton Inn late Friday night. Brent was in town to watch Bud run the following night.
The All-Stars only had 32 points races this year but will pay $50,000 to their champ Greg Wilson. That ain't a bad deal. ...Chad Blonde has ten feature wins this season. The former All-Star Rookie of the Year (2006) is a charger to keep an eye on. Between I.R.A., the Midwest All-Stars, and local shows, Blonde won six straight from July 7th to August 1st. ...Dad sent this video of a wild drag racing accident in Australia. Whoa!!!! ...We have new confirmed race wins for Dave Bradway SR at Silver Dollar Speedway. This will add six more wins to his total - putting the 70's modified champion at - (at least) eleven wins on the quarter-mile clay oval in Chico, CA. Thanks to Alan Bradway, co-owner of the #X1 currently wheeled by Colby Wiesz, for providing the info. 1978 was a stellar year for the Bradway patriarch. Of the five races we have results for - he won all five! ...Shane Stewart continued his great season of success in the Doyle's Harley Davidson #1HD - with a $10,000 plus win in the Fred Brownfield Memorial event at Grays Harbor Raceway in Elma, WA Saturday night. ...In Lawrenceburg, Indiana, Greg Wilson defeated Danny Smith by a mere two points in the battle for the All-Star sprint car championship. That deal paid $50,000 to the high points team. Kraig Kinser won the race. ...In ASCS Rocky Mountain Region racing - Johnny Herrera topped both nights at Aztec Speedway in New Mexico. ....Dick Jordan of USAC notes that Johnny Rodriguez continues to lead the USAC Western Midget standings following his fourth-place finish in Saturday night's 30-lap race at Bakersfield (Calif.) Speedway. He holds an 86-point advantage over Scott Pierovich, who was third at Bakersfield. Brad Sweet notched his first USAC Western Midget victory at Bakersfield, piloting Cruz Pedregon's Toyota/Q Racing Spike/Toyota to victory. ...Tony Hunt won his second Western Sprint Car USAC event at Madera this season with a 50-lap triumph on Saturday. ...In the companion BCRA midget races - Dallen McKinney won with a last lap pass of 16 year old Shane Golobic. ...Proving it was not a fluke - David Cardey backed up his first USAC-CRA win of a couple weeks ago with another victory this past Saturday night at Perris. ...The always colorful Terry McCarl said this to "Bill W." following his flip at Beaver Dam Sunday night: "Early in the race, we had a huge battle going on with Randy Hannagan and Tim Shaffer. We were three abreast. Hannagan was on the bottom, I was in the middle, and Shaffer was on top. I drove it into turn three, and the thing just stuck like glue. I was thinking I would hook it up and pass both of them. Randy slid up a little, right as I got a good bite, and I drove right over his right rear tire and got upside down. We flipped pretty hard. I quickly remembered why we don't like flipping. It hurts. It hurts physically, and it hurts the pocketbook." ...Congrats to Andy Gregg on his Civil War win at Petaluma Saturday night (09/15/07). Jason Statler broke the 360 winged sprint car track record at `Luma with a 12.2 clocking. ...Donny Schatz' win at Topeka Friday night was his 16th WoO win of the year. ...Willie Croft's #29 would get the HammerDown! vote for best looking car at the Gold Cup. Here's a link to the 15 best looking machines we saw this weekend. All photos courtesy John's Racing Photos.
...We all need to give it up for Marty Kobata. Marty has been digging through his old Racing Wheels newspapers and he had taken the time to log the Chico winners from 1980-82 (on top of what he already sent for the 70's!). Our all-time Chico winners list is now looking really good from 1973 through today. ...Some nuggs from all the logging. I now have 923 nights of racing logged starting in July 1972. So - if you have anything as far as winners and dates from prior to that - hit me with an email. ...Anyway - Marty's new finds add strength to the win totals in particular of Shane Scott, Dave Bradway Jr., Mitch Sue and Jackie Whitson. We now have Scott at 44 wins - which puts him in a tie for second with Tim Kaeding. My boy Mitch Sue has 18 documented wins - which puts him in a tie for tenth with Sean Becker. ...Junior Bradway won 16 times at Chico - making him 12th all-time in a tie with Greg DeCaires. ...The longest winning streak overall in the history of the track belongs to Rich Taylor. In 1979 - Taylor won five features consecutively. Drivers who snared four in a row at Chico are: Rick Hirst (The last to do it - back in 1987), Wayne Sue (he did it three-times!), Jackie Whitson, and Skip Matlock. Other stats: Most wins in a single season at Chico: (see below)
12 wins in a single season: Tim Kaeding (2001)
Eleven wins in a single season: Rich Taylor (1979), Brent Kaeding (1993)
Ten wins in a single season: Wayne Sue (1980, 1982)
Eight wins in a single season: Skip Matlock (1976), Wayne Sue (1981), Jimmy Sills (1984), Rick Hirst (1987), Brent Kaeding (1988, 1994), Jon Allard (2007)
Seven wins in a single season: Jackie Whitson (1981), Ricky Haugh (1987), Brent Kaeding (1989), Jon Allard (2005)
Six wins in a single season: Shane Scott (1982, 1985), Brent Kaeding (1999), Tim Kaeding (1999)
Five wins in a single season: Bill Durham (1977), Wayne Sue (1979), Mitch Sue (1982), Brent Kaeding (1985), Jimmy Sills (1989), Randy Tiner (1992), Jaime Cobby (1992), Shane Scott (1993, 1995), Tim Kaeding (2002), Jon Allard (2002), Andy Forsberg (2003), Blake Robertson (2004), Johnny Gray (2004), Sean Becker (2006)
Four wins in a single season: Tom Herseth (1977), LeRoy VanConett (1984), Jimmy Sills (1985, 1989), Dave Bradway Jr. (1986), Shane Scott (1986), Brent Kaeding (1990, 1991, 1996), Brian Crockett (1990), Greg DeCaires (1992), Bobby McMahan (1996), Sean Fenn (1999, 2000), Tim Kaeding (2000, 2004), Peter Murphy (2000), Stephen Allard (2002), Sean Becker (2005, 2007), Andy Forsberg (2006).
"Top-Wing" - I got the programs! Thank you! ...Alissa Geving is featured in Faces in the Crowd in the latest Sports Illustrated. ...This portion of Positivity is dedicated to the one reader who wondered why I didn't write about Calistoga over the Labor Day weekend. The answer is that I simply got too busy with other stuff (like the Chico All-time win list and prep for TV duties). ...The Calistoga WoO show mostly was an exercise in rubber-down racing. The Sunday finale did have some good moments as Danny Lasoski and Jason Meyers diced for the lead. ...Brent Kaeding won the Calistoga track championship - making it three titles this year for the 50 year old! He won the Golden State championship and the Watsonville 360 deal too. ...The Sunday crowd seemed very large and I was pleased to see so many familiar faces. Former NARC champion Wally Talbot came up to say hello. I also saw Tim and Nick Green, Jon Golobic, Kevin Pylant, Andy Gregg, Pete Murphy, Mike Benson, Bobby McMahan, Garrett Ishii, Veronica McCann, John Steck - and Greg Yannazzo at one time or another. ...Thanks to Jerry Ishii for the wonderful frozen grapes! Those were perfect on such a hot day Saturday. ...Kim and I dined with the Williams #0 race team, and Bannister family after the races Saturday night. Peach cobbler!!!!!! Sunday Kim and I hit the Palisades Deli for a combo of veggie burritos, and ham & prosciutto quiche. ...Our lodging for the weekend was the Village Inn & Spa - as arranged by the Speedway. Calistoga hotels, and motels are booked up on holiday weekends. The rooms are expensive in the culturally rich Napa Valley wine country. We appreciated having a place to crash but the truth is this small place had no in-room internet, no fridge, and no king bed. Kim didn't like the bathroom cleanliness either. The positives were that it was conveniently located and the staff people were nice. ...I also enjoyed a quick post-race meeting Sunday with friends Dean Bruns, and Jeremy Campbell. ...Gold Cup TV Business: We had to show the end of the B-Main - or Last Chance Showdown because it was too exciting to just hit the edit room floor. The feature will take up the majority of the show. But Tim Kaeding's performance in the B-Main was the kind of stuff that best captures the beauty of sprint car racing. The crowd was as hyped as anytime I've ever seen it at any race track. Only Kings playoffs games and some concerts have provided more of a rush of collective energy in my own personal experiences. It really reminded me of a come from behind basketball game where the home team hits the game winner at the buzzer. ...(I don't expect you to understand - but i am feeling the new Talib Kweli CD as I write tonight.) ...From the TV standpoint - I was trying hard to pay more attention to the monitors and less to what was happening on the track (which may not be on camera). I left our guys in the truck hanging on the first night at Skagit as I called a great battle that wasn't on the screen. ...I will admit to a feeling of gratitude to be blessed to announce the Gold Cup on the Speed telecast. There was a time when TV gigs had dried up when I wondered if I would ever get to be in that zone again. It's hard to explain but I actually feel like I am doing what I was born to do when I lose myself in the excitement of a great race. That feeling was flowing Saturday night. ...I disappointed myself by not getting the Joey Saldana two-year contract information into the show - especially when I had a golden opportunity to do so in the time between him getting out of the car, and him being interviewed by Sean Buckley. I also screwed up a Danny Lasoski stat. I corrected it but the flub is on tape. Nothing you can do about now. ...The Glamorous Life: It was cool to have my wife Kim with me this weekend at Chico. We didn't have to get on a plane - so that was great! It is about one hour and twenty five minutes from my doorstep to Silver Dollar Speedway. We stayed at the Holiday Inn in Chico which was fine. They had high-speed internet for free, and a mini fridge in the room. Bathrooms were clean. ...I had chili from the Chili Feed on Friday which was good. We hit KFC on the way to the track Saturday. Yuck - but the Mountain Dew was cold and we were in a hurry. The TV catering was a mexican fiesta of enchiladas, fajitas, and chips and dips. ...One of the highlights of my weekend was getting a big hug from Jimmy Boyd. The first winner in World of Outlaws history and former Gold Cup champion was there with his boy Jan. Kim told me Jimmy Sills was in the house as well. Another memorable moment was seeing the golf cart wheelies post Chili Feed. (Photo below by John's Racing Photos)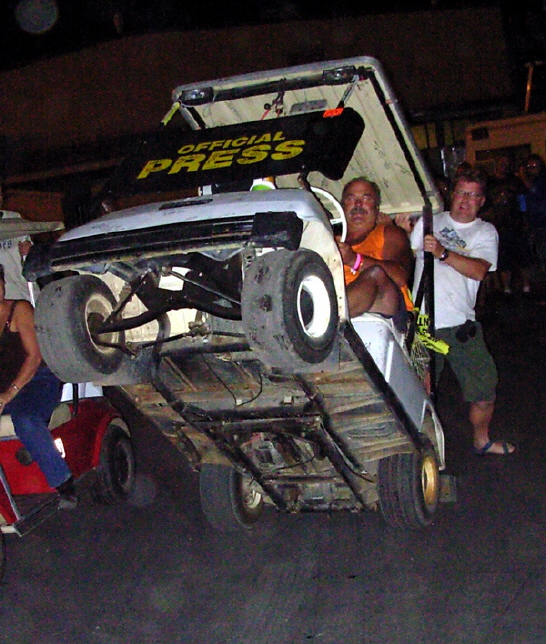 Andy Forsberg was wiping his memory of a tough night - which seemed like the perfect cure for the "39th fast blues". There were California Highway Patrol officers basically just observing the 500 or so revelers in one concentrated area on the fairgrounds. As Jell-O shots were consumed by the masses things remained remarkably under control while being completely out of control. You understand? No fighting. No drama (other than some un-named boyfriend-girlfriend ish that I quickly mediated and mended). Just lots of happy people when we left at about 2:22 am. ...I enjoyed the fellowship of longtime friends Steve Turnross, and Greg Yannazzo after Thursday night's show. We watched a DVD of Alissa Geving's first win at Petaluma Speedway. We also spent time with Tim Kaeding and friends, and Jac and Patty Haudenschild. 'Haud' was quick to praise Kyle Larson for his driving ability. I saw TK non-wing on DVD in the Tom Rolfe #10 prepared by the McMillen's. His heat race win at Greenwood, NE. was entertaining. ...I caught up with Mitch Sue Friday night. The "Doctor" is farming and editing web logs at present. ...Thanks again to Walt and Gaye Carmichael for saving seats for me and my crew. Larry Shelton sat with Kim and I on Friday while Mike Zieske watched the Thursday show with me. My Dad sat with Kim on the final night while I was in the booth across the way. ...Brooke Tatnell and I chatted about his first drives for DuWayne Starr. Tatnell reminded me it was Calistoga where he first drove for the late car owner of the beautifully simple gold-yellow and navy #18. ...Joey Saldana did a fantastic job this weekend at the Gold Cup Race of Champions in Chico, CA. The Brownsburg, Indiana driver used the top of the track Friday to win his preliminary race, and then he did whatever it took to lead virtually wire-to-wire in the Saturday final. The final box-score will show Saldana leading all 40 laps but Jon Allard did pass him and lead lap 21 - but officials said the red flag came out before the #0, and #9 crossed the stripe to complete the lap. Joey re-started in the lead and was never headed despite a late challenge from Jac Haudenschild. ...Brad Sweet looked really sharp in the Gary Perkins #6P. The 21 year-old who has been racing midgets for Keith Kunz proved he hasn't lost anything behind the wheel of a winged sprint car. Sweet finished third on Saturday night. I'll stand by earlier predictions of greatness for Sweet. He mashes enough to win and is smart enough to finesse a car when need be. For the record - Rod Tiner was tuning on the #6P. You know you are going to get a good chassis set-up when Rodney is spinning wrenches. ...Steve Kinser's TV jinx continued on Saturday night when he lost a motor in the #11. His car would not re-fire following the lap 21 red flag period. He was running in third spot at the time. I've seen guys have bad luck before but I really can't recall seeing anything like the rash of mechanical failures endured by Steve this year. ...Danny Lasoski came through the B-Main to finish eleventh in the feature - maintaining his streak of top 15 Gold Cup A-Main finishes. He now has eleven straight years in the top 15. ...Bud Kaeding was in the pits watching the action. Bud said he was leasing one of his engines to Matt Mitchell and he didn't want to hurt the piece because that would screw up his deal with Mitchell. ...Robert Ballou added excitement to the Gold Cup with his hard driving style. Ballou was in one of two Mike Stallings cars. ...Sam Hafertepe Jr. made the Gold Cup A-Main in his first try. ...Tim Kaeding is good for sprint car racing. We need Tim full-time on the World of Outlaws tour. His run in the Last Chance Showdown Saturday night was incredible. We've seen it so many times with Tim now that we can testify to his rare ability to carry a car. Stop and think about how many times - not just in sprint car racing - but in any form of motorsports you have seen someone with the skill, determination, and ability to will a car to a transfer spot or win. I see it maybe a couple times per year. The point is - it is rare. Off the top of my head - I saw it with Donny Schatz early this season at Charlotte. A couple years ago - Schatz at Calistoga did it. Kinser with a bent chassis at the Gold Cup comes to mind. Tony Stewart in a midget at Calistoga. Brent Kaeding - years ago on a rough track at the Mini Gold Cup in Chico. Dave Blaney at the Kings Royal at Eldora. ...Greg DeCaires' #24c earned the "Best Looking Car" Award.
...Some quick Chico tidbits from the Thursday night portion of the Gold Cup Race of Champions. (I won't be updating further until after the Saturday night final.) ...Jon Allard was impressive in his dominating win on a low groove, one lane racetrack. It was Allard's 31st career win at Silver Dollar Speedway. ...Sammy Swindell was equally as impressive in the Fauver #64. Sammy was aggressive on the bottom and he muscled his way to a runner-up finish in his first action since April at Eldora (I believe). According to our spies, Swindell hot-lapped on Wednesday night during the 360 Civil War race. ...I had my first chance to see Kyle Larson in a 410 sprint car live. I'll stick with my prediction that the kid is a hero / star very soon. At age 15 - he rolls the corners at Chico better than 75% of the guys out there. His car was too tight in his heat race from where I was sitting yet he transferred to the preliminary feature with no problem. ...I also thought Mason Moore did an excellent job. Moore is another kid that has recently graduated from the outlaw kart ranks straight to sprint cars. Moore is 16 years old but he never looked out of control all night. ...Jason Sides had quick-time at 11.774. He attacked the track and was rewarded for doing so. Sides night got jumbled in the feature when he, Danny Lasoski, and Chad Kemenah all tangled in turn four. The trio was running solidly in the top ten at the time of the deal. Sides finished 18th while Lasoski was 16th and Kemenah was 23rd at the checkered flag.
...I am goofy for numbers. Previously - we tallied points for the all the Gold Cups held at Chico. I wanted to attempt to do the same for not just the Chico Gold Cups but all the Gold Cups. The race was previously held in Sacramento, and West Sacramento respectively. Applying the Racer's Racing Series points (which awards points to the top 15 finishers in each A-Main) was tricky though because no matter how hard I tried I couldn't come up with the Top-15 for many of the early Gold Cups. Bottom-line is I did the best I could and we were able to include top 15 runners from all the Gold Cups held from 1974 through 2006. Prior to 1974 - I have given points to as many positions as I could confirm. A great source for information from the earliest Gold Cups was the 40th anniversary program done by Dennis Gage with help from Art Spaulding. ...So.... Here is the Fantasy Feature List of top 24 drivers in All-Time Gold Cup history (Sacramento, W. Sacramento, and Chico combined).
Steve Kinser 1323 - 12 wins!
Jac Haudenschild 837 -

"Haud" won back-to-back in 1998-99.

Sammy Swindell 822 - Sammy won in 1981 and finished second twice.
Jeff Swindell 800 -

1996 winner also finished second three times in the Gold Cup

.
Brent Kaeding 763 -

The winningest driver in the history of Silver Dollar Speedway has three Gold Cup runner-ups.

Danny Lasoski 651 -

The Dude hasn't finished outside the top 15 in the Gold Cup A-Main in the last ten years. He won in the year 2000.

Jimmy Sills 606 -

He was second in 1984, and 1987.

Mark Kinser 541 - 2001 winner.
Al Pombo 498 - Pombo won the Gold Cup four times between 1961 and 1970.
Andy Hillenburg 465 - Hillenburg won consecutive Gold Cups in 1994 and 1995.
Dave Blaney 442 - Blaney went out a winner in 1997 - not defending his Cup in `98 due to his NASCAR commitment.
Jimmy Boyd 433 - 1973 winner Boyd dominated running the first 12 second lap at West Capital.
Tim Green 412 - Nine top 15's and a third in 1981 piled up the points for Green.
Stevie Smith 384 - The highest rated Pennsylvania racer won the West's biggest winged sprint car event in 1993.
Paul McMahan 354 - Eight top 15's and a third in 2003 piled up the points for Pauly.
Gary Patterson 351 - One win (1977) and two seconds for the Great GP.
Tim Shaffer 350 - Shaffer owns a pair of second place runs and seven top-15 finishes.
Donny Schatz 347 - Schatz won the 2004 version of the Gold Cup.
Johnny Anderson 344 - He won at both W. Sacramento and Chico ala Steve Kinser.
Bobby Davis Jr. 294 - A third place finish in 1989 was the best of six straight top 15 drives for Davis from 1985 to 1990.
Joe Gaerte 288 - Joe G. was the best at the Gold Cup in 1991.
Danny Smith 270 - The 1985 winner finished in the top 15 on six occasions.
Greg DeCaires 270 - A seventh in 1995 was the best for DeCaires who has seven top 15 finishes.
Rick Ferkel 268 - 1976, 1979, and 1981 Gold Cup runner-up.
...1975 was the first year when the race paid $5,000 to win - putting it on the 'national map'. ...Hard Charger! Roger Enos came from 40th to third in the 1970 Gold Cup. ...I woke up from a sound sleep today and remembered that I did not say Happy Birthday to Carolyn Holmes at Calistoga this past weekend. I announce at `Stoga and every year her birthday falls over the Labor Day weekend. I always try to do it right before the start of the feature event - or maybe on the first yellow of the feature. We went 25 laps non-stop and I simply forgot. My apologies to Carolyn and her family. ...I recently finished reading Lone Wolf - the new book by Doug Wolfgang with Dave Argabright. I want to HIGHLY recommend this book to you all - especially you young racers with a sense of history and pride for our sport. The book captures the essence of Wolfgang - one of the most brilliant yet misunderstood racers to ever suit up. ...Brent Kaeding fulfilled the wish of the late Larry Kneppel at Calistoga by spreading his ashes in turn four during hot-laps. BK was "Flea's" favorite driver. ...I am hyped for the Gold Cup although the wind in my sails subsided with the news of Billy Kimmel's death from a crash at Williams Grove Sunday night. ...16 year-old Shane Golobic of Fremont won the twenty five lap, $2,500 to win feature at Petaluma Speedway on Saturday Sept.1 in his Gobolic Construction Sprinter with a late pass of Steven Williams. ...I thought it would be fun to apply the Racer's Racing Series points schedule to all of the Gold Cups contested at Chico's Silver Dollar Speedway. I figured the way the points turned out could be the basis for a HammerDown! All-Time Chico Gold Cup Fantasy Feature line-up. Any guesses as to who the high points guy is? There is no trick. Of course it is Steve Kinser. Before you read the list - you should again know that this list is limited to Chico Gold Cups only. Prior to the run at Silver Dollar Speedway - the Gold Cup raced in Sacramento. We'll give HammerDown! All-Time Chico Gold Cup Fantasy Feature nods to the top-24 in points - since that is how many cars start the Gold Cup feature event.
Steve Kinser 1183 - The King won ten Gold Cups from 1980 to 2006.
Jac Haudenschild 837 - "Haud" won back-to-back in 1998-99.
Jeff Swindell 800 - The 1996 winner also finished second three times in the Gold Cup.
Brent Kaeding 763 - The winningest driver in the history of Silver Dollar Speedway has three Gold Cup runner-ups.
Sammy Swindell 702 - Sammy won the Gold Cup in 1982 in the Nance house car.
Danny Lasoski 651 - The Dude hasn't finished outside the top 15 in the Gold Cup A-Main in the last ten years. He won in the year 2000.
Jimmy Sills 554 - He was second in 1984, and 1987.
Mark Kinser 541 - The 2001 winner once played the drums post bikini contest.
Andy Hillenburg 465 - Flashy Hillenburg won consecutive Gold Cups in 1994 and 1995.
Dave Blaney 442 - Blaney went out a winner in 1997 - not defending his Cup in `98 due to his NASCAR commitment.
Stevie Smith 384 - The highest rated Pennsylvania racer won the West's biggest winged sprint car event in 1993.
Tim Green 367 - Eight top 15's and a third in 1981 piled up the points for Green.
Paul McMahan 354 - Eight top 15's and a third in 2003 piled up the points for Pauly.
Tim Shaffer 350 - Shaffer owns a pair of second place runs and seven top-15 finishes.
Donny Schatz 347 - Schatz won the 2004 version of the Gold Cup.
Bobby Davis Jr. 294 - A third place finish in 1989 was the best of six straight top 15 drives for Davis from 1985 to 1990.
Joe Gaerte 288 - Joe G. was the best at the Gold Cup in 1991.
Greg DeCaires 270 - A seventh in 1995 was the best for DeCaires who has seven top 15 finishes.
Craig Dollansky 254 - He has finished third the last three years in a row.
Kevin Pylant 252 - "Pyle" ran fourth in 1992 which is the best of six top 15's.
Johnny Herrera 245 - "Hollywood" ran fourth in 1991 which is the best of six top 15's.
Daryn Pittman 236 - The 2006 winner owns four top 15's
Bobby McMahan 229 - Bobby ran ninth in 1990 - the best of his six top- 15's.
Danny Smith 228 - The 1985 winner finished in the top 15 on five occasions.
Jeremy Tiner rightfully points out that Andy Gregg has had a nice year in Northern California. Gregg owns a Civil War win at Marysville, a couple of seconds at Chico, and two wins in a row at Placerville. He came home third in the Chico Friday Night 410 points, and is fourth in 360 Civil War points.
The trip to Alger, Washington for World of Outlaws action at Skagit Speedway was an enjoyable experience. Saturday's feature made up for the lack of hair-raising action I hoped for on Friday. The opener just wasn't HammerDownish enough. The track was crazy slick and no one could grab hold of the grey dirt surface. Just sprint cars spinning their tires. There were some slide job exchanges by Daryn Pittman, and Brooke Tatnell that were fun to see - and the fourth heat race was one of the best of the year. In that heat - Steve Kinser stalked Danny Lasoski for a dash transfer berth. He set the Dude up and then crossed him over out of turn four in way that could only be described as masterful. Then local hero Brock Lemley took his sprinter to the wall to grab the final transfer spot into the feature through the heats. I had to applaud with the large crowd. ...Justin Henderson was also spectacular in his heat race. ...Saturday's show was delayed by rain throughout the day and into the evening. But the show would not be stopped. Steve Beitler - the track promoter - is a former World of Outlaws driver. He waited out the showers and had a track ready that was exciting with a fan-loving deep cushion. The racing seemed more exciting with the challenging track keeping drivers on their toes. The 40-lap feature was a $25,000 to-win affair. Kinser passed Joey Saldana in deep traffic early in the race and it looked like Steve was going to break his TV jinx and score his biggest win of the year. But on lap 31 - the driveline on Kinser's #11 broke and Steve was forced into the infield. Frustrated - Kinser kicked at air. But he composed himself for a quick interview with Sean Buckley where he told of the driveline failure. Saldana was going to have the lead but Craig Dollansky rolled around the outside of him to take command. Tim Shaffer continued his recent streak of great runs with a third place finish. Terry McCarl rebounded from a miserable Friday night to score a fourth place finish, and Jeremy Campbell was fifth after having to change engines between his heat race and the dash. ...Jason Sides had quick time on Friday night while Randy Hannagan did it on Saturday. ...I heard from a reliable source that a certain beer king will be a sponsor on Kasey Kahne's sprint car in 2008. I had heard speculation of that earlier but I like to hear it from people with a track record of telling me the truth before I write it down. ...The talk of the town late Friday night was Bob Bennett winning the feature event at Williams Grove on the other side of the country. ...At Skagit - we were happy to see Jon Allard, and Jason Botsford make the trip up to Washington from their Northern California base. Allard finished in the top-15 on Saturday to earn Racer's Racing Series points. The final top 40 in points will again make the All HammerDown! Team. ...TV Business: You have gut feelings about how a show may turn out and my gut said Saturday's show was better than Friday's. They will air on Speed on Sunday September 2, and Sunday September 9 at 11 am (Pacific). Beitler went the extra mile for us as a TV staff. He built a 'booth' for Brad Doty and I that even had our names on it! We were given fresh fruit and an ice chest full of water and sodas. Brad and I felt like big-timers! On the Saturday show - there is a clip of Sam Hafertepe Jr. 'bicycling' his #15H that you have to see to believe. ...The Glamorous Life: It was great to be on the West Coast and breathe that fresh marine air while seeing the Pacific Northwest landscape. Each time I've been to Seattle - I've marveled at how green everything is. Trees everywhere! The places I visited this weekend had their own vibe that ranged from hillbilly to geek chic. The strong Japanese American influence in the area was appreciated by me. Just knowing that real sticky rice and authentic teriyaki was near made me feel comfortable. Heck, they had chicken katsu at the freakin' airport. The seafood is world class good. I had Fish N Chips from Ivar's that was good enough to make me want more. ...Our motel wasn't the best but it was close to the track and it was clean. The Fairfield Inn off I-5 at exit 232 in Burlington, WA offered really small rooms, and a slow internet connection. A 20 oz. bottle of Mountain Dew was $2.50. ...Late Thursday night I hit the Haggen market for a snack. Turkey and string cheese! They had Thomas Kemper Black Cherry soda which is hard to find where I live - so I actually didn't buy a Dew at the market. It turns out that the Haggen place was the caterer for the TV crew the next two days. Friday for lunch we had sliced turkey, some kind of sausages, and mashed potatoes. The mashed taters were a hit with me. ...Saturday's TV crew lunch was rotisserie chicken, scalloped potatoes, and salad. ...I had some tasty french fries from the track's concession stand as dinner Saturday because we were so delayed. ...I enjoyed being able to fly direct from Sacramento to Seattle. It makes a big difference as far as how wiped out I am after a racing weekend. The long coast-to-coast air travel days that have been the norm so far this season seemed very far away as I did the hour and a half flights each way this weekend. ...I had a chance to visit with my buddy Dean "Bonsai" Bruns in Mount Vernon after the races on Friday. Hilarity ensued as we drove my Chevy rental, six or seven people deep, through the Jack N the Box drive through with an unbelievably large order for members of the racing teams of the #35, #7s, and #10c who were hanging at the Riverside Lanes bowling lounge. For whatever reason - someone forgot to order Aussie Paul Baines' breakfast croissant much to his dismay. I didn't eat anything but I was the driver. Bonsai did the ordering. It went something like this...
Jack lady: "May I take your order?"
Bruns: "Yeah ... we need some shit here... so ... can we start with three tacos?"
Jack lady: You can get two for 99 cents."
Bruns: "Okay - then give me nine."
Jack lady: "Anything else?"
Bruns: "Sour cream".
Jack lady: "Excuse me."
Bruns: "Yeah.. on the tacos. Sour cream."
Jack lady: "is that it?"
Bruns: "Nope."
....It went on and on. We were ordering so long the car behind us flashed their high beams at us. There were burgers, and fries, and tacos, and each order seemed to have it's own characteristic. No pickles. Plain except for ketchup and cheese. ...Etc...
...Thanks already to Marty Kobata, and Tom Herseth for responding to our request for help on Chico feature winners. ...We have added races to the Racer's Racing Series schedule in an effort to make up for earlier weather related cancellations. The goal was always to have a 60-race schedule. Added to the schedule are...
World of Outlaws at Eldora Speedway - Friday September 21, 2007.
3rd annual MOPAR-PRI Sprint and Midget Classic - December 7, 2007. (Both sprint car and midget features will count.)
I am working on a all-time win-list for Silver Dollar Speedway. We are good working backward for the last twenty years - but prior to 1987 - there are blanks to fill in. Do you have certified feature winner info for sprint car, or midget races at Silver Dollar Speedway from the 60's, 70's, or 80's? Especially useful would be info on winners in the "modified" class in the early eighties (the Wayne Sue, Shane Scott, Tom Herseth era). Hit me with an email with dates, and winners at bg@HammerDownUSA.com
We have added the Sprint Bandits event at Lakeside Speedway Saturday August 18th to the points earning schedule for the Racer's Racing Series. ...KC Raceway hosted the World of Outlaws on Saturday night (July 28, 2007). It was my first trip to the Alma, Ohio based track cut into the rolling green hills in Southern Ohio. I liked it! The track is a 3/8's mile high banked dirt track that offered multiple racing grooves for the heroes of the most grueling racing series on planet earth. The feature event will go in the history books as the "wave" race. Winner Terry McCarl passed Donny Schatz and had the gall to wave at him as he inched in front on the main straightaway. T-Mac is truly one of a kind. His antics made for some great TV. …I was impressed with a 17 year-old racer named Aaron Higgin from Piketon, OH. The first year sprint car driver won the D-Main – which is hardly worth getting excited about but I thought he was smooth and fast and unafraid. In 2006 Higgin was the modified track champ at KC. …Chad Kemenah matched his season best in the WoO series with a third place finish in the feature. …Jeremy Campbell won the dash but backed up to tenth in the feature. …Daryn Pittman drove from 22nd starting to fifth at the checkered flag to earn hard charger honors. Kerry Madsen was almost as impressive riding to seventh from 23rd starting. …Joey Saldana was ticked off when he was placed into row two of his heat after being called for jumping the start from his outside front row original starting position. Actually – I saw it as the pole car jumping and Joey then going with him to keep up. The rules state that both cars are to hit the methanol when they reach the first of two chalk lines in turn four. By the letter of the law – Saldana did jump. But it seems unfair to me to penalize a guy for doing what he has been taught to do his entire racing career; - that being to GO when the pole car takes off. The consequences for Saldana were that he missed the dash because he didn't finish first or second in his heat. I feel he would have accomplished that if he maintained his front row heat race status. To Joey's credit – he handled the situation well when interviewed by Sean Buckley. Joey is a pro's pro. There were some tired cats in the pits Saturday. The WoO series raced Friday night at Lake Odessa, MI – some 340 miles away from KC Raceway. Travelers we spoke with that made the long haul said they got between two and three hours sleep between the back-to-back events. They also said that they felt bad leaving the Michigan fans hanging post race Friday – but the teams had to get on the road. Regardless of the circumstance$ that dictated such a schedule quirk – it just shouldn't be done. The World of Outlaws take pride in enduring their grueling schedule but who really wins when teams have to leave one track early just so they can get to the next stop? Any drive over three hours in a back-to-back situation is just a bad deal for all involved. …The KC event was the eleventh race in the last 22 days for the World of Outlaws. I know some dudes out West that haven't raced eleven times all year. …Since I am trying to save the world here in this column – I must repeat how much I despise red flag fuel stops. I would rather see more laps in the features and bigger fuel cells. …TV Business: The race turned out to be our most watched event of the season on ESPN2. 510,000 viewers in the USA watched the race known as "The Wave". Sean Buckley and I stayed until 3:00 am with the producers and editors so that we could watch the finished product. …The Glamorous Life: Alma, Ohio - where KC Raceway is located - is south of Columbus. I flew from Sacramento to Denver and then Denver to Columbus. Then there was a short drive from Columbus to Chillicothe where the TV crew stayed at the Hampton Inn. My room was spacious but not special. I ate (for the last time ever) the ribs from Applebee's. They tasted and smelled wrong so I tossed `em. …I ate some Steak N Shake in the wee hours of Sunday morning. I am a fan of their yogurt shakes. …I surpassed 25,000 miles flown on United Airlines this year – which means I have "Premier" status. I was able to upgrade to First Class for $100 on the flights home from Columbus to Chicago – and then Chicago to Sacramento. I passed on the meal though because it sounded weird. Some kind of cold chicken something. ...Brent Kaeding will turn 50 years old in September - which means he is eligible for the National Sprint Car Hall of Fame. Unquestionably - BK should be in the Hall immediately. It would be very nice if Bob Miller - Brent's former car-owner could go into the Hall with him. Miller's #69 served as a ride for Kaeding, Johnny Anderson, Bobby Brutto, Shane Carson, and others. ...I've mentioned in past that Johnny Anderson should be in the Hall? ...Kyle Larson, (15), became the youngest winner in the history of the Civil War Series Saturday night at Placerville Speedway. ,,,The Silver Cup at Lernerville (July 17, 2007) was very similar to what I've been seeing of late at World of Outlaws events. Donny Schatz dominated. Donny has been so good this season that he could miss two Racer's Racing Series points races and still have the points lead. At Lernerville, he passed Craig Dollansky and then cruised to a near four second win over the Crowd Pleaser. Daryn Pittman and Steve Kinser had a great duel for third that was won by Pittman as Kinser bounced off the wall coming to the checkered flag. …Paul McMahan had quick-time at Lernerville. It was his fifth such honor in 2007 under the World of Outlaws sanction. …A pre-race chat with Tim Shaffer was interesting to me. He said guys right now are really being good about giving each other racing room. He added that as recently as a couple seasons ago – that wasn't always the case. …Jason Meyers was sent upside down in time trials during the aborted Tuesday night show. (Rain washed it out). Meyers flipped when his axle broke on the left rear corner. We've seen enough broken axles this season to wonder aloud if there isn't a problem with the latest batch of axles. …Brad Doty and I met Danny Holtgraver – a young masher with hopes of being a sprint car star in the years to come. …Likewise – we chatted with defending Lernerville champion Kevin Schaeffer. Schaeffer leads the track point standings again this year as well. …TV Business: Lernerville was a challenge because of the rainout on Tuesday. WoO CEO Tom Deery made the call that the television production team would stay overnight and try again on Wednesday to get the show on tape. That meant we had to re-write our 'open' and deal with the logistics of changing travel. The crew passed a cell phone late Tuesday night that had our travel ace Lisa Tillett on the other end of the line. From Winnercomm's home base in Tulsa, - Lisa re-booked the travel arrangements for everyone who was staying the extra day. We were booted from our hotel at Pittsburgh Mills because they were too full which meant a long day Wednesday. Getting evicted from the hotel at checkout time (11 am) sucked. Now what? For me – it was a walk through the mall and then arriving at the track way too early. I feel stale if I am at the track too long before things get started. I should have gone to see a movie or something. The TV coverage Wednesday included a segment with Kasey Kahne in the booth with Brad and I. Trying to casually interview Kasey, while keeping Brad involved and calling the Dash race was something new for me. I thought it went okay. …The Glamorous Life: On this trip I stayed out on the road from the Kings Royal at Eldora through the Lernerville event. I drove from Sidney, OH to near Columbus, OH on Sunday. My hotel in Dublin, OH was/is the favorite for best hotel of the year. It was called Hyatt Place. Why was it good? I was greeted by smiling intelligent humans. The room was clean. The bed was new and extremely comfortable. A LG high definition television graced my room. They had cold Mountain Dew at the front desk. The internet was free. The maid didn't knock on my door at all. Adjacent to the hotel was a mall, and two restaurants I am fond of. I chose Macaroni Grill over P.F. Chang's for dinner. The in-room movie for the night was The Good Shepherd. Sorry, I can't recommend the movie. Angelina Jolie was super beautiful on the high-def but the tedious nature of the movie and poor casting of Matt Damon in the lead role was wack. Damon is too young looking to play a character with a range of ages from 20-40. …The Monday drive from Dublin, OH into the Pittsburgh area was about a four hour tour. The Spring Hill Suites we stayed at was convenient as far as getting to the track. I thought the walls were thin for such a new place. I ate ribs from a place called Smokey Bones located just outside the grounds of the hotel parking lot. It was okay. …The Thursday travel was a test of my patience. My flight was cancelled from Pittsburgh to Denver. I jumped on the cell phone to United Airlines while standing in line. The customer service rep I spoke with communicated in broken English. She directed me to get in line at US Air – trying to get me on a flight from Pittsburgh to San Francisco. The long line was nothing compared to the frustration of the US Air rep at the counter telling me I needed more paperwork from United before they could ticket me for the SF flight. I had to go back to United's counter to be properly credentialed. That took time and my flight cutoff was quickly approaching. Once straight with US Air – I ran through the terminal OJ Simpson style (old Hertz commercials) to get to the security line. Because I was a one-way ticket passenger – I was a "selectee" for 'additional screening'. That took more of my precious time. I ran again to get to the gate and arrived with three minutes to spare before they shut the door. Now sweating in the humid PA air – I reluctantly took my crummy middle seat for the long five hour flight to SF. …The SF to Sacramento flight I was scheduled for didn't leave for another three hours. There was a flight leaving right away that I tried to jump on but they wouldn't let me because I had checked a bag. United reps at SF told me my bag would not make the flight leaving at the convenient time. So I waited the three hours only to arrive in Sacramento and not find my bag on the baggage claim. It turns out – they put my bag on the early flight and it was waiting for me at the baggage lockup at the Sac airport. So – in short – I COULD have been on the earlier flight. Have I told you how much I LOVE airport travel?
We get e-mails. Stacks and stacks of e-mails. Time to dig through the box and list 15 tidbits I intended to get to eventually. ...1. Jon Allard is going to run the Knoxville Nationals - leaving behind the points lead in the Friday night Silver Dollar Speedway (Chico, CA.) point standings. It is Jon's big brother Stephen that will most likely assume the point at Chico. Stephen is presently second in the season standings. 2. Greg DeCaires leads the Placerville Speedway championship standings. DeCaires recently won his third feature of the year at P-Ville to match C.J. Humphries. ...3. Chris Lovett sent this snapshot of the winner's podium at Belleville, KS on Friday night July 27, 2007: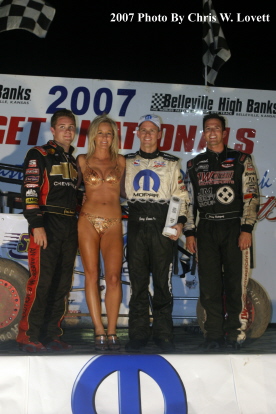 4. Tim Kaeding returned to the Golden State Challenge and ran the table. TK finished with five consecutive wins in the King of California series. 5. Brad Doty recently celebrated his 50th birthday. He tried to keep it a secret. 6. Regan Smith was driving the truck that Kraig Kinser normally runs in the NASCAR series this past weekend. We are not sure what this means for Kraig in the near future. 7. Ron Cubic writes to ask for help,,, "I'm doing a restoration project on a car Doug Wolfgang won a WoO feature with at the track end of season 1986.Can you tell me if Calistoga had a regular track photographer who could help me find a picture of that particular car? Any help or leads is much appreciated. thanks, Ron Cubic." E-Mail Ron here. Tom Parker - you reading this? 8. Johnny Anderson is featured in the latest edition of Flat Out. Please look for it. 9. Mark Funderburk noticed our praise for Kaley Gharst - so he sent us a picture of him racing with Rob Standridge: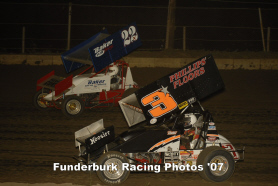 10. Peter Murphy has five straight SCRA wingless 360 sprint car wins. 11. Sprint Car rookie Ryan Kaplan leads the USAC Western Sprint Car point standings with JoJo Helberg and Tony Hunt within striking distance. 12. Bud Kaeding took over driving duties for injured Adam Main - and promptly won two ASCS Rocky Mountain Region features at Dodge City Raceway Park last week. Main was hurt at Eldora in the Summer Sizzler. 13. Dave Darland was named champion of Indiana Sprint Week 2007. Darland edged Jon Stanbrough - who has 22 feature wins this season (which I think leads the nation.) 14. Kasey Kahne says he will run at the Front Row Challenge at Southern Iowa Speedway in Oskaloosa, IA. The event is slated for Monday August 6th, 2007. Heat winners that night will receive free chassis from Schnee, Eagle, J&J, and JEI. 15. The following were inducted into the Belleville High Banks Hall of Fame: Bill Holland, A.J. Foyt, Harry Conklin, Bob Pankratz, The Melton Family, Frank Dickerson, Carl Scarbrough, John DeCamp, David Ross, and Jack Belk.
Last week we listed 15 drivers we would like to see run with the World of Outlaws on a full time basis. I could have easily come up with 15 more – …so why not? 1. Kaley Gharst – This young dude has impressed me each time I've had a chance to see him race. He recently won a Midwest All-Stars race at Mt. Vernon IL. His home turf is Knoxville Raceway – where he was the `05 Nationals Rookie of the Year. 2. Sean Becker – The `05 Golden State champion flies under the radar but he is smooth and he would be a good points racer anywhere. 3. Doug Esh – The 2006 National Open winner and Lincoln Speedway track champion has a top notch PA team. 4. Todd Shaffer – Another PA guy that is a pro. He's been a champion at the Grove, Port Royal, and Selinsgrove. 5. Dusty Zomer – Bright 21 year-old has shown well at Knoxville this year – as well as at Husets. 6. Brian Brown – Brown puts the HammerDown! He was runner-up in Knoxville points in `06, and already owns eleven career feature wins there. 7. Brian Leppo – He upset the Outlaws at Williams Grove on night two of the Summer Nationals. 8. Kevin Swindell – It is easy to overlook Kevin as a winged driver because he is racing sans top in USAC – but I'm sure the young Swindell would be exciting in a winged car if he wanted to be. 9. Greg Wilson – He was the 2006 All-Stars champion. 10. Danny Smith – Smith is still getting it done as the leader in `07 All-Star points. 11. Roger Crockett – He's now 26 years old and should be reaching his racing prime. This is his 15th year of running sprint cars. Crockett presently leads the NSCS points. 12. Brian Montieth – He runs up front with the heroes of Central Pennsylvania which means he could probably be in the mix at any big track in the country. 13. Bud Kaeding – I've always thought Bud was best during long races, so - many of the quick sprints of the Word of Outlaws may not play into his strengths. But Bud is a good points racer and I believe if he raced a winged car 80 times a year he would improve continually. 14. Kenny Jacobs – He is a Hall of Fame member and still good enough to post back-to-back quick-time efforts at Eldora in WoO competition. 15. Andy Forsberg – He leads the Civil War standings in Northern California – defending his championship of 2006. Last year at the Gold Cup – Forsberg finished third on his prelim night. …That's another 15 and I didn't even mention dudes like Robert Ballou, Mark Dobmeier, Billy Ally, Mike Erdley, Alan Krimes, Ed Lynch Jr., Wayne Johnson or T.J. Stutts – a 27 year-old from Liverpool, PA who was a big winner in the 358's and is now holding his own in the 410's. Or what about Willie Croft? The 35 year-old is a late bloomer in California; routinely a quick-qualifier – and he did win the Mini Gold Cup in 2004. How about Dustin Daggett or Daron Clayton? Brad Sweet, or Ricky Stenhouse Jr.? Travis Rilat or Brock Mayes? Yep, them too. The future is bright. ...The Kings Royal was a Donny Schatz romp. He won by 7.7 seconds! The Eldora Speedway was back to being the Eldora I love to watch races at. In April – I assumed what I witnessed was just a one-time deal – with the track being 'around the bottom'. Indeed – cats were bouncing off the wall in time-trials on Saturday night. The exit off turn two down the back-chute was challenging for all involved. As the session progressed the cushion was literally inches off the wall with cars repeatedly nailing the concrete with their right rear tires. It bit the likes of Steve Kinser, Paul McMahan, Jason Sides and Rob Chaney. The format for the Kings Royal was built to be tough but it didn't work out that way when 24th fast Schatz ended up outside the front row for heat race six. The heat six winner was destined for the pole of the dash. Truth told – it was easy to say "write the check for Schatz" when time trials were completed. I knew he would win his heat, start on the pole of the dash, win it – and then start from the pole of the feature. The only thing I didn't foresee was Craig Dollansky taking the lead in turn two on the first lap of the 40-lap main-event from outside row three. That move pleased many. Alas, Dollansky's lead was short-lived as Schatz gobbled him up and went on for a dominant $50,000 victory. McMahan was the hard-charger of the event – driving up to sixth with car-owner Tony Stewart present. …Kenny Jacobs had quick-time both nights at Eldora. …There was some small talk from a trusted source about a top team expanding its operation in 2008 – possibly to a second car. Stay tuned. …Ricky Warner wearing Bass Pro colors was helping Schatz as well as McMahan. It seems a foregone conclusion that Tony Stewart Racing is heavily affiliated with the Schatz team despite the lack of a formal announcement from either party. …Tim Shaffer – a HammerDown! Favorite, took a rock to the helmet Friday night that required a big batch of stitches. A bloodied Shaffer said he was okay to race on Saturday night even though his swollen face had to be sensitive to having a helmet on. …Chad Blonde was impressing me Friday night until he wheeled Dion Hindi into the turn four wall. It was a classic case of premature slidejobalation. …TV Business: We heard some grumbles from the usual grumblers about how often we mention Kasey Kahne and Stewart as owners of World of Outlaws sprint car teams. …The big picture is what is important – and the fact is that new viewers are what we need. Any tie we as 'sprint car folk' can have to Kahne and Stewart is good as a topic the non sprint car fan can latch onto. The world of potential TV viewers clueless to what sprint cars are far outweighs the relatively miniscule faction that knows the sport inside and out. Never ever lose sight of the big picture. For a little perspective consider that our best ESPN2 rating heading into Eldora was about three times less than a basic Pro Bowling show. …The Glamorous Life: Friday was a long day with a 3:00 am California time alarm for the trip from Sacramento-to-Denver-to-Dayton-to-Sidney OH - where the motel was. A quick check-in preceded the 25-minute drive to Rossburg where Eldora Speedway is. By the time I was ready for bed after the Friday night show it was roughly a 20-hour day. The motel was the second worst of the year. A Comfort Inn in Sidney was recently remodeled but still a Comfort Inn. …Food for the weekend at Eldora included the always fattening Long John Silvers on Friday. I ran some chicken wings from the infield concession stand on Friday that were surprisingly tasty! A McDonald's sellout was the choice later that night. YUCK. Saturday during the day – we had catered food in the Eldora ballroom. The turkey slices, pork tenderloin and potatoes were a welcome change after three straight weeks of catered barbeque beef (or pork or whatever meat can be chopped and sauced) sandwiches. Am I ever happy with food? Rarely. ...Pevely Missouri has one cool little race track in I-55 Raceway. The high-banked third-mile produced an entertaining feature event for the World of Outlaws on Saturday night. Joey Saldana won the race but not before dropping from the pole to third in the opening laps. Danny Lasoski shot into the lead after the front group went FOUR-WIDE (!!!!) in turn two on lap one. Brooke Tatnell was in the mix as was Daryn Pittman. …Tony Bruce Jr turned in the drive of the year as far as hard-charging is concerned. Bruce started 23rd and finished fourth – working the bottom like Bobby Allen in his heyday. Jac Haudenschild – on most nights would have been the hard charger of the event as he passed more cars than everyone except for the Dr. Dre loving Bruce Jr. …Truthfully - details of the I-55 experience are a bit fuzzy as I write this a good week and half after the fact. …Ken Schrader who co-owns and operates the Pevely plant said his track is 11/32nds in length. The versatile veteran racer claimed that "everyone has a third-mile. 11/32nds makes our track unique." …TV Business: The Pevely race was the best of the year in terms of action on the track. I felt like I was okay in my duties but I wasn't totally pleased with my performance. As long as the show looks good though – I can live with being 'close' individually. I was especially proud of the job done by our production team in getting an excellent profile piece done on Tatnell. It was the kind of TV that made the viewer care about a driver. In my book that is the best thing TV coverage can do. …The Glamorous Life: The worst motel of the year – hands down went to the Holiday Inn Express in, Festus, Missouri. Festus? It seems fitting that a town called Festus would produce such a two-star, three-hairs in the bathtub joint. …I also got very lost trying to make it to the St. Louis airport in the wee hours of the morning after the race. Another night without sleep was my own fault. I booked the first thing smokin' out of St. Louis on Sunday morning and by the time we were done and I returned to the Festus motel – I had time only to shower and lay down for about an hour. I would have had a little more time but the geniuses at the motel made all the electronic keys that opened our individual room doors null and void. There were some pissed off TV crew staffers who gathered one by one at roughly 2 am in the lobby getting our keys re-authorized. I guess the festers in Festus have a curfew before 2 am. ?? …One positive was a pizza place known as Imo's that was served to the crew post race on site. Another positive was a radio station on the FM dial that kept me grooving on the drive in from the St. Louis airport Friday night. An Erykah Badu vs. Jill Scott battle with call-in voting was entertaining. I cannot recommend Captain Jack's seafood. YUCK! It's no Long John Silvers. You underdig what I'm saying? ...On Saturday at the track the TV crew had catered Bar-B-Q meat sandwiches for the third week in a row.